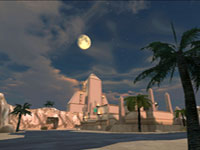 Maat Final is a CTF (Capture The Flag) map made by cyburk - Both teams must take 4 flags to win. If the time should have passed, the team wins with most flags.
Map type: Fun / Map time: 30 minutes / Respawn Time: 5 Seconds both teams.

Maat Final ist eine CTF (Capture The Flag) Map, erstellt von cyburk - Beide Teams müssen 4 Flaggen erobern um zu gewinnen. Läuft die Zeit vorher ab, gewinnt das Team mit den meisten Flaggen.
Map Typ: Fun / Map Zeit: 30 Minuten / Respawn Zeit: 5 Sekunden für beide Teams.