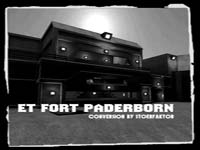 Original RtCW map by JuStice-DK. Fort Paderborn beta is converted and rework by StoerFaktoR - Axis has stolen a highly secret blueprint of a new long-range rocket type called V1. Allied has to enter the fort of Paderborn and get it back.

Original RtCW Map von JuStice-DK. Fort Paderborn beta ist konvertiert und überarbeitet von StoerFaktoR - Die Achsenmächte haben die hochgeheimen Blueprints einer Langstrecken V1-Rakete gestohlen. Die Alliierten müssen das Fort Paderborn stürmen und die Papiere zurückholen.
A small note:
On ETpro the secret docs are not displayed correctly on the limbomap (black+yellow square).
In all other mods, they are displayed correctly.
Greetings and thanks to:
sl.Rippchen (splatterladder.com) for testing and suggestions
d3Xter (rtcwmap.de) for testing and suggestions
Schnoog (wolffiles.de) to provide a test server