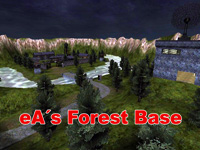 Calibra8V released Forest Base -
A Little map based on the Forest Mission in RtCW!
The Axis have have received a Box with Secret Documents, the Allies will try to Steal them out form the Warehouse and Transmit them at the Radarstation!

Calibra8V veröffentlicht die Map Forest Base -
Eine kleine Map basierend auf der Forest Mission in RtCW!
Die Achsenmächte müssen eine Box mit geheimen Dokumenten beschützen. Die Alliierten wiederum müssen diese im Lagerhaus stehlen und die Daten per Radarstation übermitteln.