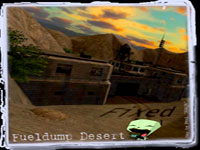 Fueldump Desert Edition, Fixed by Gir -
A lot of Servers use Fueldump Desert because the Original have Hunk Problems with NQ, Fueldump Desert has a Missing Sound Script, Top of Mountains are Black, textures are odd. I contacted Original Author, no Answer, So i fixed it myself.
Note:
I did not Decompile The Map, instead, I used GIMP to Edit the Light maps to Fix the Black Mountains and Rewrote the Terrain Shader.
-> Will not Work in Regular ET, only NQ/Jaymod/Etpro ect !


Fueldump Desert Edition, Fixed by Gir -
Viele ET-Server verwenden
Fueldump
Desert weil das Original Hunk-Probleme hat mit NQ. Fueldump Desert hat wiederum einen fehlenden Sound-Script und fehlerhafte (schwarze) Bergwipfel-Texturen.
Hinweis: Ich habe die Map nicht dekompiliert, sondern mit dem Porgramm GIMP die Light-Maps editiert, um die Bergwipfel in Ordnung zu bringen und einen neuen Terrain-Shader geschrieben.
-> Funktioniert nicht im regulären (Original) ET, nur mit NQ/Jaymod/Etpro etc !