Microsoft has unveiled a sleek smart thermostat called GLAS that's backed by its Cortana digital assistant. This is Microsoft's first-ever smart thermostat, and it looks incredibly promising – not to mention utterly gorgeous – based on a teaser video Microsoft released on YouTube.
Made by Johnson Controls, a multinational corporation that invented the first electric room thermostat, GLAS not only taps into the power of Cortana but also Windows 10 IoT Core and Azure Cloud. 
GLAS senses when you're in a room to adjust the atmosphere accordingly. It monitors indoor and outdoor air quality and provides information on your energy usage and habits. And if a quick glimpse from the video is to be trusted, you can also check and update your calendar using GLAS.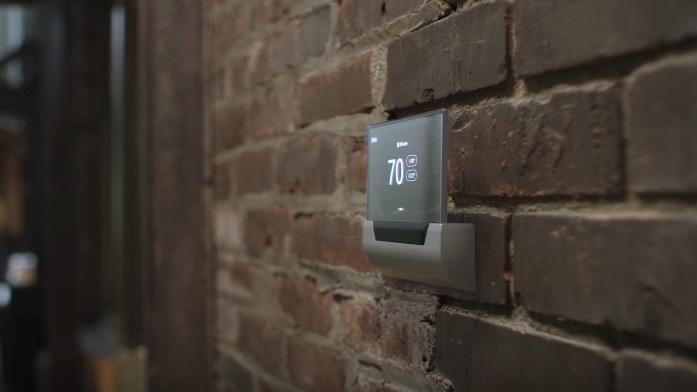 All of the information on Microsoft GLAS is displayed on a translucent touchscreen, and you can speak directly to the wall-mounted device, uttering commands to Cortana. 
Microsoft's video suggests the thermostat is meant for homes, businesses, doctors offices and just about anywhere else you can imagine a smart thermostat being put to use.
Smart 'stat of tomorrow?
We're still missing critical GLAS details such as how much it costs and when it will release. We've asked Microsoft for this information, and we'll update this story when we hear back.
The smart thermostat space has been dominated by the likes of Alphabet's Nest, but Microsoft's first foray has a ton going for it, including a gorgeous design and all the heft of Microsoft's intelligent software and cloud systems behind it.
GLAS joins the Invoke speaker as a Cortanta-powered device for the home. Made by Harman Kardon, Invoke is due to release in the fall, but it's just part of a grander scheme for Cortana in the home, which GLAS seems a key part of. 
As tech companies jostle for space in our homes, Microsoft is perhaps taking a smart tact by forgoing a smart speaker like Google Home, Amazon Echo and Apple HomePod.