View Other Content
Search Articles
Recent Articles

0
Google+ Profiles Will Be Public: Google To Delete All Private Profiles After July 31st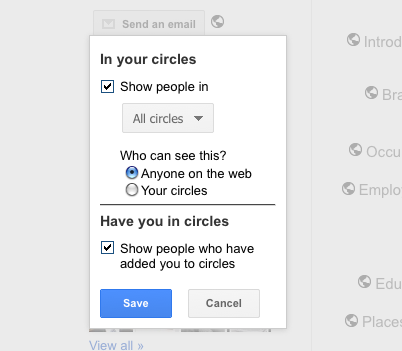 Google will no longer allow users to have private Google profiles after July 31st, reports Search Engine Land. The company had previously allowed users to create and maintain profiles on its service without publicly disclosing their existence.
Google is making the change primarily to aid in the growth of its new Google+ social network. This change means that you must have at least your full name and gender shown publicly to join Google+.
Google updated its public profiles page some time ago, as we commented on, to notify users of this upcoming change, stating:
The purpose of Google Profiles is to enable you to manage your online identity. Today, nearly all Google Profiles are public. We believe that using Google Profiles to help people find and connect with you online is how the product is best used. Private profiles don't allow this, so we have decided to require all profiles to be public.

Keep in mind that your full name and gender are the only required information that will be displayed on your profile; you'll be able to edit or remove any other information that you don't want to share.

If you currently have a private profile but you do not wish to make your profile public, you can delete your profile. Or, you can simply do nothing. All private profiles will be deleted after July 31, 2011.

This change makes sense in the context of Google+ being a network that defaults to a 'public' setting, somewhat like Twitter. Anything that you share can be moderated to only appear to a member of the exact circles that you choose, but by default, everyone sees everything.
There are still some controls that are available to users, regardless of the public status of their profile. Users of Google can still choose to have their profile not be included in search results pages by visiting their profile privacy settings and changing the 'Search visibility' option.
One nice feature that Google does give users is the ability to remove their profile from showing in Google search. By going to your account page, you can uncheck the "Help others find my profile in search results" button to be removed from the results pages.
Article: Google+ Profiles Will Be Public: Google To Delete All Private Profiles After July 31st