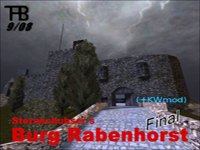 Sternschubser
publishes

his

final

version

of

the

ET

-

Map

Burg Rabenhorst
(+KWmod)
-
The
Allies
try
on
the
map
to
infiltrate
a

castle

on

a

mountain

,

to

steal

secret

documents

over

a

weapon.

Sternschubser veröffentlicht die finale Version von seiner ET-Map Burg Rabenhorst
(+KWmod)
- Auf der Map versuchen die Alliierten in einer Burg auf einem Alpenberg einzudringen, um geheime Dokumente über eine Waffe zu stehlen.

ChangeNote:
Respawn Time Axis 20s->25s
Respawn Time Allied 15s->10s
Axis loses forward spawn forever after first flag capture by allied.
Allied loses forward spawn if flag is captured by axis, but can recapture it.
Sewer gate destroyabele by dynamite -> by Stachel
Spawn-protection zone for allied established.
As axis spawn is unlikely to be under fire there is no zone necessary.