Good news! Submissions are now being taken for the Second Annual Saxxy Awards! The event where we celebrate the world's

best

short films exclusively about ME, SAXTON HALE!

No other subject will be considered for

hold on, Bidwell's trying to tell me something. What is it, Bidwell. Of

course

I can listen to you and type at the same time. Look. Still typing. What? What do you mean they can make the films about

anything?

Why would they want to do that? No, it's not arrogance, Bidwell, it's just common damn sense. If you can make a film about

anything,

make it about me. What? Because I'm Saxton Hale, that's why. Why are we still having this conversation? You're lucky my hands are busy typing.
New paragraph! I'm going to go pull some strings with the mayor, see if I can't get the rules changed about what the films have to be about. In the meantime, feel free to upload your submissions.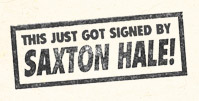 As of 12:00AM GMT today and for the next two weeks, we are now accepting submissions for the Second Annual Saxxy Awards! Click here to find out how to submit!
(Note: Replay category submissions will be accepted starting tomorrow, via the in-game Replay Browser.)
View the full article