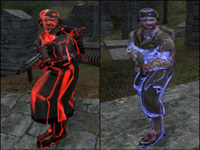 Berzerkr (GER) by (Ex)Wolfmap.de made the Minimod Glowskins.
The skins glowing in red for axis and blue for allieds. The glowing effekt is visible improved in dark places of a map.
Please note: Made to watch recorded demos of matches, not for gameservers!

Berzerkr (GER) von (Ex)Wolfmap.de erstellt den Minimod Glowskins.
Die Skins glühen bei Axen in rot und bei Alliies in blau. Der "Glüheffekt" ist am besten auf dunklen Plätzen in einer Map zu sehen.
Wichtig! Diese Minimod ist nur für Demoaufnahmen oder als Filmeffekt gedacht, nicht für Gameserver!!