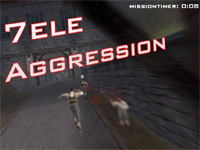 Fragmovie by dutch rifler 7ele - 7ele like to play with an aggressive rifle style.
So expect some nice fast-paced clutch frags. This movie has got 8 raiting-points at Crossfire.

Fragmovie vom holländischen Rifler 7ele - 7ele spielt gerne einen aggressiven Riffle-Stil.
Zu Sehen gibt es schöne Frags in höchstbrisanten Situationen. Dieser Film hat eine 8-Punkte-Wertung bei Crossfire bkommen.