After Amazon's event earlier this week there will shortly be a formidable amount different versions Amazon Echoes on the market. 
In addition to the existing Amazon Echo, Amazon Echo Dot, Amazon Echo Show, and Amazon Echo Look, the ecommerce giant announced a newly redesigned Amazon Echo, a new speaker called the Amazon Echo Plus, and a mini screen-equipped device called the Amazon Echo Spot.
Confused? We don't blame you. 
Here's our guide to the Amazon Echo lineup as it currently stands, including all the devices that have been announced and are yet to be released. We've divided the list into two sections depending on whether they have a screen or not. 
In the short term we expect this list to shrink in size as Amazon discontinues its outdated models, but for now these are the smart speakers that are available, or have been announced for the future.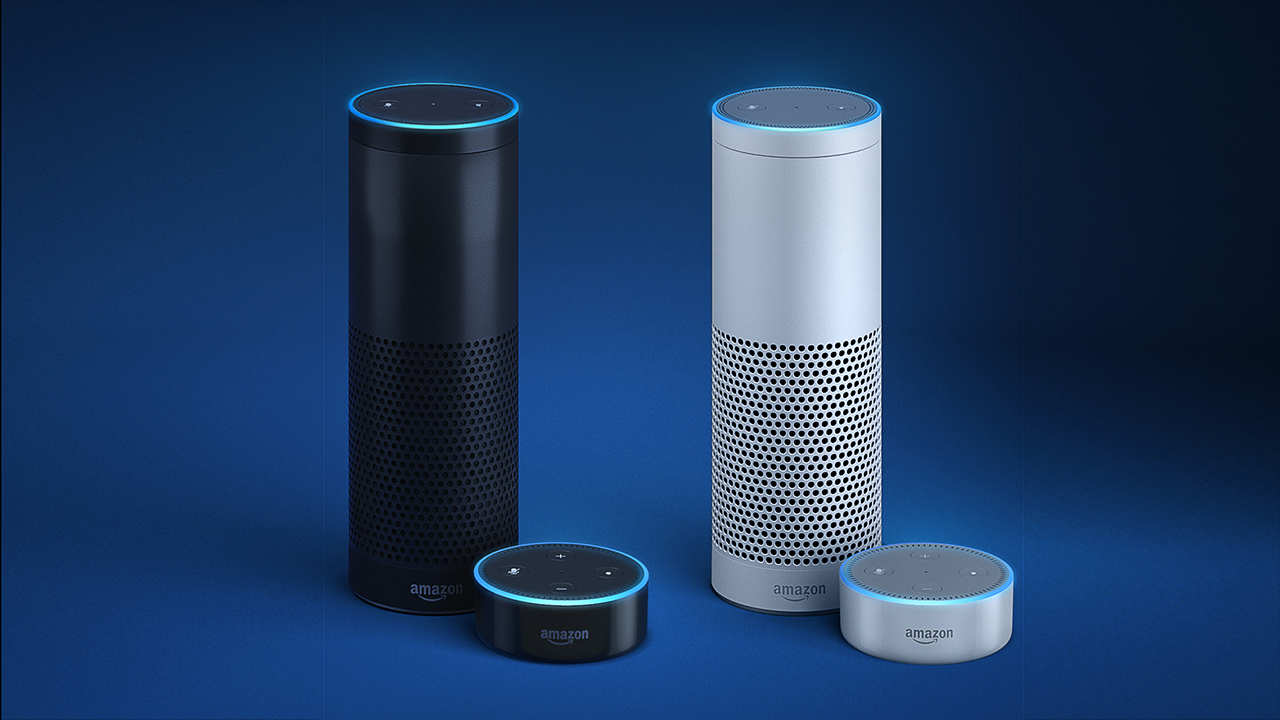 Amazon Echo (1st gen)
Release date: Out now
Price: $179.99 / £149.99
The smart speaker that started it all. The original Amazon Echo was released in 2014 and essentially created an entirely new product category of speaker that you controlled primarily with your voice rather than through a conventional app. 
It features just two buttons on the top (one for muting and one for waking Alexa), and the entire top of the device swivels to act as a volume control. 
The exterior is made of matt plastic, and there is no 3.5mm audio jack present, and the entire device is 9.25-inches (or 23.5cm) tall. 
Read the full review: Amazon Echo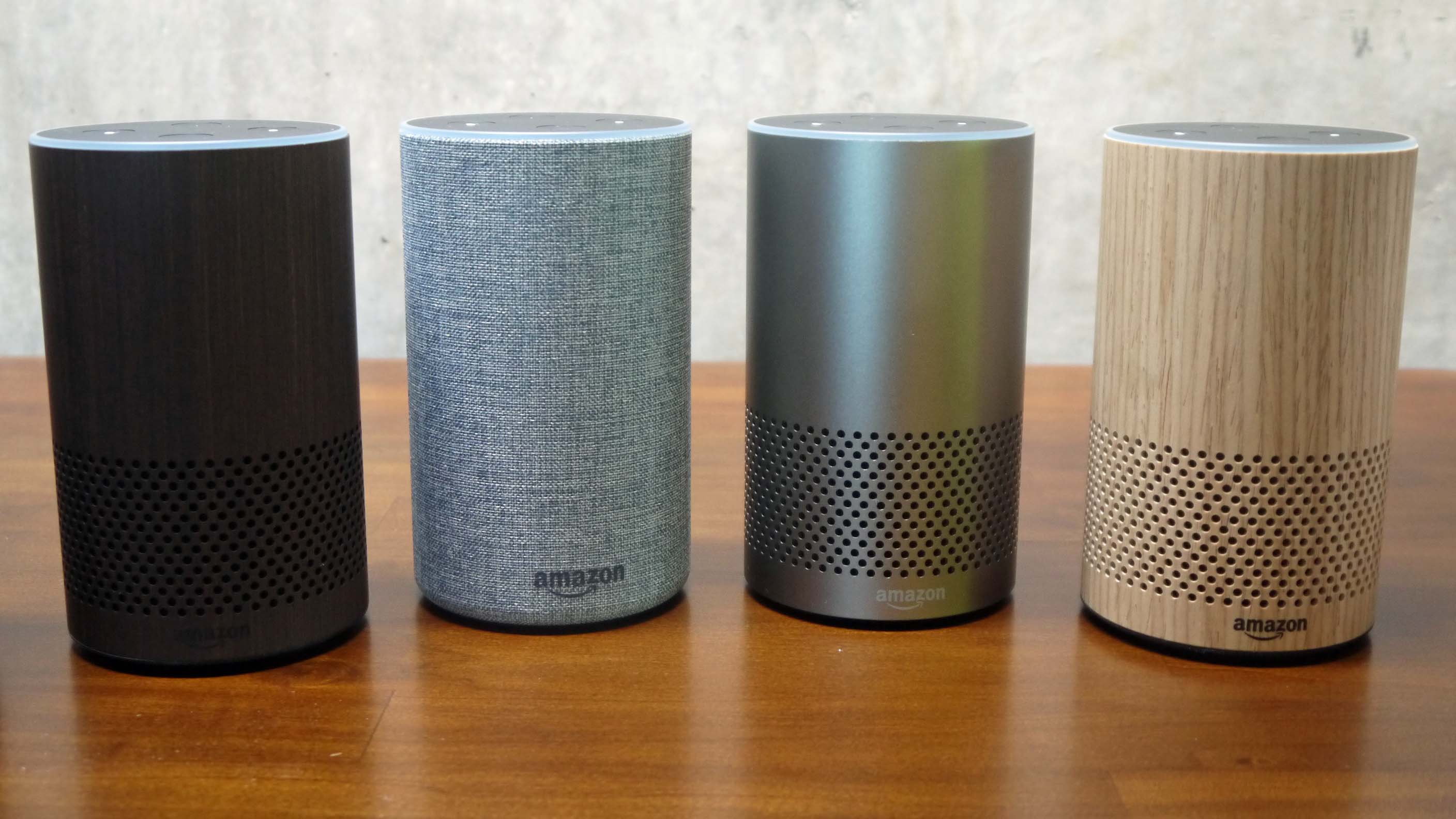 Amazon Echo (2nd gen)
Release date: October 31 2017
Price: $99.99 / £89.99
The new version of the Amazon Echo makes a number of changes to its predecessor. For one thing volume is now controlled with an additional two buttons on the top (much like the existing Echo Dot outlined below), and the matt plastic exterior has been ditched in favor of fabric, wood, and metallic finishes. 
In addition, the device has also seen improvements made to its speakers and microphone technology, so it should not only sound better but will also be able to hear your voice more clearly. 
Read our first impressions: Amazon Echo (2nd gen)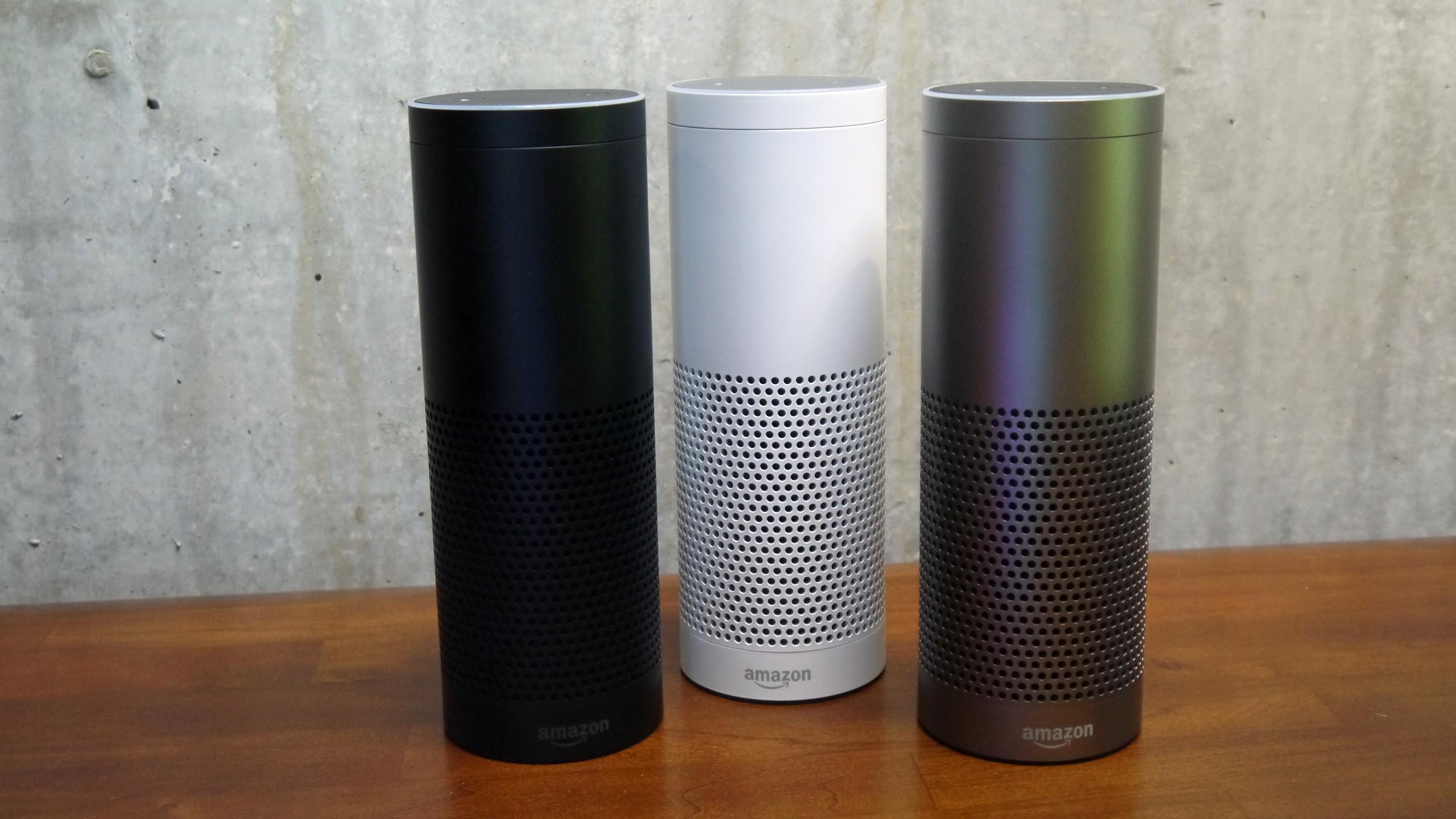 Amazon Echo Plus
Release date: October 31 2017
Price: $149.99 / £139.99
Also announced this week was the Amazon Echo Plus, a speaker that's much more similar in appearance to the original 1st generation Amazon Echo. 
Under the hood, however, there have been a number of improvements made. The most significant of these is the addition of a ZigBee-compatible hub. 
Zigbee is the connection protocol used by a number of different smart home devices, which usually come with a hub that must be plugged into your router in order to allow them to function. 
Having a hub inside the Echo itself means that you no longer need this additional hub plugged into your router. So long as your Echo is connected to your home network then your smart home devices will function. 
The second major improvement is the addition of Dolby processing, which should provide a boost to the device's sound. 
Read our first impressions: Amazon Echo Plus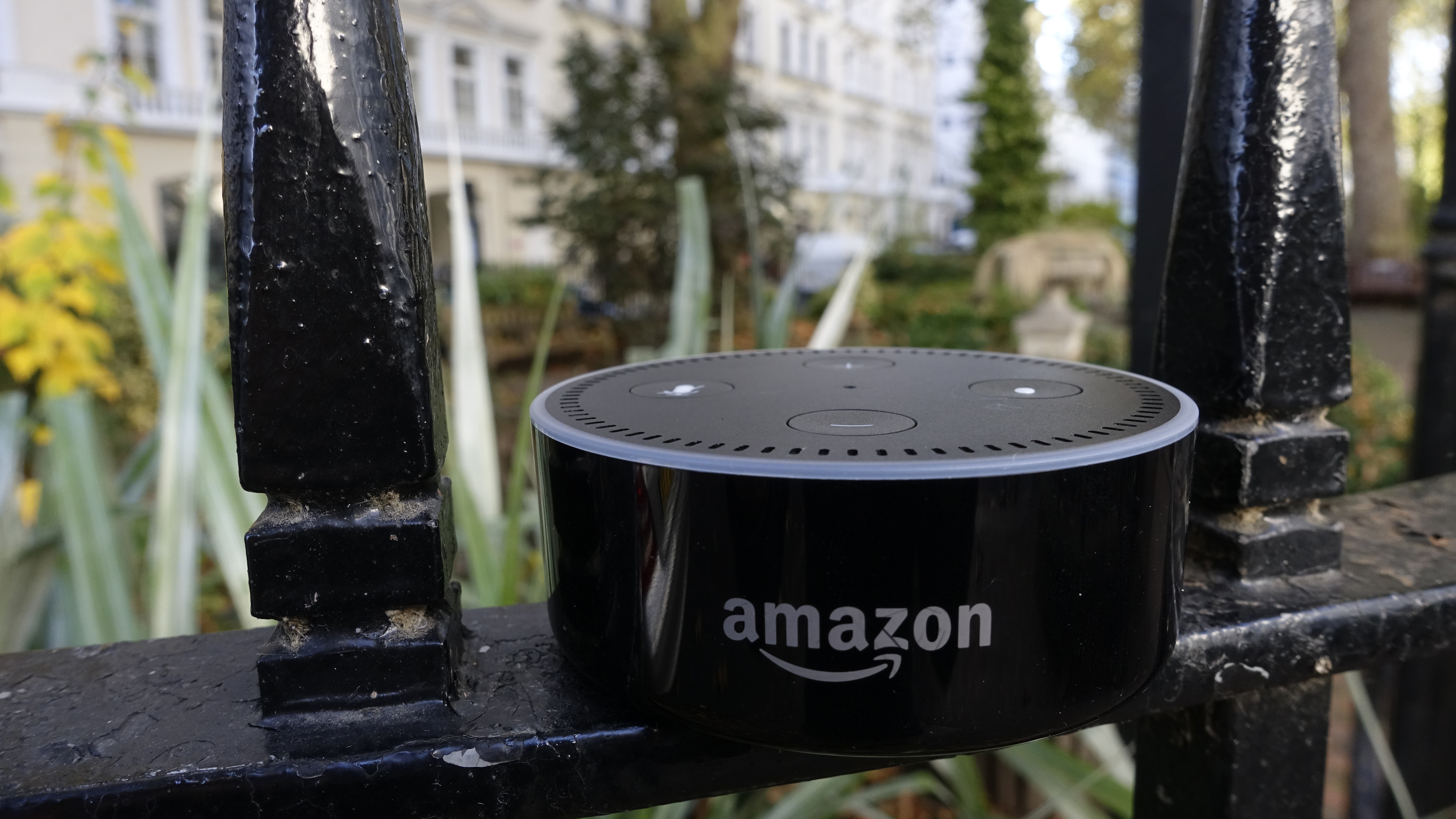 Amazon Echo Dot
Release date: Out now
Price: $49.99 / £49.99 / AU$109
The Amazon Echo Dot is a much smaller version of the original Amazon Echo, and is around the size of a hockey puck. There have actually been two generations of the Echo Dot released, with the second ditching the volume dial in favor of two dedicated volume buttons. 
The Dot's size meant that some compromises on sound quality had to be made, resulting in a sound level that's fairly weak and tinny and unsuitable for playing music. However, an included 3.5mm jack means that it's perfectly possible to connect the speaker to an external sound system if you want to get your tunes playing. 
Read the full review: Amazon Echo Dot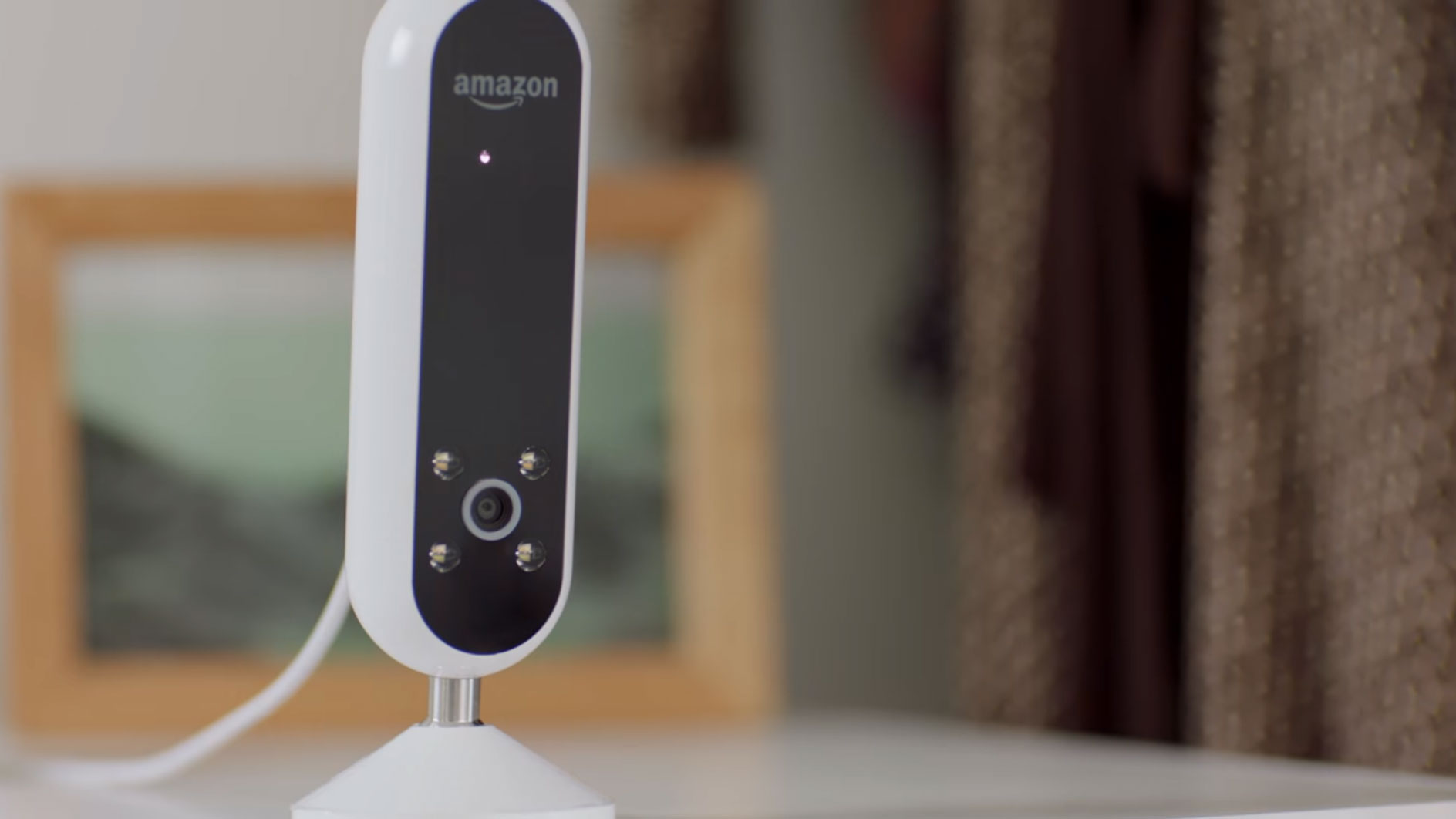 Amazon Echo Look
Release date: Out now (US), tbc (UK)
Price: $199.99
The Amazon Echo Look is one of the weirder entries in Amazon's Echo lineup. 
Rather than the all-purpose design of the rest of the lineup, the Look is meant more as a fashion-focussed device that Amazon claims can analyse your clothing choices via its camera, and make recommendations accordingly. 
If that sounds like something you'd find useful, then the Amazon Echo Look might be the smart device for you, otherwise you'd almost certainly be much better served by one of the other models on this list.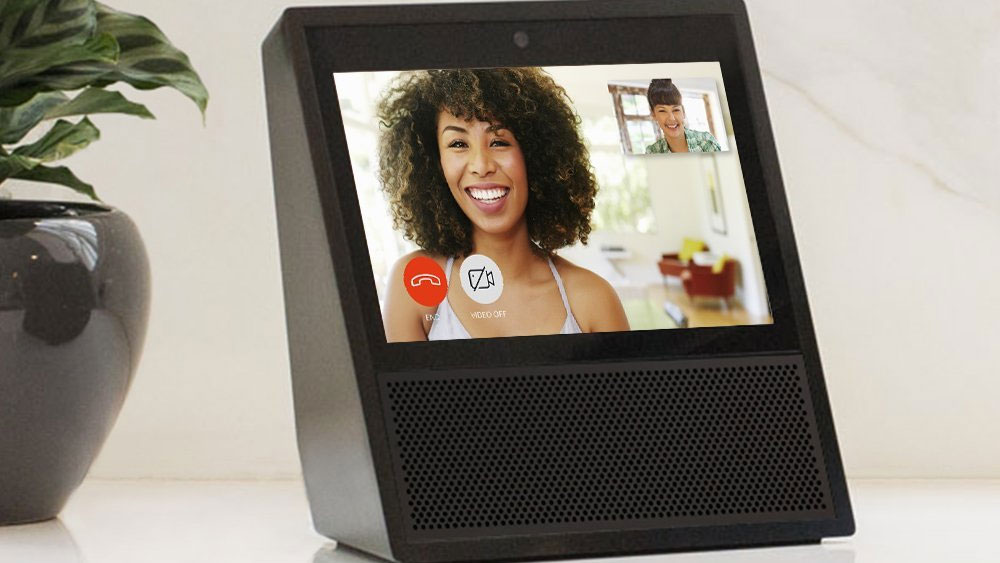 Amazon Echo Show
Release date: Out now (US), November 16 (UK)
Price: $229.99 / £199
The first Echo device to be equipped with a screen, the Amazon Echo Show is able to show you a wealth of information that would be impossible on a regular Amazon Echo. 
A picture is worth a thousand words after all. 
As well as displaying visual information, the Show is also capable of playing video content from a variety of sources including, of course, Amazon Prime Video. If you're after YouTube videos however, then you might be out of luck.
The screen can also stream a video feed from compatible smart cameras, and contains a camera of its own that you can view a live feed of from the Alexa app.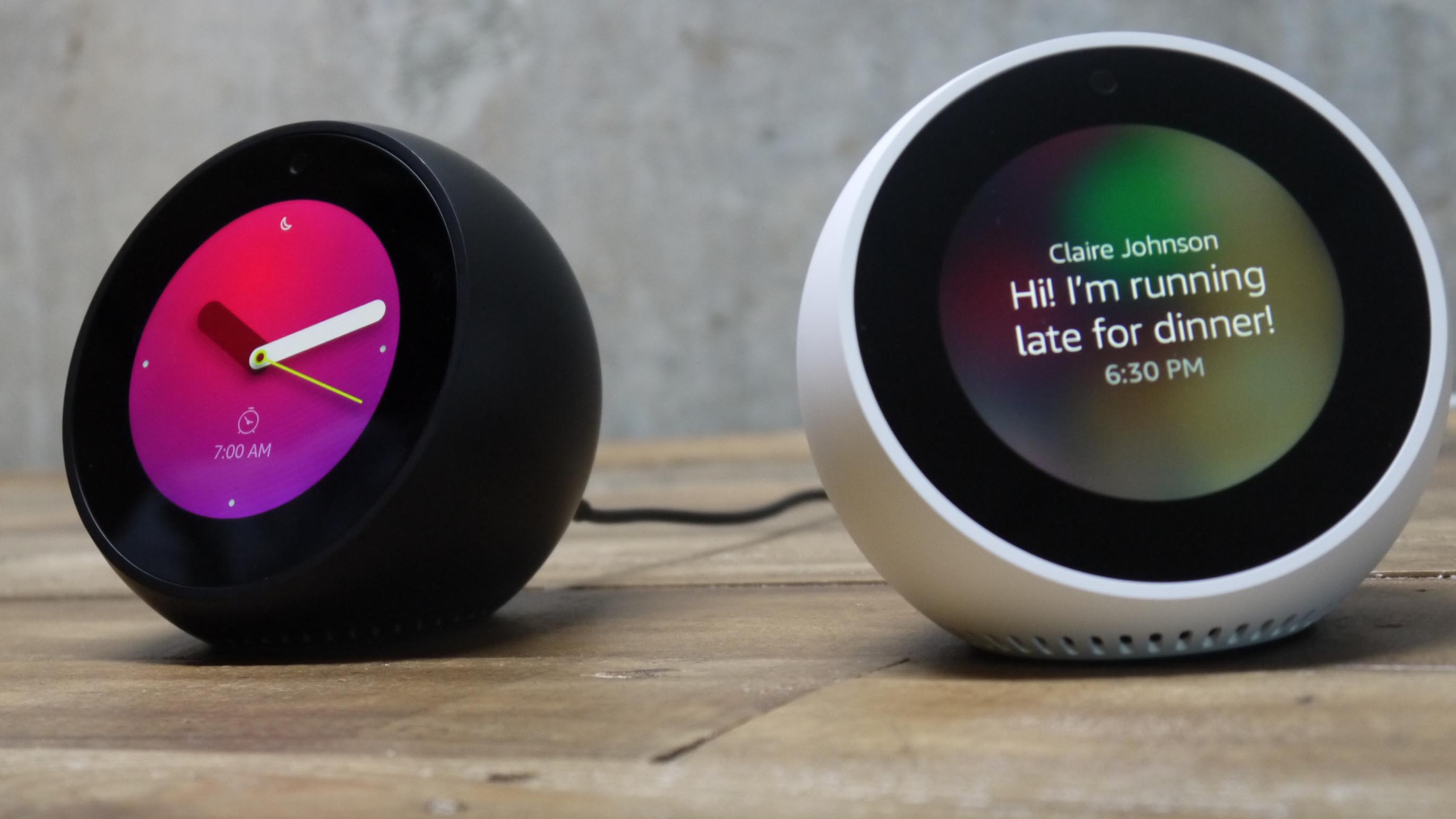 Amazon Echo Spot
Release Date: December 19 2017 (US), 2018 (UK)
Price: $129.99
The Amazon Echo Spot is a miniature version of the Show. It turns the 7-inch rectangular screen of the show into a 2.5-inch circular screen. 
This smaller screen means the device is less useful as a video-watching device (although this is still supported). Instead, you're more likely to use the small screen to read messages, show virtual clock-faces, or conduct video calls. 
Its small size also means that the built-in speaker isn't as good as the larger Show's. 
Amazon is positioning this as a compact device that you might want to have on a bedside table as opposed to the Show's countertop-sized form-factor. 
Read about Amazon's closest competitor, the Google Home smart speaker