If you're an avid reader and don't want to be tied to a particular platform, you'll need a tool to convert your ebooks to different formats. Truly excellent free ebook converters are hard to come by, so we've rounded up the very best.
These free ebook converters will handle all common formats – PDF to Mobi, Kindle to Epub, Epub to Mobi, and virtually any other combination you might need.
First, a note on DRM (digital rights management). Many ebooks are protected by DRM, and removing it is typically against the vendor's terms of service. It's a system designed to prevent unauthorized copying and sharing (you can lend some Kindle books to friends for two weeks, but not all titles are eligible).
That's a good idea in principle, but it also prevents you archiving books or reading them on a different device. It also means that, if the vendor ever disappears, your library will vanish too.
Bear in mind that downloading or sharing unauthorized copies of ebooks is a violation of copyright. Even if the original text is in the public domain (the works of Shakespeare, for example), the book is usually classed as a separate thing. You bought your ebooks, so be stingy and just enjoy them yourself!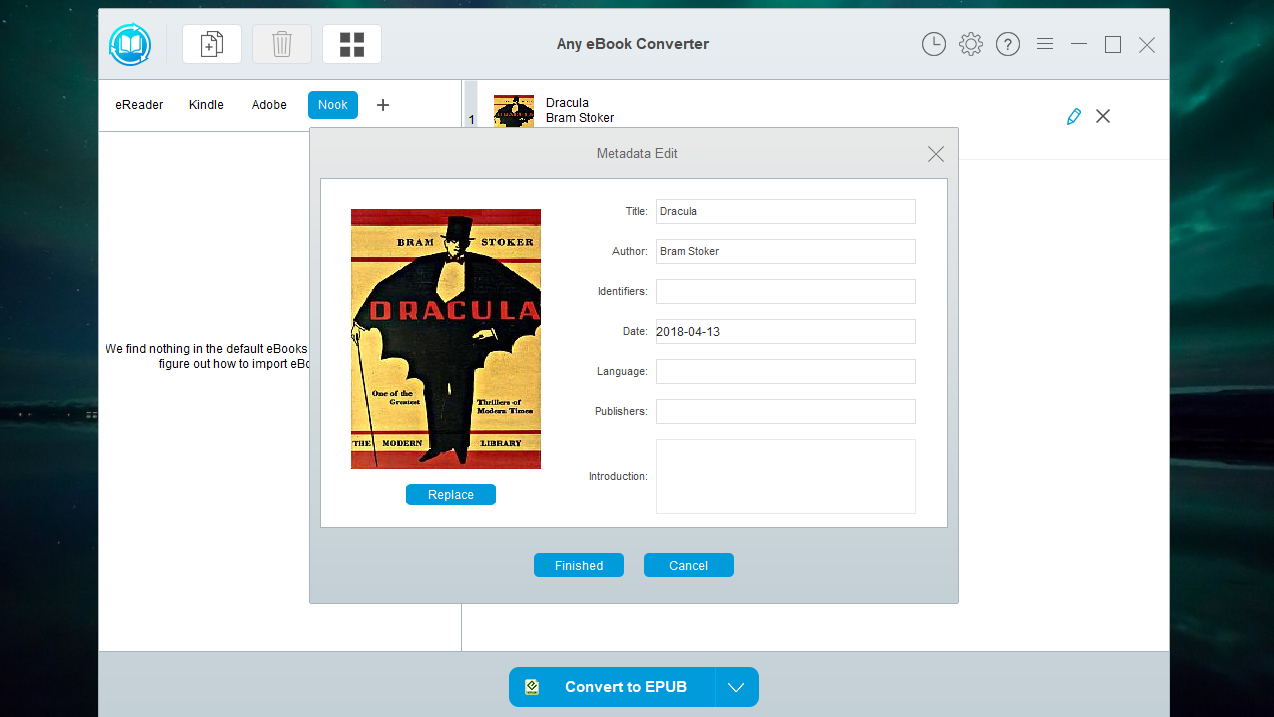 Powerful and flexible – easily the best free ebook converter around
Any eBook Converter looks great – smart and uncluttered – and it's packed with features you'd usually expect to pay for. It lets you convert to Epub, Mobi, Kindle, PDF and TXT formats, so there's something for your preferred reader or app. It also removes DRM automatically.
The software will check your PC for Kindle, Adobe Digital Editions and Nook ebooks automatically, saving you the effort of importing them. Alternatively, you can plug in an e-reader and extract books directly. 
Once the book is converted, you can edit its metadata (a good idea for keeping your collection organized) including the title, author, date of publication, publisher, and cover image. There's even a built-in tool for fixing EPUB files (which are essentially a type of compressed file archive) that use a non-standard structure.
Any eBook Converter might look simple, but it's thoughtfully designed and offers everything you could want. Highly recommended.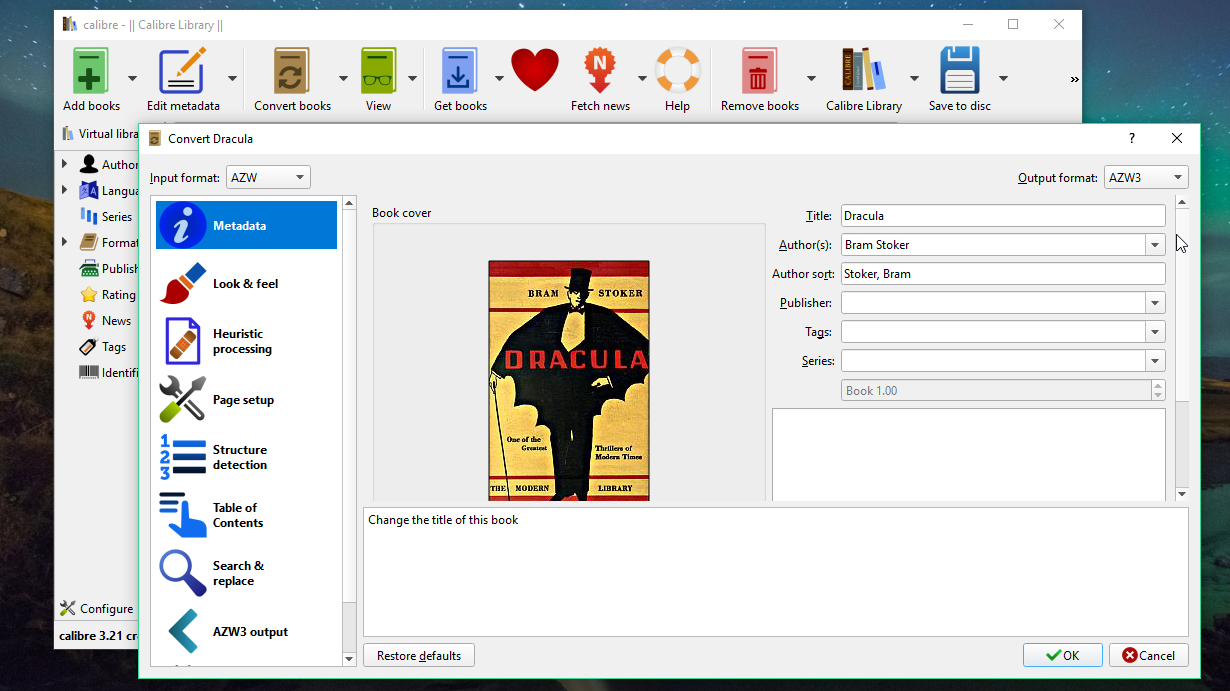 A superb ebook reader and converter with plugins to add extra features
Before you download Calibre, note that it can't handle Kindle or other DRM-protected files unless you install an additional plugin – DRM Removal Tool by Apprentice Alf. 
Calibre is primarily an ebook reader rather than a converter, but it does both jobs brilliantly and is a great choice if you have an aversion to big commercial vendors.
Calibre is available for Windows, Mac and Linux, with a portable version that's ideal if you want to carry your ebook library on a USB stick.
As a side note, if you've converted ebooks before, you might be familiar with Hamster Ebook Converter and wondering why we haven't included it. The answer is because it Calibre's open source code, which is fine, but restricts access to it, which isn't. If you want the real deal, stick with Calibre.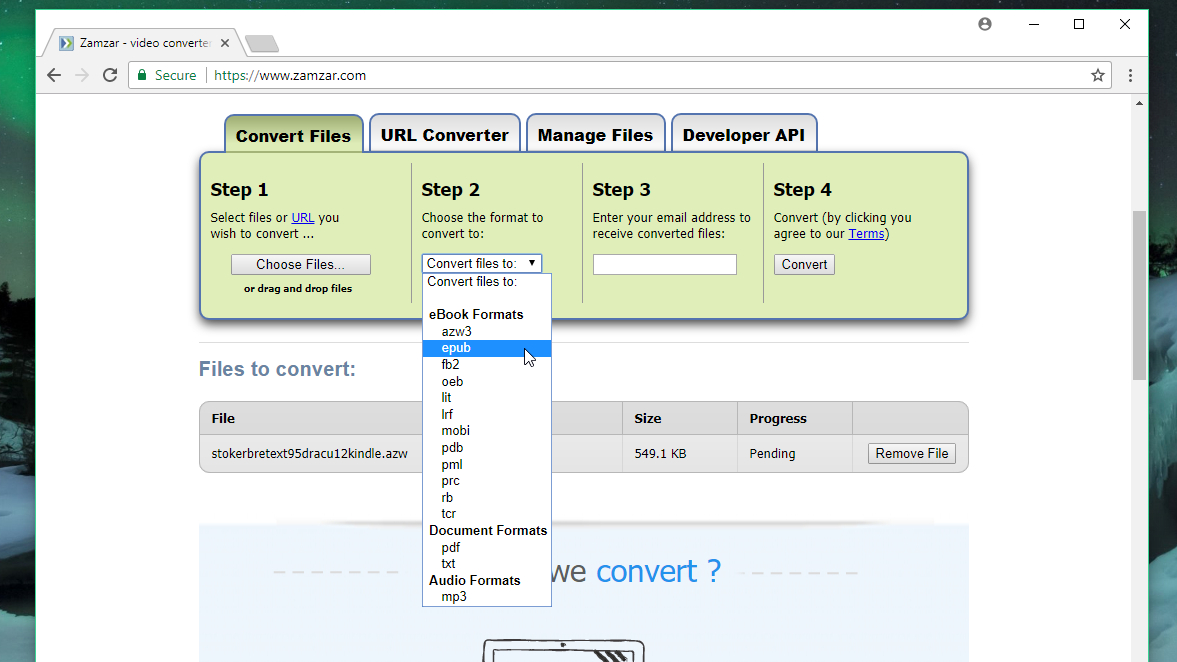 An online converter that's great if you only want to convert a single book
ZamZar is an online file converter that can handle a huge variety of file types, including pretty much any ebook format you can throw at it. 
We'd usually hold back from recommending browser-based tools for file conversion because of the time and data allowance required for uploads and downloads, but ebooks are so small they're converted almost instantly. You'll then receive an email containing a link to a webpage where you can download your converted file. We'd prefer a direct download link, but it's only a minor inconvenience, and is a way for ZamZar's developers to promote their premium service.
Online storage is available for a subscription fee, as is the ability to convert multiple files at once.
Before converting ebooks with ZamZar, make sure you check the terms of service – particularly the section on copyright. Since you're uploading content to servers owned by someone else, make sure you're playing by the rules.