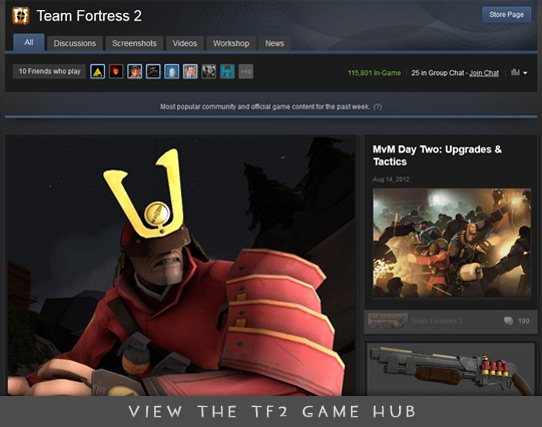 Interesting math fact: If you added up every Steam Screenshot, every YouTube clip linked from a Steam account, and every Workshop item you guys have created together, you'd have over 89,000,000 pieces of community-generated content. Wow, is that a big number. And since we take the time to print out every TF2 screenshot, transfer every TF2 video to DVD, and lovingly whittle every TF2 item you design out of soap, the TF2 offices are getting a little cluttered. A load-bearing picture stack in the screenshot district toppled over last week, and the fire department suggested we create some sort of central online hub for this stuff before somebody died.
Introducing the TF2 Game Hub, a central repository of community-created and official content, as rated by you, the Steam users—game-centric discussions, workshop items, screenshots, videos, news. It's all here, under a single virtual roof.
And this is just the first step. We plan to have a hub for every game on Steam—click here to find out more about the new Steam Community. We're sending out an invite-only beta for the Community today, but the TF2 hub's outside the beta and visible to everyone, so feel welcome to drop by and check out some of the new features.
View the full article