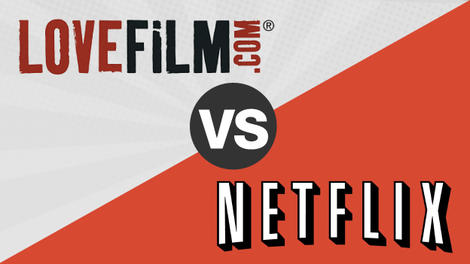 This month's big console launches means yet more eyeballs watching streaming video: both Netflix and Amazon's LoveFilm Instant will be available on both the Xbox One and the PlayStation 4.
Between the two streaming services, pretty much every device you can imagine is able to receive films and TV series.
But which one deserves your dosh? Is it time to anoint a new streaming king? Let's find out.
LoveFilm Instant vs Netflix: price
Both services are £5.99 per month and offer 30-day free trials. LoveFilm also offers DVD and Blu-Ray rental, which - if you want rentals as well as streaming - costs £9.99 to £13.27 per month depending on how many simultaneous disc rentals you want to have (the maximum is three).
LoveFilm Instant vs Netflix: devices
While both services support the big hitters - iOS, PlayStations and Xboxes, PCs and Macs - Netflix supports many more devices than LoveFilm.
Netflix streams to the PS3, PS4, Wii, Wii U, Xbox 360 and Xbox One, compatible LG, Panasonic, Philips, Samsung and Sony Blu-Ray players and Smart TVs, Apple TV and set-top boxes from Philips, Roku, WD and Virgin Media, LG home theatre kit, Android (including Kindle Fire and Chromecast), iPhone, iPad and Windows Phone.
By comparison LoveFilm's selection looks a little sparse. The Android app doesn't stream, and the support for other kinds of devices is less impressive than Netflix's: compatible TVs and Blu-ray players include Sony, Samsung and LG but not Panasonic or Philips, and the home cinema and set-top box support is limited to Sony kit. You do get apps for Kindle Fire, Xbox 360, PS3, Wii, Wii U, Xbox One and PS4, though.
It's worth pointing out the Microsoft tax on the Xbox apps: if you want to stream Netflix or LoveFilm content on an Xbox 360 or Xbox One, you'll need a gold Xbox Live subscription.
LoveFilm Instant vs Netflix: TV
Netflix's purchase of Breaking Bad was a smart move, and it's made some more: it's commissioned two new series so far, with Kevin Spacey chewing the scenery in the superb House of Cards and Taylor Schilling attracting rave reviews in Orange Is The New Black. Netflix has also saved Arrested Development from oblivion.
Netflix is particularly good for US TV programmes, although HBO titles such as Six Feet Under and The Sopranos are absent, and it has a useful kids mode that gives the kids Spongebob Squarepants instead of Walter White (you can also have multiple users, with Netflix asking you who you are when you login). Stand-up comedy is well represented too.
If you're looking for Breaking Bad on LoveFilm you'll need to be a DVD or Blu-Ray subscriber, but LoveFilm redeems itself with a pretty good collection of BBC programmes, especially children's programmes, and a great selection of cartoons.
Some big hitters are here too - you can stream Dexter, the first two seasons of The Walking Dead and Battlestar Galactica - but the TV selection is rather limited. All too often clicking on programmes in the web version took us to LoveFilm's DVD listings because the service didn't have the streaming rights.
LoveFilm Instant vs Netflix: movies
Both services have a good selection of children's films including Disney and Pixar classics, but when it comes to the grown-up stuff LoveFilm has more recent blockbusters.
However, "recent" is relative, as both firms generally have to wait until films have dropped out of the DVD/Blu-Ray charts before the studios make them available for streaming. A quick search for high-profile films demonstrates the differences: LoveFilm has Looper, Bridesmaids, Twilight: Breaking Dawn Part 2, Rio and the recent Alice In Wonderland remake, and Netflix doesn't.
LoveFilm Instant vs Netflix: quality
With both services the quality you get depends on the device you have, so for example Netflix delivers 480p to a Kindle Fire, 720p to a Kindle Fire HD and 1080p to an iPad running iOS 7. It's also worth noting that what you get is only as good as the source material. Some content, such as old cartoons, looks and/or sounds pretty awful. Don't expect to be oohing and aahing at Inspector Gadget in 1080p HD.
Your quality also depends on your internet connection: if you want 1080p streaming, which Netflix calls Super HD, you'll need a connection delivering real-world speeds of around 7Mbps (LoveFilm recommends 12Mbps). if chucking HD video around is likely to hit your ISP's bandwidth cap, Netflix enables you to manage your video settings downwards to reduce bandwidth bills.
The nice people at Wikipedia have put together a list of which devices get which resolutions from Netflix, and you'll see that PCs and the most recent consoles and mobile devices can get 1080p but older kit (such as the second-gen Apple TV and the Xbox 360) and Windows Phone devices get 720p.
LoveFilm can stream 1080p to PCs and Macs, but other devices are mainly 720p. There are two notable exceptions: Samsung and LG Smart TVs and Blu-Rays, which can get 1080p, and the iPad, which can't get HD at all.
Both services use adaptive streaming, which changes the streaming bitrate upwards and downwards to deal with network congestion.
For now all streaming content is 2D, but Netflix's US customers can stream some 3D titles. The service is also trialling 4K streaming for an expected US launch later this year.
LoveFilm Instant vs Netflix: Verdict
The winner here depends on what you want to watch, and what you want to watch it on. Netflix works on many more devices and is much better for TV programmes than its rival; now that it's making its own programming based on viewing data - and basing its buying decisions in part on the basis of what's popular among the pirates - it's, ahem, one to watch.
LoveFilm's device support is narrower and in some cases inferior - for example, iPads don't get HD and some trailers don't work - but you're more likely to find fairly recent blockbusters on LoveFilm Instant than on Netflix.
If you're looking for a quick answer then we reckon Netflix is better for TV programming and LoveFilm Instant is better for blockbusters, especially if you don't mind paying a bit more to get disc rentals too. However, they're both good services and good value. We'd suggest signing up for both lots of free trials to see which one suits you best.