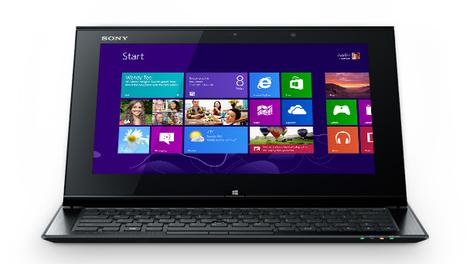 Microsoft fundamentally changed the way Windows works when it introduced Windows 8, ensuring it works better with touchscreens and tablets.
But what about Windows 8 laptops, Ultrabooks and convertibles? They're all supported, too.
One thing Windows 8 has in spades is convergence. A Windows 8 Ultrabook that has a touchscreen? Check. A laptop with a flip-around screen? Check. Tablet PCs that slide up to reveal a keyboard? Check.
It can be tough differentiating some of these from tablets, but the only conditions required for laptops to make it into this article are that they have a keyboard and also run x86 Intel or AMD processors. (None of the machines you'll see here are ARM-based.) They also come with keyboards in one way or another - for something more tablet-specific, check out our Best Windows 8 tablets article.
All of which means they don't run Windows RT, the version of Windows for ARM systems. They do, however, run either Windows 8 or Windows 8 Pro. Check out our article on the different Windows 8 versions to get your head around which version you'd like.
So to help you choose the right machine, here's a rundown of the Windows 8 laptops, notebooks, convertibles and Ultrabooks we've looked at so far. Make sure you also read our Windows 8 review, and check out the changes in the Windows 8.1 update.
Acer Aspire V5 - £299 / US$497 / AUS$554
The Acer Aspire V5-122P is light, portable and now comes with touchscreen input. As such, it works very well with Microsoft's Windows 8. You won't need to navigate using the touchpad's frustrating integrated click buttons because you can just reach up and swipe through options on the screen.
Although available in a wide range of specifications, our model arrived with an AMD A6-1460 processor, with a clock speed of 1GHz backed by 4GB of DDR3 RAM.
While these components handled complex processes well on day one, we're not sure how well the V5-122P will hold up after a year's worth of program installation and software updates.
Read our full Acer Aspire V5 review
Lenovo G505 - £330 / US$272 / AUS$533
How much should a laptop cost? A laptop that can handle serious applications, surf like the best of them and also turn its hand to the odd game? How does £330 strike you?
That's the price tag that can be found hanging from Lenovo's latest offering, the potentially bargainous Lenovo G505. With the world and his dog jumping aboard on the Ultrabook bandwagon, it's good to see that there's still interest from system builders to manufacture value-focused machines.
Read our full Lenovo G505 review
Lenovo G500s - £330 / US$272 / AUS$533
Lenovo has a habit of serially iterating on popular product lines, which although confusing, does mean we end up with things like the G500s, which is essentially an update to the Lenovo G505 (above).
The key difference is that the G500s feels snappier in Windows 8 generally, thanks to an upgrade to a more powerful processor and twice the amount of RAM found in the G505.
This model still isn't the most portable of devices (it weighs 2.5kg), but like its sibling there's a lot here, including a massive 1TB hard drive and a great deal to admire at this price.
Read our full Lenovo G500s review
Asus V550CA - £399 / US$663 / AUS$739
Mid-ranged laptops such as the Asus V550CA-CJ106H can sometimes be a mixed bag. They come with price tags that make it hard to overlook the sort of shortcomings you'd forgive a laptop £100 cheaper. And yet they still can't target the highest-end components for the best possible performance.
Sometimes these laptops can get the balance right, such as the Samsung Series 9 NP900X3D, but more often than not they can end up being rather underwhelming, like the MSI CX61 0NF. So how does the Asus V550CA-CJ106H fare?
HP Pavilion Touchbook Sleekbook - £400 / US$650 / AUS$800
Sporting an AMD A-Series processor, 6GB of RAM and 1TB of storage, the HP Pavilion Touchbook Sleekbook is pretty well specced to run full Windows 8.
It also boasts a 15.6-inch touchscreen, which is responsive and works well with the OS, but has a low resolution and dull colours.
Its lid is also sparkly and shiny, and the laptop has HDMI, USB 2.0 and USB 3.0 connections and a webcam. The keyboard doesn't feel that great to use, but the trackpad is great, with a hatched texture that feels nicely different.
Read our full HP Pavilion Touchbook Sleekbook review
Lenovo IdeaPad Z500 Touch - £439 / US$729 / AUS$813
The biggest surprise about the Z500 is that Lenovo decided to pack in discrete graphics, where most laptops rely on the integrated graphics.
This decision, coupled with the lower resolution 15.6-inch screen that enables the graphics to work more optimally, makes it a decent little games machine. For instance, BioShock Infinite can run smoothly at a medium graphics setting, which is quite impressive.
However, the caveat, which usually follows good gaming performance, is that the Z500 is on the chunky side and battery life takes a hit, averaging about three hours.
There are lighter laptops, but they don't offer as much performance or, indeed, as much storage, and there a better gaming portables, like the MSI GS70 Stealth, but they cost substantially more.
Read our full Lenovo IdeaPad Z500 Touch review
Acer Aspire P3 - £529 / US$600 / AUS$979
Acer has upped its game in recent years, and it's easy to forget that just two years ago the Taiwanese giant made its money peddling identi-kit budget laptops by their millions.
The company has since turned around its reputation and is responsible for the glorious Acer Aspire S7 - one of the finest Ultrabooks out there - and has also got chins wagging about the Acer Iconia W3 (the world's first 8-inch Windows 8 tablet) as well as the Acer Aspire R7 and Acer Aspire P3.
Read our full Acer Aspire P3 review
Lenovo Yoga 11S - £549 / US$912 / AUS$1,017
While other manufacturers are busy pointing fingers as to why the PC seems to be struggling in the face of competition from that Cupertino-based company and myriad tablets, Lenovo is both pumping out solidWindows 8 devices while at the same time, turning a profit. Which brings us to the Lenovo Yoga 11S.
Of course, this isn't Lenovo's first time on the yoga mat. The 13-inch Lenovo IdeaPad Yoga was released last year to very favourable reviews. The appropriately named 11s is a size down. At just 11.6-inches, it's the smallest form factor that can support a full QWERTY keyboard.
Read our full Lenovo Yoga 11S review
Lenovo ThinkPad S431 Touch - £571 / US$949 / AUS$1,056
Lenovo faces some difficult challenges with the ThinkPad. As well as trying not to upset zealous followers of the range, it has to balance both price and performance to appease business users. On the most part, Lenovo succeeds in doing this with the 13-inch S431, rattling off a workman-like performance.
The results could have been better, though. A current-generation Haswell processor from Intel, instead of a third-generation chip, would have helped both the raw power and battery results, which, even though charging the S431 is swift, saw a single charge struggling to last a working day.
The Lenovo ThinkPad S431 Touch isn't flashy, but it's a solid performer at a price that will appeal to frugal IT managers.
Read our full Lenovo ThinkPad S431 Touch review
Toshiba Satellite U50T - £669 / US$1,115 / AUS$1,244
The Toshiba Satellite is a nice Windows 8 machine for the money, which doesn't cut too many corners for its Ultrabook status.
It loses a few points for a low-res screen and heaviness at 2.3kg, and while that weight means it's not going to offer the Ultrabook experience you may be after, it's powerful enough for general office work because of the Intel Core i5 (Haswell) processor.
The compromises that have been made don't equate to major flaws – battery life is particularly good at close to 7 hours and a hybrid drive with a 32GB solid-state drive has helped shape a fast booting system and generally good performance in Windows 8.
Read our full Toshiba Satellite U50T review
Microsoft Surface Pro - £720 / US$900 / AUS$1,000
Microsoft's own full Windows 8 laptop-tablet hybrid, the Surface Pro, has the same look and the same VaporMg coat as the Surface RT, but has a tweaked kickstand and magnetic connectors for power and the two tear-off keyboards.
It also has a higher resolution 10.6-inch touchscreen with excellent blacks, a smooth, pressure-sensitive stylus and an Intel Core i5 processor. It can run any application you throw at it, and has USB and DisplayPort connections.
The clip-on Touch Cover feels very light, and typing on its flat surface takes some getting used to, or the more expensive Type Cover feels more like a normal laptop keyboard, which we prefer.
Read our Microsoft Surface Pro review
Lenovo IdeaPad U410 Touch - £722 / US$700 AUS$915
We first crossed paths with the Lenovo IdeaPad U410 in January 2013, finding it to be a very tidy little package, even if it strained the Ultrabook name a little. Its mid-range price belied some rather useful specs, though, such as a dedicated graphics card and an uncommonly large hard drive.
While the name change from the original Lenovo U410 to the Lenovo U410 Touch here might draw attention to the touchscreen, it's not the special part: it's everything else in it that's noticeable.
Read our Lenovo IdeaPad U410 Touch review
Gigabyte P34G - £839 / AUS$/US$1,399
This is Gigabyte's budget gaming laptop for the more frugal player of games. This portable is all about combining the best components for the least amount of cash.
You get a Full HD 14-inch screen, a Core i7-4700HQ (the same as the Aurus X7), Nvidia's 760M discrete graphics, 16GB of DDR3 RAM, 1TB of storage and a 128GB solid-state drive, along with all the connectivity and ports you'll need, including HDMI and Ethernet.
In real-world gaming terms the P34G really delivers. For instance, we tried out the Titanfall beta on High Settings (save for antialiasing) and it dealt with all the Source-engine's mech smashing without a stutter. Battlefield 4 will likely bring it to its knees, though.
This is a gaming laptop at an unmatched price: the battery is poor at around 2 hours 30 minutes and the build quality is adequate and uninspiring, but you'll get roughly the same gaming performance as a Razer Blade or an Alienware 14.
Read the full Gigabyte P34G review
Dell XPS 13 - £849 / US$1,411 / AUS$1,573
A Windows 8 upgrade of the laptop of the same name, the 13-inch Dell XPS 13 looks like a MacBook on first glance, though under the lid is a soft rubber coating and lots of black.
An Intel Core i7 processor is top of the line, able to handle picture and video editing and multitasking with ease. 8GB of RAM and a 256GB SSD also ensure performance is quick, while battery life is seriously impressive. However, the laptop's screen isn't touch-sensitive, so you can't make the most of Windows 8 gestures, and it's not Full HD resolution either.
If you don't mind ditching a touchscreen, the keyboard and trackpad are comfortable to use for long periods, and the overall performance is impressive.
Read our full Dell XPS 13 review
Lenovo Yoga 2 Pro - £873 / US$1,455 / AUS$1,624
Yes, this is another bendy Windows 8 hybrid from Lenovo. The key changes to this Yoga Pro 2 refresh are a very high resolution 13-inch screen (at a 3,200x1,800 pixels) and an upgrade to the processor, to the latest generation Intel Core i5.
We were surprised that the battery didn't last longer than three hours given the promise of greater performance via the Haswell chip, but powering all those pixels onscreen has to be a drain.
Windows 8.1 also fixes any concerns you might have about scaling issues with such a high-res display. What Microsoft can't fix, however, is other software and you'll need to be aware that some apps may not be ready for this HD+ world with menus that are hard to read, unless you dial down the resolution to mere Full HD.
The Yoga Pro 2 also benefits from being a good half a pound lighter than its predecessor. The choice with this hybrid isn't really performance, but whether or not you like (or need) all the backflipping modes this form factor has to offer. You might be better off with a separate tablet and laptop for the same price.
Read our full Lenovo Yoga 2 Pro review
Alienware 14 2013 - £899 / US$1,100 / AUS$1,666
The Alienware 14 is an attempt to create a serious but portable gaming laptop.
It's been designed specifically for serious gamers - it has a roster of specs to die for and a price to match.
Alienware is owned by Dell, and the gaming brand has benefited from the latter's prowess in building robust laptops, as well as its buying power.
As you'd hope, there's a WLED Full HD anti-glare screen with superb viewing angles. The colours on the Windows 8 Start screen still look awesome even when viewed from an extremely acute angle. The anti-glare coating can make pale colours look a little grainy at first glance, but games look superb on it. Sadly, it's not a touchscreen.
Read our full Alienware 14 review
HP EliteBook 820 G1 - £899 / US$1,494 / AUS$1,666
A military grade portable isn't for everyone. After all, most of us aren't likely to be worried whether our laptop will survive being run over by a Humvee – unless, of course, you drive one. The EliteBook is well specced out with a Haswell Core i5 chip, 8GB and 1TB of storage, as well as an optional copy of Windows 8 Pro.
In soldierly fashion, there's tool-free access to the innards, which enables quick upgrades, replacements and the ability to slot in a bigger battery than that supplied, for greater staying power.
The Elitebook 820 G1 is a solid straight-down-the-barrel laptop with reliability baked in and is good value to boot.
Read our full HP EliteBook 820 G1 review
Lenovo ThinkPad T440s - £935 / US$1,543 / AUS$1,759
Similar to the ThinkPad X240, the T440s has two batteries and as a consequence results in a combined 8 hours of power. Instantly that makes the T440s a worthy business portable, even if that additional battery increases the girth and weight of the T440s to 4.2 pounds.
The solid specs, including the latest generation Core i5 processor and a 128GB solid-state drive, reflect that you're getting a no-fuss and reliable ThinkPad for everyday business people that will simply deliver. If you want to make more of a statement, you may want to consider one of the Yoga series.
Lenovo's changes, particularly to the keyboard, aren't going to sit well with old-school acolytes of the ThinkPad, but it's as close as you're likely to get, with its iconic red Trackpoint and the subtly concave keys that grip your fingertips for more controlled typing.
Read our full ThinkPad T440s review
Lenovo ThinkPad Yoga - £962 / US$1,598 / AUS$1,782
This is the Yoga wearing a pinstriped suit - and possibly a pink tie. Lenovo wants you to think of the Yoga series as the perfect business Ultrabook and it makes a good start by supplying a Core i3 (Haswell) processor, which provides a responsive and workman-like Windows 8 performance.
Unfortunately, like many of the Yoga models we've reviewed, the battery life doesn't stretch very far, which makes all that bending into a tablet for commuting and flipping into 'tent' mode for a quick presentation a lot less useful.
This is a long way from ThinkPad's origins, but it's stylish and will appeal if you're looking for versatility and a hi-res screen for visuals.
Read our full Lenovo ThinkPad Yoga review
Dell XPS 18 - £1,000 / US$1,350 / AUS$1,650
Essentially an 18-inch Windows 8 tablet crossed with an all-in-one PC, the Dell XPS 18 has a charging stand, Bluetooth mouse and keyboard that turns it into a desktop machine. It also has touchscreen controls and a kickstand, which means it works on its own, though it doesn't offer stylus support.
The system feels quick, if not the most powerful around, and the keyboard is comfortable to use, though trackpads are better than mice when using Windows 8, so we often tended to navigate with the touchscreen instead of the mouse.
Its screen is Full HD, and the machine packs an Intel Core i5 processor, 8GB of RAM, a 500GB hard drive and speedy 32GB SSD into a slim 18mm body.
It just offers two USB 3.0 ports, an SD card slot and an audio jack, with no more connections in the charging dock. Battery life is a little disappointing, largely due to the beautiful big screen sucking it all up.
Read our full Dell XPS 18 review
Lenovo ThinkPad Helix £1,007 / US$1,679 / AUS$1,878
Jack of both trades and master of neither laptop nor hybrid? In fact the ThinkPad Helix bravely squares off against the biggest challenge for a hybrid and does a good job for the most part.
The Helix ships with a keyboard attachment that has its own battery pack and airflow fans. Stamped as it is with the ThinkPad moniker, the truncated keyboard is the best we've tried on a hybrid laptop, and is particularly good for bashing out long documents.
That extra battery in the dock also means real day's worth of longevity. Our tests indicate that you'll get 7 hours from the Helix while docked and roughly 6 hours as a tablet. That fine result is largely down to the low power last-gen (Ivy Bridge) processor, which, we feel, should really have been a latest generation of Intel processor at this price.
Read our full Lenovo ThinkPad Helix review
Gigabyte P2742G - around £1,000 / US$1,607 / AU$1,706
Graphics. It's the final frontier for mobile computing. We'll come to the reasons why momentarily. But the bottom line is that it means going after a laptop with 3D grunt is going to cost you. And that makes the new Gigabyte P2742G actually look like something of a bargain.
It's a big, brash 17-inch portable gaming rig with a full-HD screen, a quad-core CPU and – critically – a dedicated graphics chip.
The problem for mobile gaming goes something like this. CPU performance is stagnating. In fact, Intel bases most of its desktop CPUs on mobile designs these days, so the performance gap is tolerable.
Read our Gigabyte P2742G review
Samsung Series 7 Ultra - £1,020 / US$1,200 / AU$1,350
Pretty much everything about the 13-inch Samsung Series 7 Ultra shouts premium. And so it should, given the price.
The cost alone butts it up against rivals such as the Asus Zenbook, Dell XPS 13 and Apple MacBook Air– remember that the latter model, while running Apple's OS X straight out of the box, can have Windows 7 or Windows 8 installed on it should you wish.
The Series 7 Ultra runs Windows 8 Pro. The main reason for the price is the presence of so many premium features, chief among them an AMD Radeon HD 8500M graphics chip, which Samsung has taken the rather unusual Ultrabook step of including, alongside the 1.8GHz Intel Core i5 processor.
That extra graphics chip is why it's among our high end laptops rather than coming under our ultraportables section, coming up.
Read our Samsung Series 7 Ultra review
Asus Transformer Book TX300 - £1,159 / US$1,925 / AUS$2,147
We remember playing with a Transformer that turned into a microcassette recorder, which is probably why Hasbro took offence to Asus's stylish hybrids and tried to sue the company for trademark infringement. Fortunately, Hasbro's litigation failed and as a result we have a powerful 13-inch Ultrabook that transforms into a tablet quickly by unclipping the keyboard.
The rest of the specs add up to a responsive Windows 8 experience, although had the Core i7 processor been a Haswell chip, the battery life would have likely steamed past its current 5 hours.
Aside from a few connectivity caveats (no HDMI or USB 3.0 ports on the tablet) and its weight, this is a desirable hybrid finished off with brushed aluminium.
The Asus Transformer Book TX300 may not beat the likes of the Apple MacBook Pro but it straddles the line between laptop and tablet in an admirable fashion (that would make Optimus Prime proud).
Read our full Asus Transformer Book TX300 review
Toshiba Satellite P70 - £1,199 / US$1,992 / AUS$2,222
Aspects of the Satellite P70's build look a bit cheap, but that's not the case with the components that have been used inside the chassis. It packs a vivid Full HD screen, a stunning 2TB of storage, a top-end Core i7 chip, even a Blu-ray writer and, to top it off, discrete graphics.
Unfortunately, all of those demanding internals also mean a hit to the battery life, which lasted only 77 minutes, which isn't enough time to watch the average movie. This Windows 8 machine is intended to be a desktop replacement and as such it will hit most, if not all, of the requirements.
Read our full Toshiba Satellite P70 review
Samsung ATIV Book 9 Plus - £1,200 / US$1,400 / AUS$1,600
Samsung was one of the very first PC manufacturers to jump on the Ultrabook bandwagon. It's done a fine job of representing Intel's baby ever since, with some stunning offerings, including the Series 5 Ultra Touch and, more recently, the top-of-the-range Series 9 NP900X3D.
Samsung certainly knows its stuff when it comes to Ultrabooks, but the goal posts are always moving. So what new trick can it pull out of its sleeve for 2014?
Read our full Samsung ATIV Book 9 Plus review
Asus G750JX - £1,269 / US$1,900 / AU$2,300
When you buy a high-end gaming laptop like this, you're not only buying something that's physically large, you're also buying power - and a considerable amount of power at that.
The Asus G750JX boasts top-end components across the board, but nowhere more so than at its hugely capable heart - there's a Core i7-4700HQ processor on board from Intel in there. Launched mere months ago, this 2.4GHz quad-core processor has plenty to offer gamers.
HP ZBook 14 - £1,430 / US$2,349 / AUS$2,617
This is Dell's Ultrabook workstation, which aside from good all-round performance means it's got business squarely in mind. This includes easy access to the internals for IT departments wanting to do quick upgrades or replacements, and a fingerprint sensor for slowing down any opportunist wishing to rifle through your confidential documents.
The ZBook isn't light for an Ultrabook but it will handle all the intensive data tasks you can throw at it with its high-end Intel Core i7 chip, 240GB solid-state drive, 16GB of RAM and extra graphical grunt via discrete AMD FirePro M4100.
Battery life was distinctly less impressive at 3 hours when taxed, but make no mistake this is a capable Windows 8 workstation.
Read our full HP ZBook 14 review
Dell Precision M3800 - £1,499 / US$2,498 / AUS$2,791
This is an exceptionally powerful and portable workstation for creative work, albeit with a limited battery life of around 3 hours.
An Intel Core i7-4702HQ quad-core processor backed by 16GB of RAM and Nvidia Quadro discrete graphics give this Precision M3800 almost desktop-like performance.
Another HD+ display makes a welcome appearance with a resolution of 3,200x1,800, which makes for crisp viewing. As it currently stands, however, Adobe has hobbled this great display for serious design work as it hasn't been scaled up for Creative Cloud apps. As a result, icons are tiny and menu information remains very hard to read. This isn't Dell's fault but it may take time for the situation to be resolved with all the software you use regularly.
This model also comes with a decent-sized SSD that works alongside a 500GB hybrid hard drive with flash memory that kicks in for fast access to Windows 8.
Solidly built yet sleek and lightweight, the Precision M3800 earns its money and is capable of running many types of 3D software and intensive tasks that are part of a designer's day.
Read the full Dell Precision M3800 review
Gigabyte Aorus X7 - £1,600 / US$2,666 / AUS$2,978
Twin-GPUs in an inch-thick gaming laptop? That's the kind of thing liable to induce a frenzy among most serious gamers, akin to spraying blood into a shark pool.
Gigabyte has two Nvidia 765M GPUs running in SLI mode in the Aorus X7, which putting it into perspective is the same graphics GPU in the Alienware 14 – but twice over.
It would appear that physics has, apparently, been sidestepped somehow. But the notion is simple enough: use two decent graphics GPUs and spread the heat around the chassis and you can achieve a smaller form factor than with a better single graphics unit. As you'll note from the review's product shots, you also need vents – lots of them.
Real-world gaming performance, as you might expect, is stellar – how about BioShock Infinite on max graphics settings at 55fps through a 1080p screen? Not bad, to put it mildly.
The downside of all that performance is the noise from the fans and the air blasting through the vents (on the plus side you could dry your hair mid-game). Battery life isn't great either, but something had to be sacrificed to the gods of gaming for this kind of performance.
That graphical muscle is matched up with a Core i7-4700HQ, a great processor for video editing and creative work as well as gaming. To swing for home, the Aorus X7 even has 1TB of hard drive space for all your games and a small SSD for fast booting.
Read our Gigabyte Aorus X7 review
MSI GS70 Stealth - £1,600 / US$2,000 / AU$2,300
The MSI GS70 Stealth breaks away from familiar desktop replacement conventions: instead of being bulky, heavy and ugly, it's little thicker than an Ultrabook and half the weight of some rivals - and it's one of the best-looking laptops we've seen for quite some time.
The GS70's vital statistics are backed up by great quality. It's mostly made from brushed aluminium, and the gunmetal-grey finish is paired with slick design. The MSI's lid and base gently contour toward subtle curves at each edge, and we like the little details: milled speaker grilles and air vents, discreet status LEDs on the front edge, and the total absence of garish stickers that usually disturb wrist-rests.
Build quality is excellent, too - impressive when the GS70's dimensions are considered. The base is sturdy and, while there's a little flex in the lid, it's what we expect from machines with a 17-inch screen.
Read our MSI GS70 Stealth review
Lenovo ThinkPad X1 Carbon Touch - £1,779 / US$2,139 / AUS$2,538
The original 2012 Lenovo X1 Carbon was the best ThinkPad money could buy, but now Lenovo has added a touchscreen panel and changed Windows 7 Professional for Windows 8, bringing last year's model right up to date.
The result is a formidable machine that not only offers the best usability and performance, but also a fantastic Windows 8 experience. However, the eye-watering price tag means this experience doesn't come cheap.
Read our full Lenovo ThinkPad X1 Carbon Touch review
Razer Blade - £1,802 / US$2,994 / AUS$3,339
The Razer Blade with it's matte-black aluminium finish is all about gaming with style.
Razer has chosen a 14-inch chassis with a lower-res screen (1,600x900 pixels) for a design purpose: achieving the best gaming results possible with the Nvidia GeForce GTX 765M graphics and an Intel Core i7 4702HQ processor.
In a sense the Razer Blade achieves this goal with some admirable results on current 3D games, such as Metro Last Light. But the achievement isn't one that yields a portable gaming machine that will replace your desktop PC. Less demanding titles, such as the Call of Duty: Black Ops will run just fine, which suggests that Titanfall (which uses the less demanding Source Engine) may run smoothly as well.
The question is how much you're prepared to pay for a beautifully designed gaming laptop that's not going to be powerful enough to deliver all the current crop of high performance games with everything turned on and the graphics cranked up to Ultra.
Read our full Razer Blade review