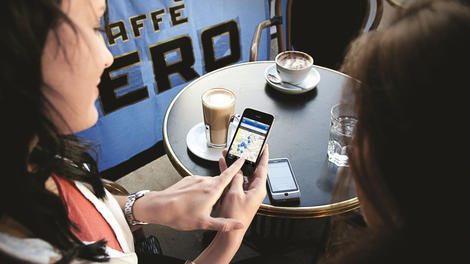 Apps for getting ready and going up, up and away
It's a wonderful time of the year—well, unless you're traveling. If long lines and crowded roadways are not your idea of a vacation, then make sure you prepared, because it's going to be one of the busiest travel seasons. Pack light, take some emergency cash, but just don't leave your smartphone behind, those apps will come in handy.
To ease your holiday headaches, we have come up with a list of 10 iPhone, iPad and Android apps that no traveler should leave home without.
From packing for your getaway to exchanging currency to finding an authentic restaurant, these are the apps to use and improve your overall travel experience. In fact, we're willing to bet that after one trip you'll start to wonder how you ever managed to travel without them.
1. Hipmunk
Hipmunk also includes non-traditional lodging, such as listings from Airbnb and HomeAway. (Those two services connect people who have rooms, apartments, and homes to let with travelers who want to rent them.)
For the lowest round-trip fares over a 90-day timeframe, be sure to search Hipmunk's pricegraph, too.
2. TripIt
Organizing travel just got automagical. Whether you're a planner or the spontaneous type, TripIt helps transform your travel and booking confirmation emails into a master day-by-day itinerary, with all your plans in one place, via the web or your phone.
Along with creating your vacation itinerary, TripIt also suggests attractions and activities according to your schedule, and even looks up all the information we seem to forget like weather updates, local maps, and directions.
Its free-to use service is great for casual travelers, but high-powered features like flight status, text-message alerts and fare refund notifications can make Tripit's pro-level service pay for itself.
3. PackPoint
Users answer a few basic questions, such as: Are you a man or woman? Are you traveling on business or leisure? How many days are you going for? And where exactly are you going? Then PackPoint creates a custom packing list to account for all of your travel needs based on weather, location and your travel activity. Not only will you thank us for packing light, you will also save yourself the $25 checked bag fee.
4. Entrain
Plug in your sleeping habit data and the time zone you're traveling to, and the app calculates a schedule specifying when you should stay in bright light, low light or be in the dark. The app then helps you gradually shift your sleeping schedule to lessen the impact of skipping across all those time zones to help you get the most out of your travel.
More travel apps for smooth sailing
5. MiFlight
The app includes information for 54 airports at the most-traveled hubs around the world. But you'll want to have your gate info handy to use the app and input your airport, terminal and gate to get your estimated wait time in the security line.
Ready to spread the cheer to other travelers? Just click on the timer, input your minutes and share your info using Facebook, Twitter, WhatsApp, email, text or Instagram.
6. Wi-Fi Finder
If you prefer certain providers such as Comcast, you'll be able to see which hotspots are served by those providers. The app works in more than 100 countries, including the United States, Japan and Italy, and allows you to star favorites so you can easily find them again. Best of all, the offline mode means you can download maps before you go, thereby dodging a massive bill.
7. Tipulator
8. Foodspotting
Before you end up eating a meal in the Times Square of India, or any other tourist trap, make sure you download the Foodspotting app to find good eats and authentic dishes available in restaurants around the world.
9. XE Currency
How much is the dollar worth these days? If you have asked yourself this question before, then XE Currency is a useful tool for you to download before you say, si to a bad or inaccurate rate. The app converts money from all over the world, and helps users to better understand what they should expect to receive after an exchange (before fees).
Since it makes use of your smartphone's internet connection, exchange rates throughout the app are also updated as new information becomes available, ensuring your exchange calculations stay up to date with the changes in the international currency markets.
10. GasBuddy
Hitting the open road instead of the air? Sure, gas prices have been dropping in the last few weeks, to $3 or below in some places, but you'll still want to shop around for the best prices on the road.
Don't forget to show your fellow travelers some holiday love, and share the low-price gas station you discover within the app.