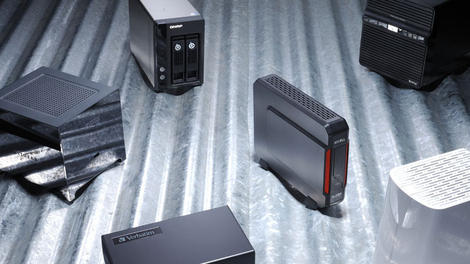 Introduction
There's no doubt that the cloud has become an increasingly relevant option for file storage over the past few years. However, if you don't trust your data in the hands of a third-party service, a Network Attached Storage (NAS) device might be the way to go.
Sitting somewhere between local and cloud storage, NAS devices keep your files and data in your hands. Whether for personal or business use, a NAS solution could be the right way to go for an easy way to share and back up data across a local network and beyond. However, sorting through the various features and price points can be a bit of a hassle, so we've rounded up ten of our top picks for NAS devices from the past year.
QNAP TS-470
A fully capable storage solution for the small business crowd with a price to match.
With excellent performance, ample expandable storage options, and easily navigable software, the TS-470 from QNAP is definitely impressive. The device comes packed with four drive bays and four Gigabit network ports, all running on a 2.6GHz dual-core Celeron processor.
With extra features such as SSD Caching and optional web apps, along with the option to upgrade to a 10GbE card, the TS-470 offers plenty of options for users. However, those options come at a cost: about $1,180 (£700, AU$1,270). At that price point, this offering from QNAP firmly straddles the line between high-end NAS solutions and full-blown rack-mounted options.
Read: QNAP TS-470 review
Western Digital Sentinel DX4200
A full-featured solution for businesses.
The WD Sentinel DX4200 is definitely an interesting little NAS box. While the DX4200 comes in a similar size as other NAS offerings, its internals are what make it stand out. Rather than the traditional Linux setup, the DX4200 runs Windows, allowing it to seamlessly integrate Windows workgroup or Active Directory network. As a bonus, the DX4200 comes pre-loaded with four hard drives. However, that inclusion will set you back around $1,693 (£1,080, AU$2,036) for the 8TB option and $2,180 (£1,390, AU$2,620) for the 16TB option.
Our only notable qualms with the DX4200 were with the device's somewhat complex configuration software. However, with a separate boot disk (with an option of two for extra redundancy), solid build, and ample external ports, the DX4200 makes a great option for enterprise users that are willing to look past the price to add some storage to their existing Windows server setup.
Read: Western Digital Sentinel DX4200 review
Synology Embedded DataStation EDS14
A rugged, compact solution for surveillance.
The EDS14 from Synology ($275, £160, AUD$295) is definitely a unique option. The tiny EDS14 foregoes the typical drive bays for flash memory and USB-mounted external storage. However, what it lacks in drive options, it makes up for in its ability to be tucked away out of sight.
The EDS14 can operate in temperatures ranging from -20 to +50 degrees Celsius (-4 to 122 Fahrenheit), and really shines when used as a network attached storage solution for IP cameras that are tucked away in the corners of a building or bus. Building on this idea is the device's relatively low power consumption, along with Surveillance Station software. In other words, if you're looking for a convenient way to set up a network of IP cameras, the EDS14 might be your ticket.
Read: Synology Embedded DataStation EDS14 review
Western Digital DL4100
Excellent backup for a wide variety of users.
If you're looking for a NAS device to help manage your backup needs, the DL4100 might be worth. taking a look at. One of the coolest features of this device is its web dashboard that offers users options for backing up to cloud services such as Dropbox and Box. Additionally, we really liked the ability to set up SMS and email alerts in case the system failed for whatever reason.
As far as storage options are concerned, the DL4100 comes with four drive bays in your choice of four configurations: $529.99 (£499, AU$689.52) for the diskless model, $849.99 (£799, AU$1105.57) for 8TB, $1,169.99 (£1099, AU$1522.17) for 16TB, and $1,529.99 (£1419, AU$1990.53) for 24TB. Aside from some annoying issues with wireless transfers, we found that the DL4100's 1.7GHz dual-core Atom processor and 2GB of RAM (configurable up to 6GB) performed admirably. Combine this with an easy setup and cloud connected web apps, and you have an interesting backup offering on your hands.
Read: Western Digital DL4100 review
Thecus N8810U-G
Redundancy is key with this rack-mounted storage option.
At around $2,350 (£1,500, AU$2,840), this rack-mounted NAS solution from Thecus definitely on the expensive side. However, with 10GbE, extensive redundancy, hardware-based 256-bit encryption, the N8810U-G offers plenty to like for business customers. Additionally, the unit comes with support for up to eight SAS or SATA drives, configurable in a wide variety of RAID modes, including RAID 50 and 60.
While we found the software to be a bit behind-the-times in terms of design, the N8810U-G performed well in our tests—especially with those speedy 10GbE speeds. As a bonus, if you find the RAM or CPU lacking down the road, the interior of the device is easily accessible for upgrades. As long as you keep in mind that this is a rack mount, and thus comes with the weight and size that entails, the N8810U-G is worth consideration.
Read: Thecus N8810U-G review
Numbers 6-10
Synology DiskStation DS115j
Excellent NAS for a great price
If you've been put off by the price of the previous entries on this list, the DS115j is definitely worth checking out. This offering from Synology is a (relatively) simple single-bay NAS device that offers plenty of features for the home user at a very-affordable $125 (£78, AU$145).
While it's a simple setup compared to other options on this list, the DS115j includes Synology's fantastic DiskStation Manager software, which will make setup and management a breeze. Although we had a few issues concerning the device's build quality and lack of USB 3.0, the DS115j's price point makes it an excellent option for homes or small office settings.
Read: Synology DiskStation DS115j review
ioSafe 1513+
'Rugged' is the name of the game with this NAS solution
While redundancy is important in any NAS box, your data is still at risk from the elements with most solutions. That's where the massive ioSafe 1513+ comes in, ready to weather such abuse from the elements with a rugged fireproof and waterproof case. the 1513+ can survive in temperatures of up to 840 degrees Celsius (1550 Fahrenheit), and depths of up to 3 meters (10 feet) for three days. Unfortunately, this comes at quite the cost—around $4,620 (£2,950, AU$5,295).
Aside from its ruggedized features, the 1513+ features five drive bays, ample expansion ports, and easy-to-use software. If you're looking for a disaster-proof solution for your data, look no further.
Read: ioSafe 1513+ review
Netgear ReadyNAS 716
Speedy storage…at a cost
This six-bay option is billed as the world's fastest desktop NAS device by the folks at Netgear—and for good reason. Sporting a quad-core Intel Xeon E3 processor, 16GB of RAM, and two 10GbE interfaces, the ReadyNAS 716 certainly proved to be fast on its feet in our tests.
Aside from the ReadyNAS 716's performance, we were also impressed with the setup's enterprise-level snapshot and backup options, as well as its easy-to-use software. If you can look past the lack of power redundancy, this is a worthy option for those seeking rack-mounted performance from desktop chassis.
Read: Netgear ReadyNAS 716 review
Synology DiskStation DS415play
For the media-hungry
If previous entries on this list have leaned towards the business crowd, this one swings things back into the realm of the home user. Simply put, the DS415play from Synology is a media-streaming powerhouse. Front and center with this model is its DLNA certification, allowing users to stream a wide variety of media content to PCs and smart TVs on their network with the accompanying Media Station package.
As far as specs are concerned, the DS415play packs 4 drive bays, for a total storage capacity of 24TB. With a 1.6GHz dual-core Intel Atom processor, 1GB of RAM, and Synology's excellent DiskStation Manager software on board, we found the device performed pretty well. If the DS415play sound like it's up your alley, it can be had for about $650 (£390, AU$700).
Read: Synology DiskStation DS415play review
Synology DS1815+
Great for home and business users
The DS1815+ from Synology is an eight-bay NAS solution that offers up plenty of space for home and business users alike, supporting up to 48TB from internal drives, with the ability to expand that to a hefty 108TB through the device's dual eSATA ports. With its quad-core CPU and up to 6GB of memory, the DS1815+ scored well on our performance tests, though getting the device setup to bond its four gigabit ethernet ports together was a bit of a pain point.
Where the DS1815+ really shines is in Synology's excellent Linux-based DiskStation Manager software. With its simple setup, navigation, and glanceable widgets for tracking vital information, DiskStation Manager continues to shine over the competition. While the price of Synology's offering may be near the top end of the NAS spectrum at around $1030 (£850, AU$1320), the combination of attractive design and ample storage options makes this an excellent option for small businesses and home users that are serious about their storage.
Read: Synology DS1815+ review