The best free firewall
In the 1990s, Microsoft had a problem: Windows seemed to suffer from endless security problems that hackers and other online villains were quick to exploit. One way to fight back was to install a firewall - an app that blocked malicious and/or unwanted network traffic and that could ensure that dodgy software couldn't sneak onto your PC.
Microsoft began building its own firewall into Windows and that's still the case today, but attacks still happen and additional software can make your system even more secure. These are the firewall apps we think you should consider using no matter which version of Windows you're running.
If we've missed your favorite free firewall - whether it's a standalone program or built into a full online security suite - let us know in the comments below.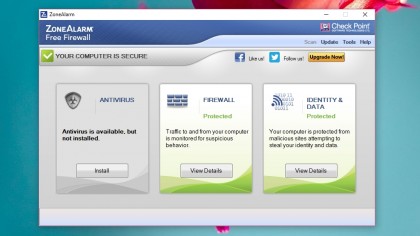 1. ZoneAlarm Free Firewall 2016
A free firewall with real-time protection and special features for wireless connections
For many of us, ZoneAlarm was the app that introduced us to firewalls in the first place, and it was a must-have app in the days when Windows effectively told the internet "Hack me! I'm easy!"
The current version hides open ports, identifies potentially dodgy traffic, disables malicious programs and connects to DefenseNet, which provides real-time security updates as new threats are detected. It also protects your computer on public Wi-Fi networks.

The only downside is that it doesn't play nice with anti-malware software other than Windows Defender, and warns of potential stability and performance problems if you don't uninstall other anti-malware software. If that isn't an issue for you, ZoneAlarm is the most effective and convenient free firewall you can download.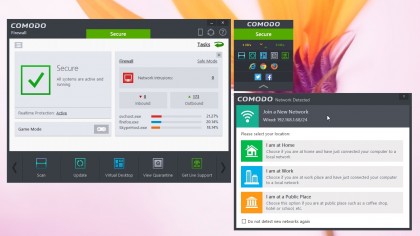 2. Comodo Firewall
Blocks over two million known threats, with more added every day
If you don't like firewalls with lots of pop-up notifications then Comodo Firewall probably isn't for you: it's one of the more vocal free firewall apps we tested, but that's because it's also one of the most comprehensive. It runs on Windows 7 or later, monitors your network, system and apps, and it has a blocklist of more than two million bad apps that it won't let anywhere near your PC.

It also connects to a cloud-based system that's updated instantly as new threats arrive, and that offers a whitelist of reputable files and vendors too.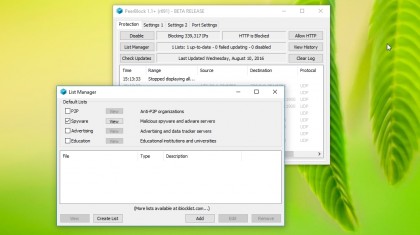 3. PeerBlock
Protection designed specifically for regular filesharers
Many free firewalls use multiple forms of protection, but PeerBlock is designed to protect just one kind of problem: traffic from IP addresses that you don't trust. That narrow focus means it does its one job very well without requiring much in the way of system resources or intervention from you.

When you install it it asks you to choose the kind of websites you want to block - such as adware networks, spyware, known villains and organizations such as anti-P2P groups - and it automatically updates its block lists every day to keep those IP addresses away from your PC.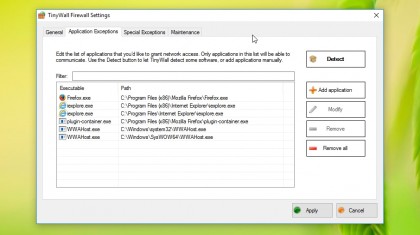 4. TinyWall
Prefer to use Windows' own firewall? TinyWall will give you full control
TinyWall is better known for what it doesn't do than what it does: unlike some free firewalls it doesn't interrupt you with pop-up warnings about what seems to be every second bit of data. It's designed to improve Windows' own firewall features without requiring any expert knowledge, and while it offers the same whitelisting features as other packages - to ensure that the apps you use can get online without any difficulty - it does it through hotkeys or lists rather than pop-ups.

TinyWall only takes up about 1MB on your hard drive, and is a very useful addition if you decide to stick with Windows' built-in security tool.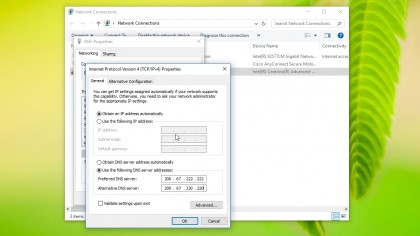 5. OpenDNS
Customizable filters to protect your most personal data at router level
OpenDNS isn't a downloadable free firewall; it's a change you can make to your router's settings so it connects to the internet via OpenDNS's servers. That means the protection applies to any device on your network, which is useful in today's hyper-connected homes and businesses.
OpenDNS Home automatically blocks known offenders and offers a range of content filtering options to keep the kids away from filth too. The service is free, and there are full set-up instructions for every kind of device.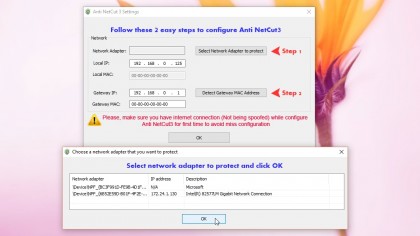 6. Anti NetCut3
A firewall designed to secure your connection on risky public networks
If you've ever wondered "who spoof my connection", Anti NetCut3 has the answer. Ropey interface translations aside, this free firewall is designed to block attempts to cut or manipulate your internet connection when you're using potentially compromised networks such as public Wi-Fi hotspots, which are relatively easy to mess with.

All you need to do is specify the network adapter it should be monitoring - your wireless adapter or your ethernet adapter if you're connecting to a wired network - and it'll take care of the rest.