The best free VPN
There are various reasons for wanting to use free VPN (virtual private network) software, but the two main ones are to hide who you are, or to hide where you are. Why might you want to do either of these things? Depending on what you're up to online, it is entirely possible that you do not want your online activities to be traceable – particularly in parts of the world where internet surveillance is a serious issue.
As for wanting to disguise where you are, this has the advantage of opening up websites that might otherwise be inaccessible. There are a large number of websites – using video or television sites – that use geo-locking to try to block visitors from certain countries, and free VPN software can be used to get around these restrictions. It can also be used to bypass site block put in place by governments and ISPs, and secure your wireless connection.
Here's our pick of the best free VPN software to keep your online activity safe and anonymous.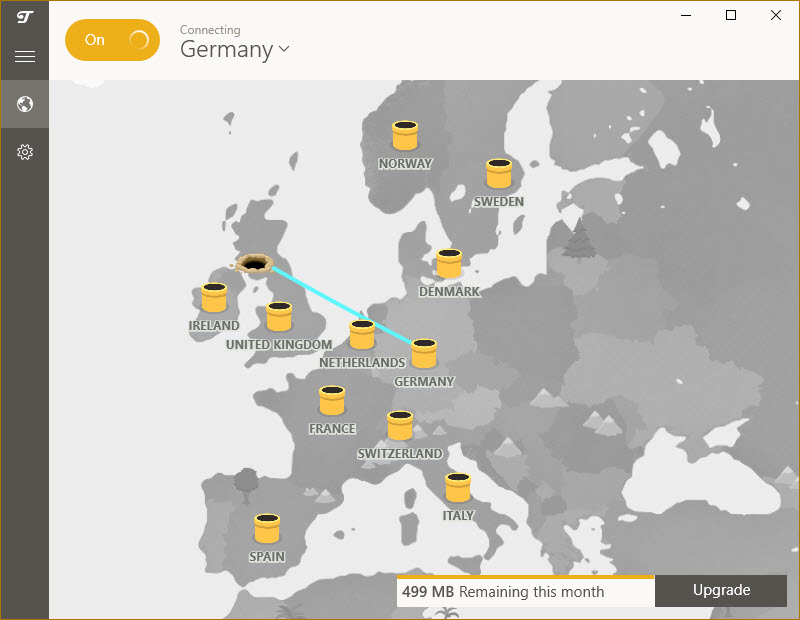 1. TunnelBear

Protecting your identity doesn't get any easier than this. TunnelBear is the best free VPN around
TunnelBear might have something of a cutesy design, but it's a serious free VPN. There are free and paid-for subscriptions to choose from. The only restriction with the free one is that you are limited to 500MB of traffic each month. This isn't a huge amount, so you won't be able to use TunnelBear all of the time without paying, but it's great for those times when you feel like you need a little extra protection.
Performance is impressive and ease of use is second to none. In all likelihood you won't need to change any of the default settings, and the automatic connection option should work find, but you can manually choose from one of 20 countries as your adopted location. Delightfully simple and high recommended. There's a mobile version available for your smartphone too.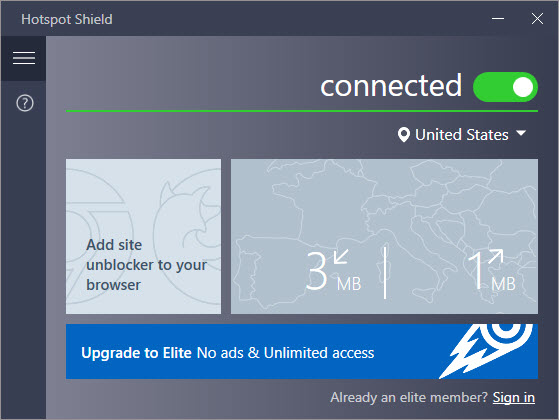 2. Hotspot Shield Free

If you use public Wi-Fi regularly, Hotspot Shield Free is a great free VPN for protecting your privacy
Hotspot Shield Free is one of the better known names in this roundup, and another of the best free VPNs around today. The program initially installs as a regular desktop app that captures all web traffic when it is enabled, but there are also browser extensions available for Firefox and Chrome to take care of browser-only traffic.
In addition to the Windows software, there are versions for macOS, iOS and Android, so you can keep yourself safe online using just about any device you care to mention.
You can choose to anchor yourself to one of 20 countries if you pay for the Elite version of the app, and this should enable you to access just about anything you want; in the free version, you're limited to locations that Hotspot Shield chooses for you.
Hotspot Shield Free offers the option to have the free VPN automatically enabled whenever you connect to a wireless network that is deemed 'unsafe', the program offers peace of mind for those who work away from the home or office a lot. Online performance does seem to suffer a little when Hotspot Shield is enabled, but the bandwidth limit of 750MB per day is generous.
Download here: Hotspot Shield Free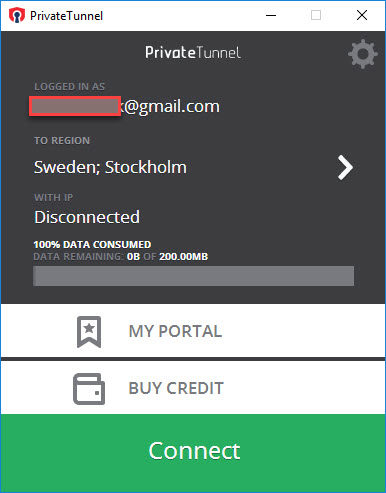 3. PrivateTunnel

A free VPN that will keep you data and your identity safe on any desktop or mobile device
Like some of the other tools featured in this roundup, PrivateTunnel is available for a number of platforms – specifically Windows, Mac, Android and iOS. Another characteristic shared with many of its contemporaries is the existence of a limited, free package in addition to paid-for subscriptions. Well, sort of. Rather than offering a traditional monthly subscription package, you are instead provided with 200MB of non-expiring data to use as you want. 
When this runs out, you can purchase more data in bundles of 20GB or 100GB. If you feel that you'd like to use PrivateTunnel all the time, you can opt for a $30 per year package which give you unlimited data – see the 200MB as something of a taster session to see if you like everything.
As a VPN, PrivateTunnel works fairly well, although connections can be a little temperamental at times. It's all very easy to use, so there's little reason not to take it for a test drive.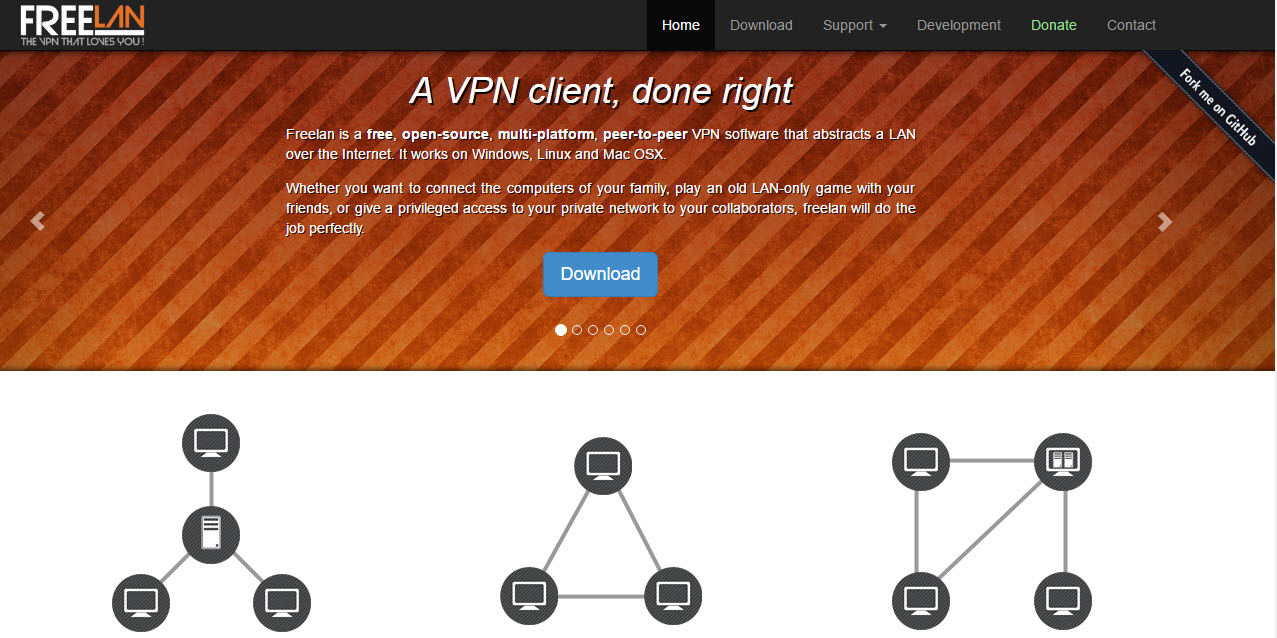 4. Freelan

A free VPN designed for experienced users who are comfortable using the command line
The installation of Freelan is a little disconcerting for the uninitiated. Rather than just installing a regular program, the software installs new network drivers that take control of your web traffic. That's not a problem, but it's something that's worth pointing out right from the start.
Freelan is an open source tool and is free in absolutely every regard, but getting it set up can be tricky, particularly for novices. For more advanced users Freelan has a great deal to offer, but you should not expect your hand to be held every step of the way as well the likes of TunnelBear.
For most people this is going to be a program to avoid, but for the curious, the more technically-minded (there's no graphical user interface, so you'll be controlling it via the command line) and those who want to be in absolute control, it's ideal.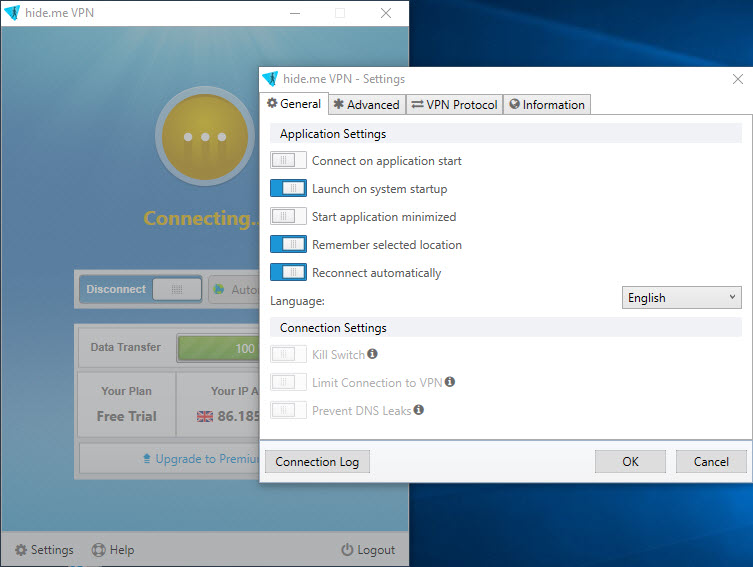 5. Hide.me

A straightforward free VPN service that's simple to use, but more limited than some of the alternatives
Securing your connection with Hide.me is simplicity itself; all you need to do is hit the Connect button and you're ready to start browsing. If you want, you can spend a little time configuring options such which VPN protocol should be used.  If you're comfortable tinkering with network settings, you can also change your DNS to something other than that offered by your ISP. 
The free version of Hide.me features a 2GB monthly data cap, which makes it more limited than its paid-for counterparts, but is still a generous allowance. Another restriction to keep in mind is that there are only three location masks available: Canada, the Netherlands and Singapore.
You can set Hide.me to launch automatically whenever you start your computer, but the bandwidth limit means you're more likely to use it on an ad-hoc basis whenever you need to do something like shopping and online banking.
Performance is reasonable, though the occasional popups asking you to upgrade to a paid-for account can be distracting.

See all web services and office software available to download on TechRadar