Nowadays, it's impossible to shy away from technology and software. Most of us own smartphones, tablets, computers and other gizmos – and as a direct result of this, we create heaps of data constantly. In fact, according to computing giant IBM, we generate 2.5 quintillion bytes of it on a daily basis. 
Do you want to know the most staggering thing about that statistic? 90% of all data has been created in the last two years. That's how fast technology has advanced and become more accessible in a short space of time. But the fact is, most people don't think about data and its value. Maybe it's not such an issue for the average consumer, but big data is certainly a big deal for businesses. 
With the right infrastructure in place, it's possible to use big data to streamline business operations, improve internal efficiencies and perhaps most important of all, better understand your customers. 
Data visualisation software is an excellent way to manage, present and make sense of complex business data. There are a ton of great tools out there that'll help you prepare, analyse and visualise it all – and they're suited for a variety of industries and uses. Here are some of the best.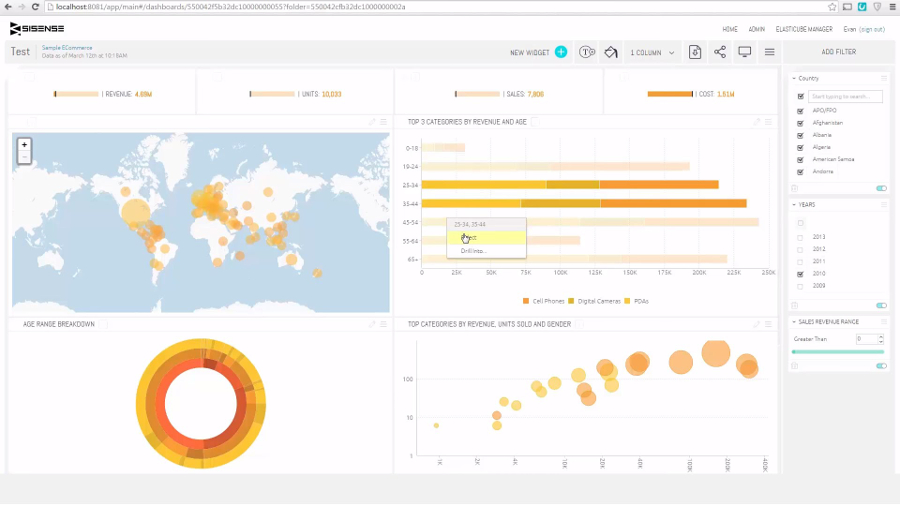 For many, managing data is a tricky task, and some companies have teams in place to conduct data analysis successfully. Unfortunately, not every firm has the means and money to do this, which is where data visualisation software becomes extremely useful.
Sisense is a really good option if you're looking to identify data sources and integrate them into all your business operations. It'll let you prepare, analyse and visualise every bit of data your company generates. This is an end-to-end solution and can maintain growing datasets coming from a variety of areas of your business.
Data is brought to life through a series of interactive dashboards built into the system. With these, you can explore data from almost any angle and granularity – letting you gather valuable insights quickly. The unique thing about this software is that it's highly flexible, allowing you to beef it up with third-party plugins, and add customisations through JavaScript APIs.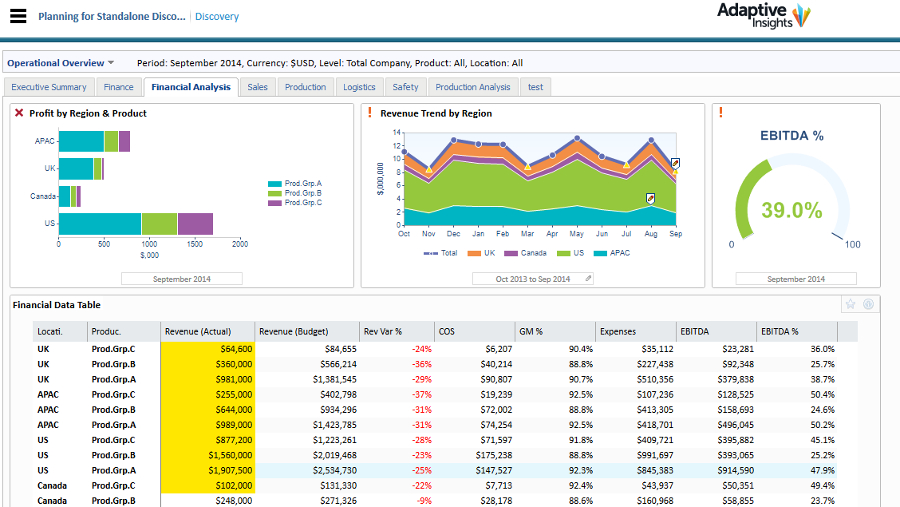 Like the previous product Sisense, Adaptive Discovery provides you with a number of dashboards to keep on top of all the data your company creates. It offers a variety of data visualisation techniques, including waterfall, funnel, dial, histogram, radar and charts. 
The system also comes with advanced intelligence built in, capable of delivering analysis based on your company forecast and budget. This is handy if you want to avoid having to work out complex equations and formulas yourself – just let the software handle everything.
There's a big emphasis on reporting too. Not only does the software provide you with a complete overview of your data and finances, but it also gives you exception and variance reporting, period-on-period averages, linear regressions, trends and control charts.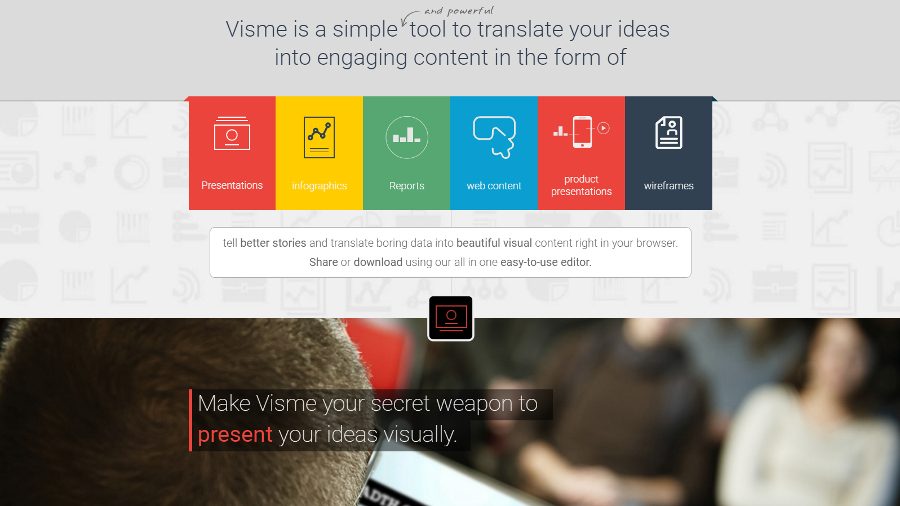 As a business owner or professional, you probably find yourself creating presentations containing various visual elements for important meetings, or maybe just personal reference. And while you can create graphs and tables within software like Microsoft Office, there are tools made specifically for this purpose. 
Visme is a good example. It lets you turn your business content and data into engaging presentations, infographics, charts, widgets and videos. And what's great is that if you're not happy with a stock template, you have the option to edit it to your tastes and needs.
There are a ton of templates available, catering for areas such as business, health, education, science, marketing and non-profit. You also have the ability to make your graphics interactive by adding buttons and links, and they can be turned into files and published online. Furthermore, there's the option to work individually or as a team with the software, too.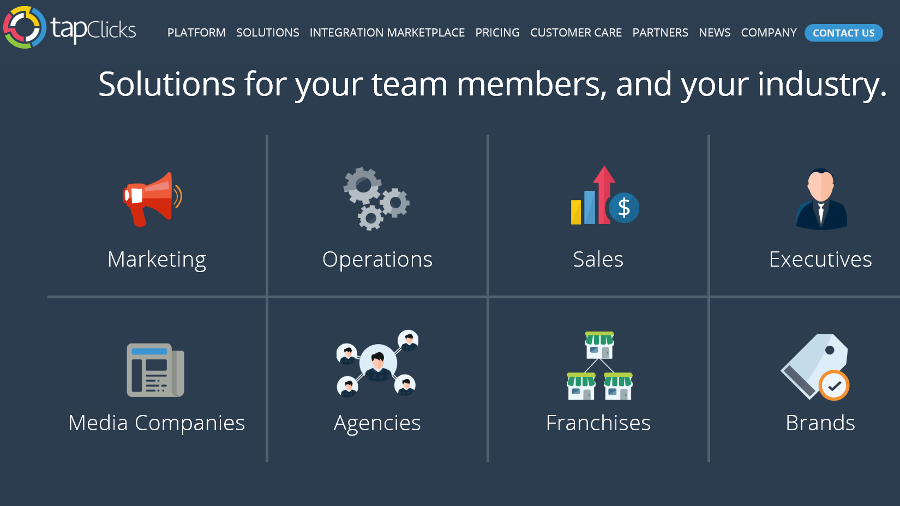 If there's one area that creates a lot of data within businesses, it's marketing. Digital marketing campaigns are all about spotting customer trends, and without the right software, you can easily end up missing out on big opportunities.
TapClicks aims to change this. It's a digital marketing and analytics platform targeted mainly at media companies, digital agencies and enterprises. The software offers a central, unified dashboard where you can keep up-to-date with all your marketing data. You also get access to a library full of pre-made visualisations and widgets, so you can tweak the system to suit your needs better.
Data is useless if you can't do anything with it. Using TapClicks, you can export to email, Word, Excel and PDF to share with colleagues and engage in further analysis. There are some useful integrations too; you have the ability to transfer data from popular cloud services such as Google Drive and Dropbox.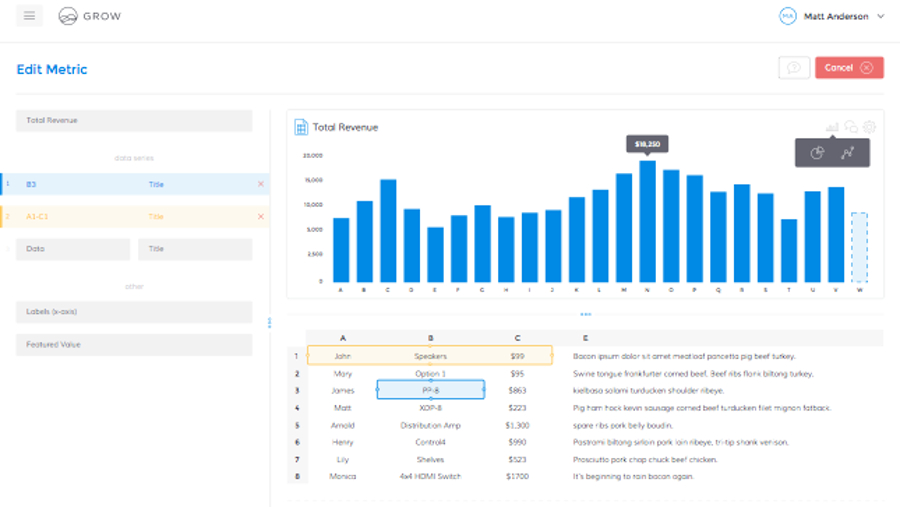 Most data visualisation services offer dashboards, and that's also the case with Grow. They've been built to combine data from hundreds of sources, including databases, spreadsheets and SAS applications.
It's possible to implement dashboards for every department or team in your organisation, and use the information gleaned to implement new team objectives and strategic aims. Grow is a good option for bigger companies with a number of teams or departments, and rather handily you can try out a free demo before making the final decision to buy.