Staff members are, of course, critical to any business, and human resource departments have to strive to find the best recruits for their organisation, putting in place a sterling system for filtering job applicants and conducting interviews.
But HR responsibilities don't stop there. Once employed, there's a duty to care for workers, ensure they can do their jobs effectively, and perhaps most importantly, train staff to produce even better results.
Previously, businesses have relied on training days and professional courses to educate staff, but these things can be time-consuming, not to mention costly. Online learning platforms are a great way to streamline training programmes, and there are many options out there, including efforts targeted at training companies (who sell on courses to professionals) as well as businesses themselves. Here are five of the best.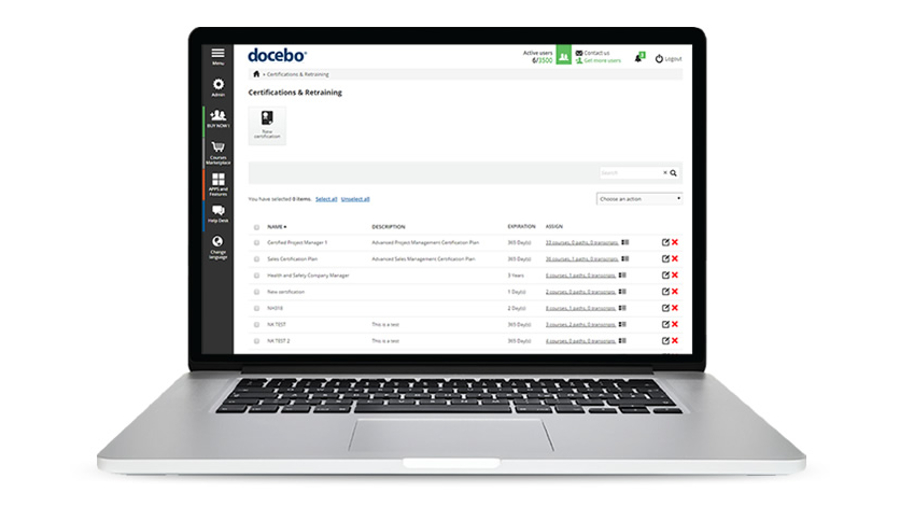 Docebo LMS (Learning Management System) is one of the best online learning platforms out there. Designed for a variety of scenarios and use cases, it provides the tools you need to develop your own training courses for staff and improve existing educational resources.
This system allows for the creation and delivery of training to users across the globe. The UI is easy-to-use, and you're able to develop personalised programmes with a few clicks. When you've outlined the type of content you want your course to feature, you can add custom elements like the company logo and colour scheme.
There are some handy test, tracking and reporting features too, giving you an insight into the effectiveness of your courses. It's possible to add as many courses and users to the system as you want, and there's unlimited bandwidth available. The platform is highly scalable, allowing you to integrate it with CRM, web conferencing software, social media and HR software. It also offers some neat mobile apps.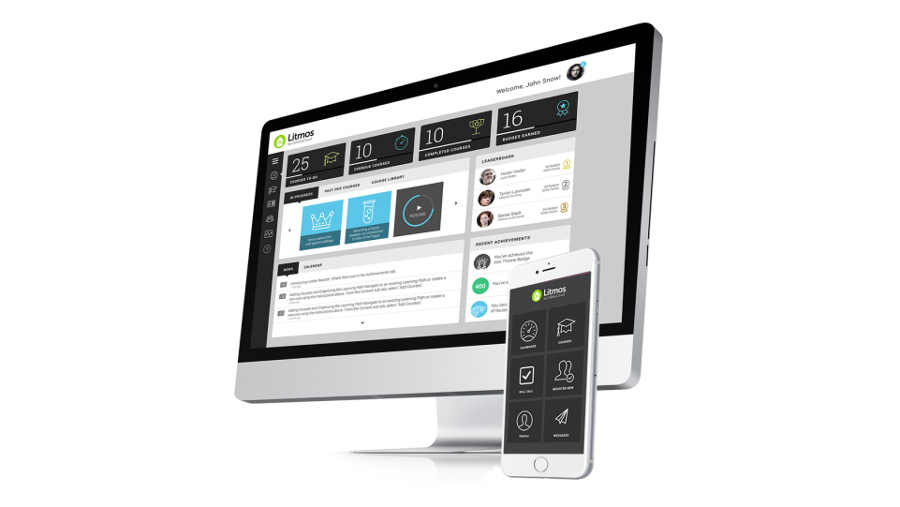 Litmos has been designed for companies that provide training to businesses and professionals. Like Docebo's offering, the platform has been optimised for use with mobile devices (with native Android and iOS apps).
It aims to unify virtual, classroom, mobile, social and ecommerce capabilities within a single, secure business platform. There's a central course builder, which gives you tools to generate educational content that supports multiple formats. Courses are delivered in the form of modules.
You can also create assessments and benchmark the retention of learners. When you've created a course and distributed it among professionals, you can review their performance through reports and dashboards.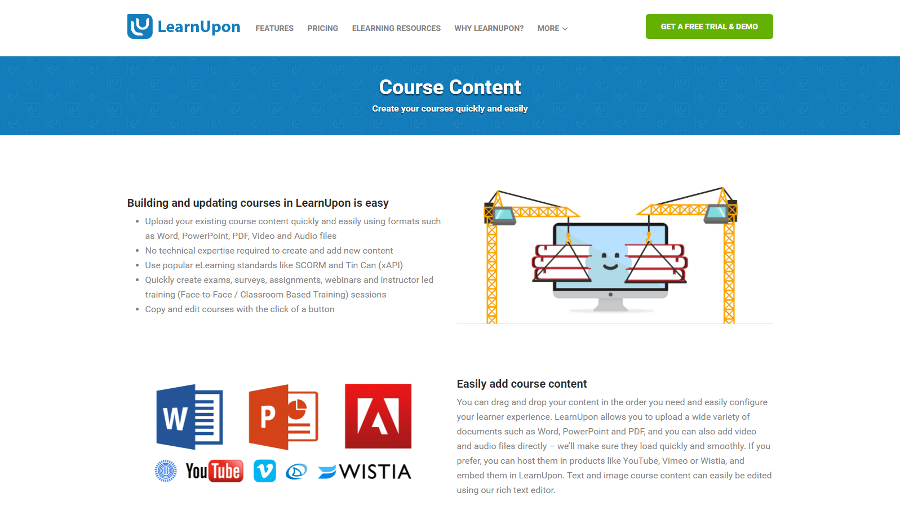 LearnUpon is suitable for training firms that want to develop and sell courses directly to other companies, as well as organisations that need a system to deliver internal training.
With the software, you can quickly build exams, surveys, assignments, webinars and instructor-led training sessions. It uses popular learning standards such as Scorm and Tin Can, and you don't need any previous technical knowledge to create courses.
If you have existing course materials, you'll be happy to learn that you can upload them to the platform across a wide variety of formats including Word, PowerPoint, PDF, or you can upload straight video (or indeed audio).
It's possible to track the activity of users and provide them with feedback, and the package supports a number of different languages including English, French, German, Spanish, Italian and Chinese.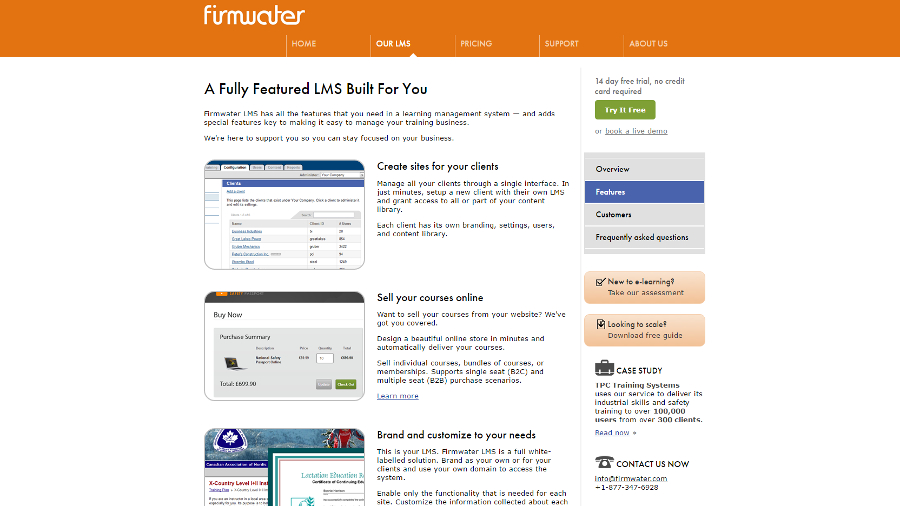 Online business learning platforms are a lucrative option for training companies, and Firmwater LMS has been built with their needs in mind. If you work in this industry, you can use the system to develop business-focused courses and manage your clients.
Using the software, it's possible to produce easy-to-use courses and assessments, and you retain control of your intellectual property for everything created in the system. You can update existing content as much as you need, and there are tools to market your courses.
The courses supplement face-to-face training, giving clients the time to focus on other areas, and you can automate training programmes so users can get through them with a minimum of fuss. Everything you create is professionally hosted and secure, and you can track activity in real-time.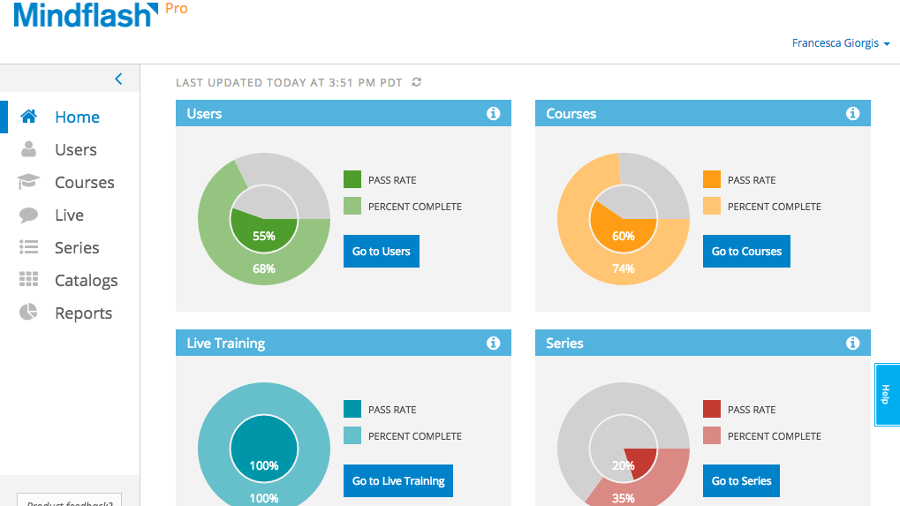 When it comes to online learning solutions, Mindflash is a more niche option. It's an easy-to-use training platform that provides sales, marketing, operations and channel management leaders with the resources to train their teams.
You can use existing content in any format, including Word documents, PowerPoint presentations, straight video or voiceovers. There's the ability to edit live courses too, and you can easily integrate and automate training programmes, allowing you to focus your attention elsewhere.
The system also boasts tools that let you measure the impact courses have on revenue and productivity within the business. Courses are mobile-friendly, and there's out-of-the box security to ensure user data is always kept safe.