Why clean the Windows registry?
The Windows registry is a database containing almost all your PC's hardware and software settings. (There are some exceptions, like portable apps, which keep their settings in a separate text file.) When you uninstall a program, its registry keys should be removed too, but this doesn't always happen.
There are lots of cleanup tools that promise to improve your PC's performance by erasing unused keys from the registry. They're unlikely to cause any damage, but such tools are unlikely to have a noticeable effect on general speed. Deleting old registry keys won't free up hard disk space (the amount of space used by each database entry is minuscule), or have much impact on memory usage when the registry is loaded at startup.
For improving general performance, it's the other tools bundled with registry cleaners (such as software uninstallers, and tools for finding and deleting temporary or duplicate files) that will have a real impact. 
Registry cleaners do have their uses, though – sometimes software uninstallers leave behind old registry keys, which can cause errors if you try to install a different version of the same program later. 
With that in mind, these are our picks of the best free registry cleaners for Windows.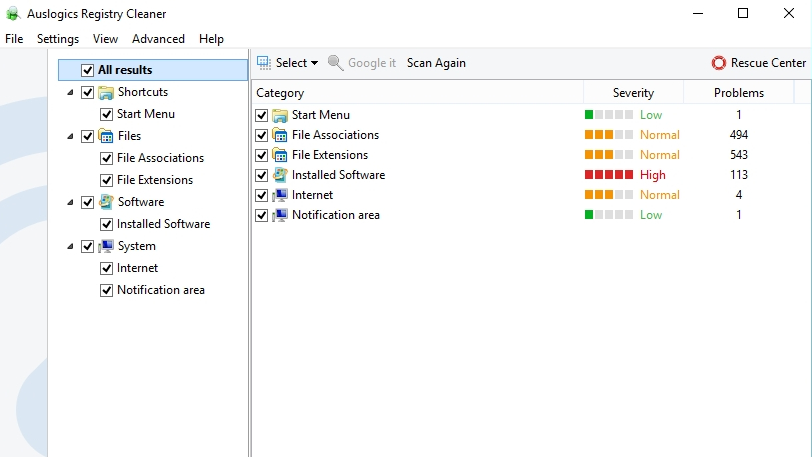 1. Auslogics Registry Cleaner

If you're receiving error messages related to a specific registry key, this is the tool for you
Auslogics markets its free registry cleaner as "the best tool to safely and effectively clear invalid entries from your Windows registry" – and we're inclined to agree.
During installation, we recommend selecting Custom rather than Express install and unchecking any extras you don't want. You'll also be asked if you want to set Yahoo as your homepage; if you'd rather not, uncheck the box and click 'Decline' – this won't stop Auslogics Registry Cleaner installing. Finally, you'll be asked if you want to install Auslogics Driver Update – again, uncheck the box if you'd rather not.
The registry cleaner itself is refreshingly simple; you can use a series of checkboxes to choose which types of registry entry to scan for, which is excellent if you're just having issues with a previously installed program. The registry is backed up by default before you make any changes, and can be restored using the 'Rescue Center option at the top right. Again, we're not sure why it's not called something more logical like Restore Registry Backup. You can drill down and see exactly which registry keys will be deleted before committing to anything, and if you've received an error message about a specific key, you can use the search option (the middle button at the bottom left) to find it.
We really appreciate this level of detail, which makes Auslogics our pick for the best free Windows registry cleaner. It won't sweep up any cruft that's accumulated on your PC, but Auslogics Registry Cleaner is ideal if you're having trouble with a particular registry key that's preventing a program installing or running as it should.
Download here: Auslogics Registry Cleaner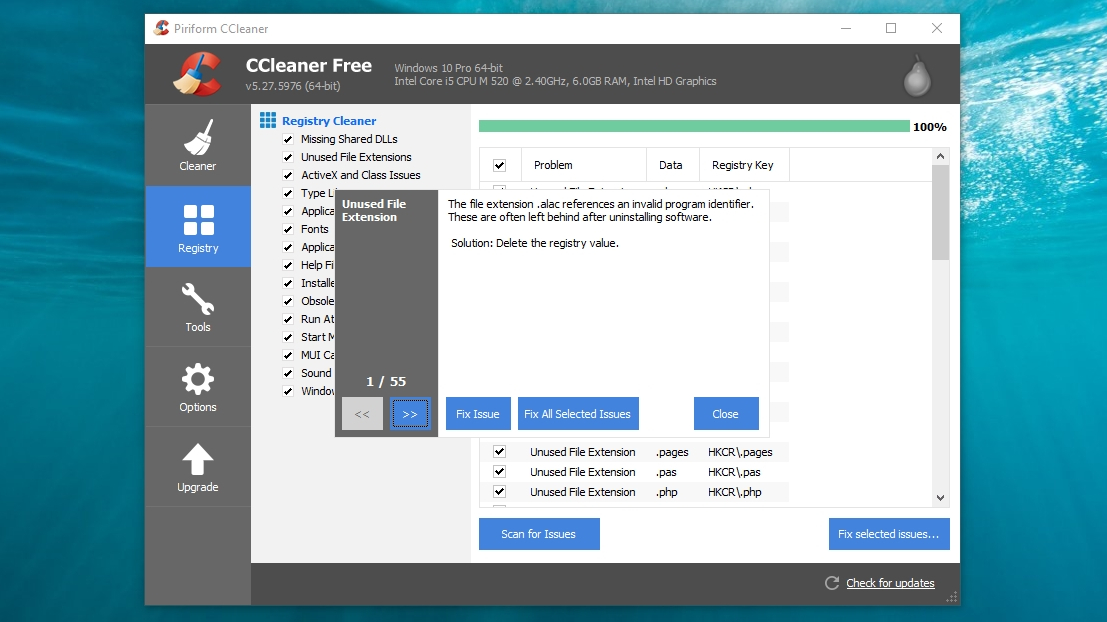 2. CCleaner

CCleaner's registry cleaner isn't as well developed as its main system neatening toolkit
Like most tools of its kind, CCleaner's registry cleaner checks for different types of unused registry entries, including unused file extensions, help files, and obsolete software. You're offered the opportunity to make a backup before deleting the entries, then you can either delete each identified 'issue' individually (CCleaner tells you what each one is), skip any, or just delete them all. 
The registry cleaner is only a supplement to Ccleaner's main PC maintenance tool, which deletes temporary files, caches, and cookies to improve system performance. None of the file types selected by default are likely to cause any issues if deleted, but take care if you choose to remove anything from the Advanced list.
CCleaner also features a software uninstaller, which doesn't let you select multiple programs for uninstalling at once, but does include Windows apps that can't be removed via the Add/Remove Programs dialog. There's a startup manager, much like Autoruns, a browser plugin manager, a disk usage analyzer, a duplicate file finder, quick access to System Restore, and a drive wiper for erasing data with multiple rewrites.
CCleaner is unlikely to cause any problems with your Windows registry, but if something does go amiss, restoring it from a backup is a slightly awkward process that requires you to right-click the file with the extension REG, then click Merge. Many other cleaners offer one-click restoration from a backup, and it's a shame that CCleaner doesn't.
Download here: CCleaner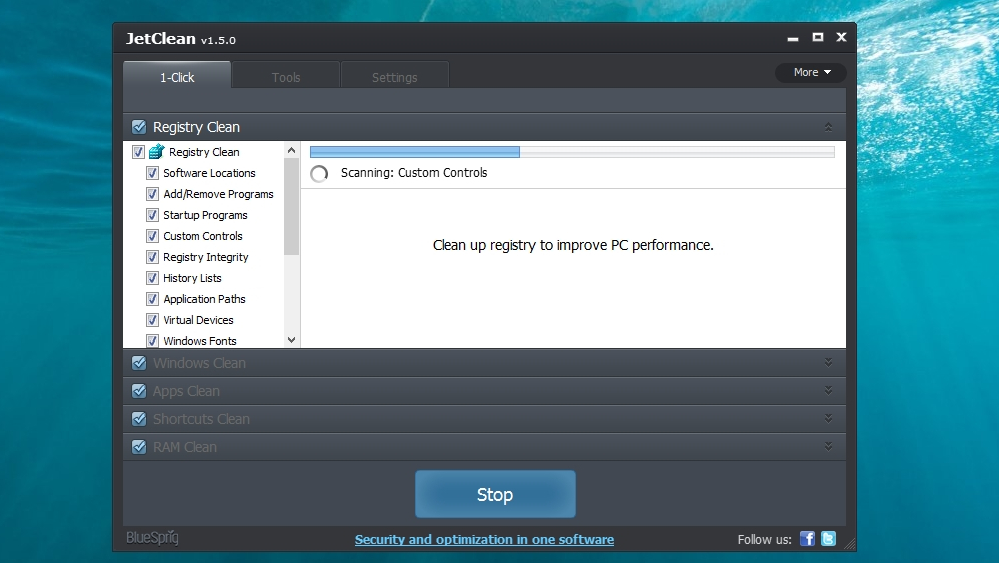 3. JetClean

JetClean doesn't nag you to install extra software, but we'd prefer more information
JetClean focuses on tidying up your registry, and claims that doing so will improve system performance, though this is unlikely unless you're having a particular problem related to a specific registry key. You can limit your search to certain types of registry keys, including application paths and software locations, then check the name of each potentially troublesome key the scanner discovers. Unfortunately there's not much additional information provided about the function of each registry entry, so a little Googling might be necessary if you're trying to solve a particular problem. All changes to the registry are backed up, and can be revered via the Rescue option in the Settings menu.
JetClean offers the standard temporary file and cache cleaning tools, as well as a function called RAM Clean, which promises to 'optimize' key Windows startup processes, but doesn't provide any information about how that will be done. This is a shame, because it's otherwise much like a more compact version of CCleaner, and we appreciate the fact that there's no pressure to add extra components or upgrade to a premium version.
Download here: JetClean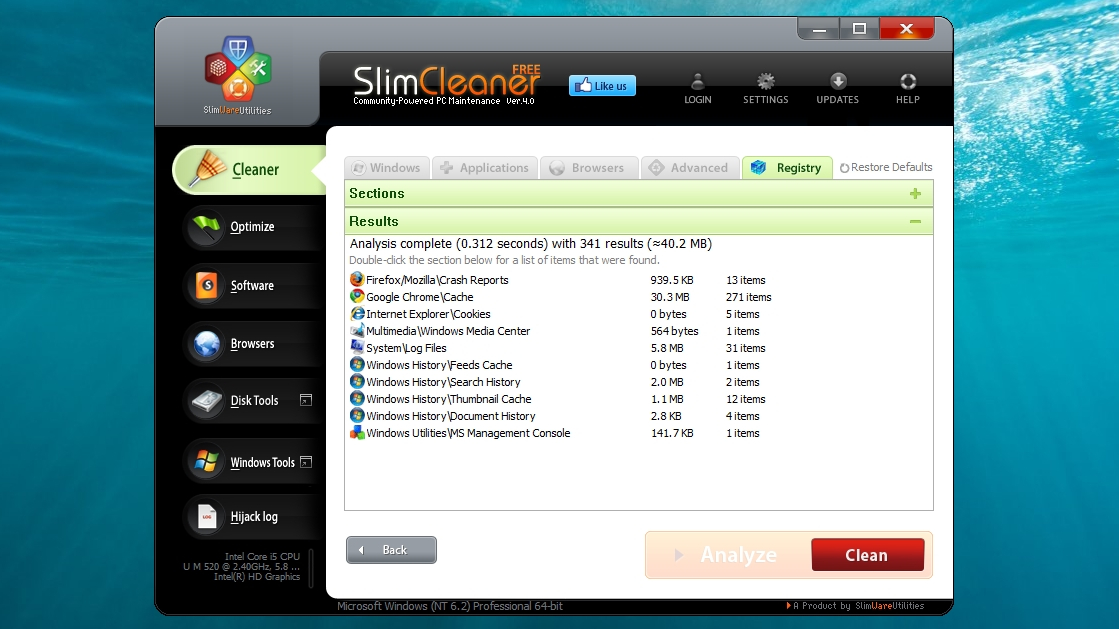 4. SlimCleaner Free

SlimCleaner gives you plenty of control, but its maintenance tools are the star attraction
SlimCleaner Free is similar in appearance to CCleaner, with tools dedicated to mopping up temporary Windows files, uninstalling applications, managing browser extensions, and tidying the registry. There's also a strange group of miscellanea gathered under the heading Advanced, including the configuration files for things like the Start menu order and Notification Tray. 
SlimCleaner doesn't provide as much information about each registry key as Auslogics Registry Cleaner, and you can't search for specific strings, but there's enough detail to help you make an informed decision about what to keep and what to purge. 
SlimCleaner makes a backup of your registry before deleting anything, and you can roll back to a previous version through the Settings menu.
These cleanup tools are useful enough, but SlimCleaner's process, program and startup managers are where it really shines. Each program and service has been given a rating by SlimCleaner's community of users, so you can see whether you should keep it. Clicking 'More info' provides you with incredibly detailed reviews and ratings from your peers; even drivers for a laptop trackpad have several dozen reviews, including reasons to keep and to remove (the wisdom of which is rather questionable in this case). It would be interesting to see this system integrated into the registry cleaner too, to highlight any entries that are particularly likely to be the root of problems, but the sheer number of possible registry keys might well be prohibitive.
Download here: SlimCleaner Free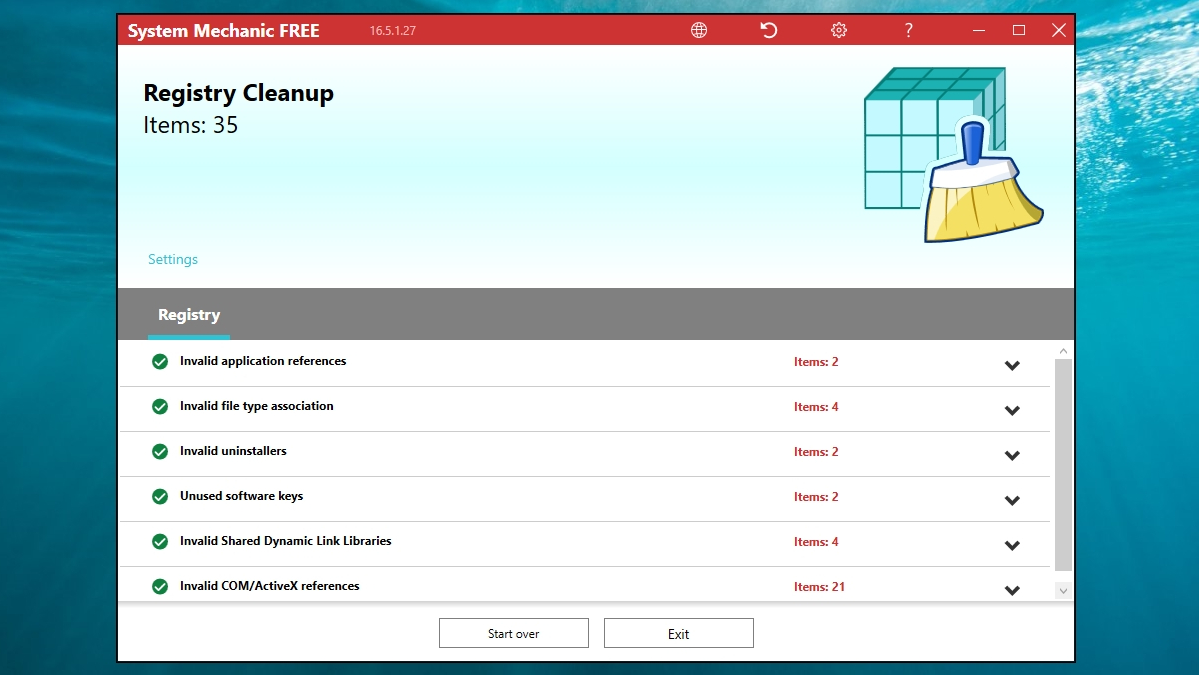 5. Iolo System Mechanic

Quick scans, but it's a shame you have to part with your email address to act on them
The free edition of Iolo System Mechanic immediately conducts a scan that checks for a real range of potential issues, including temporary files that can be safely deleted, broken registry keys, and hard drive fragmentation. Once it's finished, you'll be prompted to click the Register button and supply Iolo with an email address to activate the cleanup tools (Iolo promises that this is just to deliver an activation key – your data won't be sold to third parties). 
Once that's done, use the drop-down menus beside each of the categories to drill down for more information. Iolo recommends its registry cleaner 'to clean and streamline' the database, but doesn't claim any benefits to system performance. 
You'll also see some optimization options, but these are only accessible if you upgrade to the premium version of the program.
Although it doesn't prompt you, Iolo System Mechanic creates a backup before making any changes to your registry, so if you experience any problems later on, you can use its SafetyNet function to restore the database to its previous state. 
We appreciate this feature, though it would be nice to be notified about it earlier – it's not clear where to find it, and the name SafetyNet isn't very descriptive. We're also not particularly keen on having to supply an email address, although we understand the reasoning behind it.
Download here: Iolo System Mechanic