Process and organize your photos
Adobe Photoshop Lightroom has two main functions: processing images, and organizing them (through tags, naming, rating, and metadata). It's hugely popular among professional and hobbyist photographers thanks to its ability to process photos in batches and optimize workflow, but it's not the only option – there are several superb free alternatives that are almost as powerful.
Like Lightroom, all the image editors we've featured here are capable of processing raw files straight from your camera. Raw files contain all the data captured by your camera's sensor, and all camera manufacturers have their own format for storing it. No screen or printer can reproduce that much detail, so it's necessary to compress them into a format like JPG before you can display or use them. You can let your camera do that automatically, or use desktop software to control the process yourself. 
The image editors we've featured here let you adjust contrast, brightness, levels, saturation, sharpness, and tonality to achieve the results you envisaged when you shot the picture. They also offer tools for cropping and rotating images, but if you're looking for retouching and healing tools, you're better off with a free Photoshop alternative.
With that in mind, here's our guide to the best free alternatives to Adobe Photoshop Lightroom.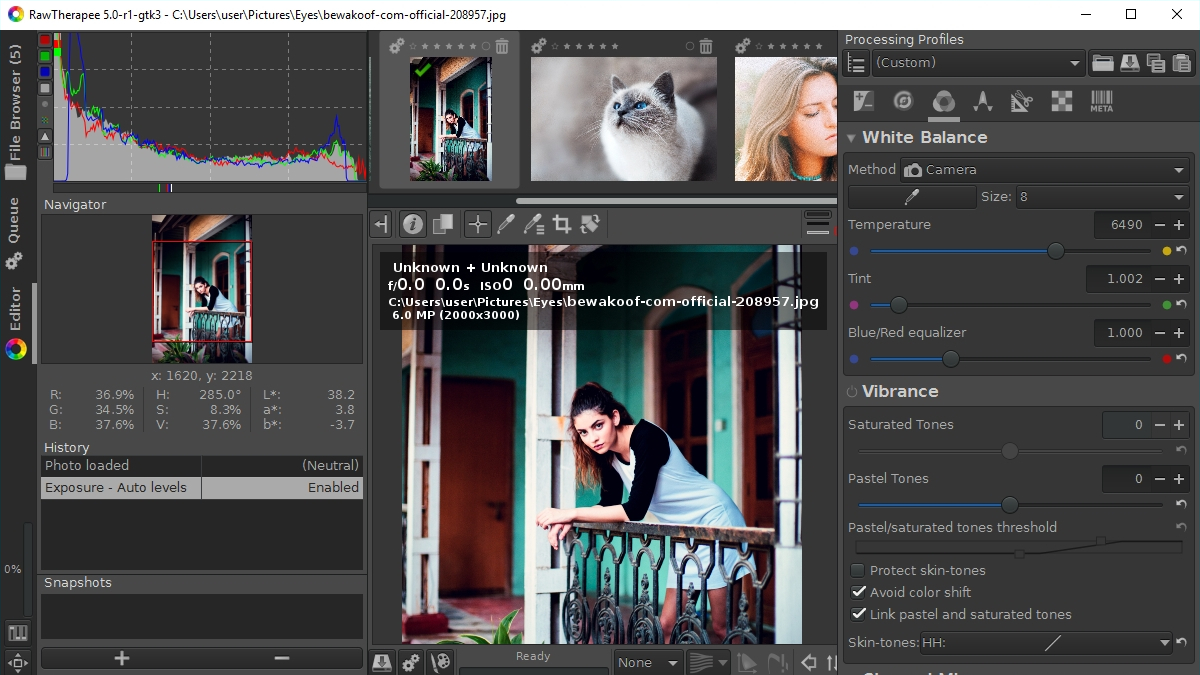 1. RawTherapee

Lightning-fast image processing and workflow optimization from the best free Lightroom alternative
RawTherapee is an advanced open source Lightroom alternative for processing raw files (or compressed image files like TIFF and JPG), then sending the resulting images directly to GIMP (or your preferred photo editor).
RawTherapee uses non-destructive editing, so you can revert to the original file at any time. Its advanced image processing toolkit makes it easy to adjust exposure, colors, sharpness, and noise. RawTherapee's de-mosaicing algorithms reduce artefacts in converted images, and its multi-core support makes full use of your available hardware.
Once you're happy with the fruits of your labor, you can save the settings as a preset for future use. You can also process images in batches, or edit multiple files at once using the tabbed interface.
The software's user community have created a list of cameras supported by RawTherapee, but it's not definitive; if your camera isn't listed, try opening a file using the software anyway.
Download here: RawTherapee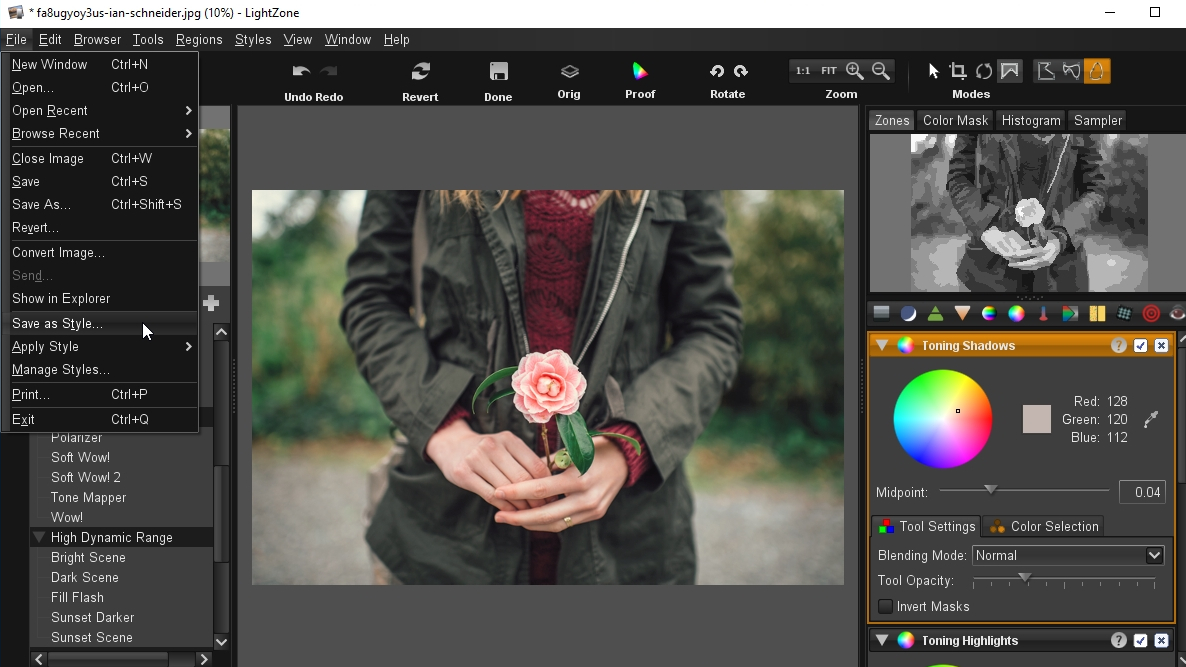 2. LightZone

Advanced raw processing with non-destructive filter stacks and vector-based selections
LightZone is another open source, non-destructive digital darkroom that makes an excellent substitute for Lightroom. You'll need to sign up for an account before you can download LightZone (the software's creators are monitoring the number of downloads to assist in future development), but it only takes a moment.
Once you're in, LightZone can process raw files (as well as compressed image formats such as JPG and TIFF) using a series of filters, which you can stack, adjust and rearrange to achieve the desired effect. You can also choose specific areas to edit using a vector-based selection tool.
To find out if LightZone supports your camera's raw format, check out the program's profile guide.
Download here: LightZone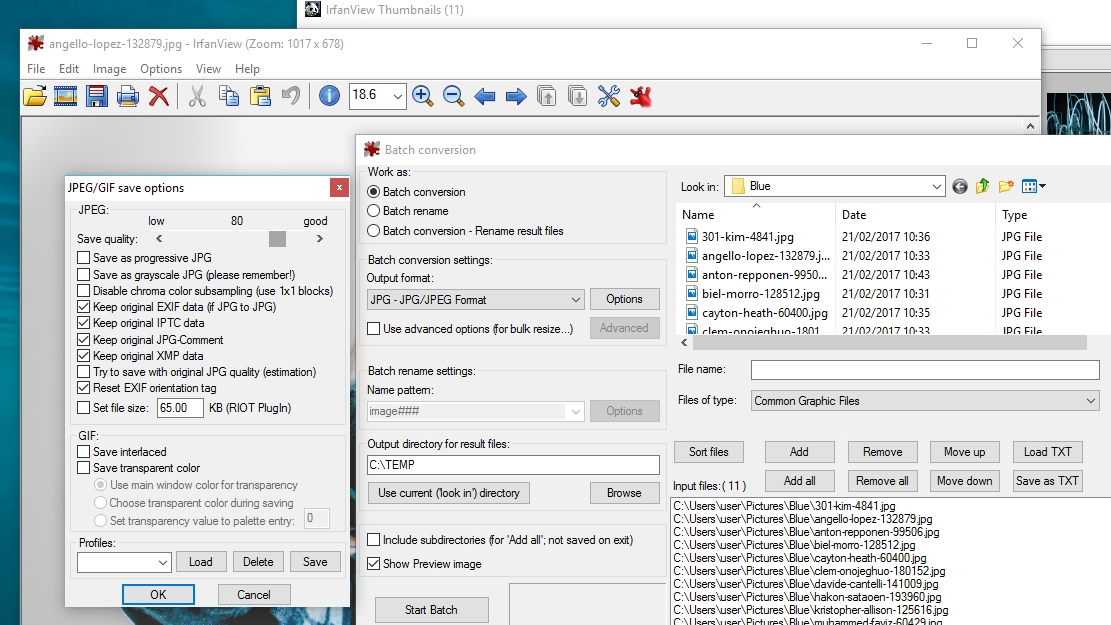 3. Irfanview

A classic Lightroom alternative that combines powerful image organizing and processing tools
Irfanview combines a powerful image editor and organizer, with excellent support for raw and compressed file formats (see the full list). Its interface isn't as intuitive as some other free Lightroom alternatives, but it's been in development for 20 years and is packed with thoughtfully designed tools for photographers of all abilities.
Irfanview is one of the best free tools around for cataloging images – editing metadata, renaming files in batches, and adding tags – enabling you to get huge image libraries under control in the space of an afternoon.
Its raw processing tools are superb as well, letting you convert and rename files in batches, or spend time adjusting tonality and colors for individual photos that need more care and attention. For further editing, you can export files straight to a separate photo editor like GIMP.
Irfanview receives regular updates, and there's a lively community of users on hand to offer support, should you need it. 
Download here: Irfanview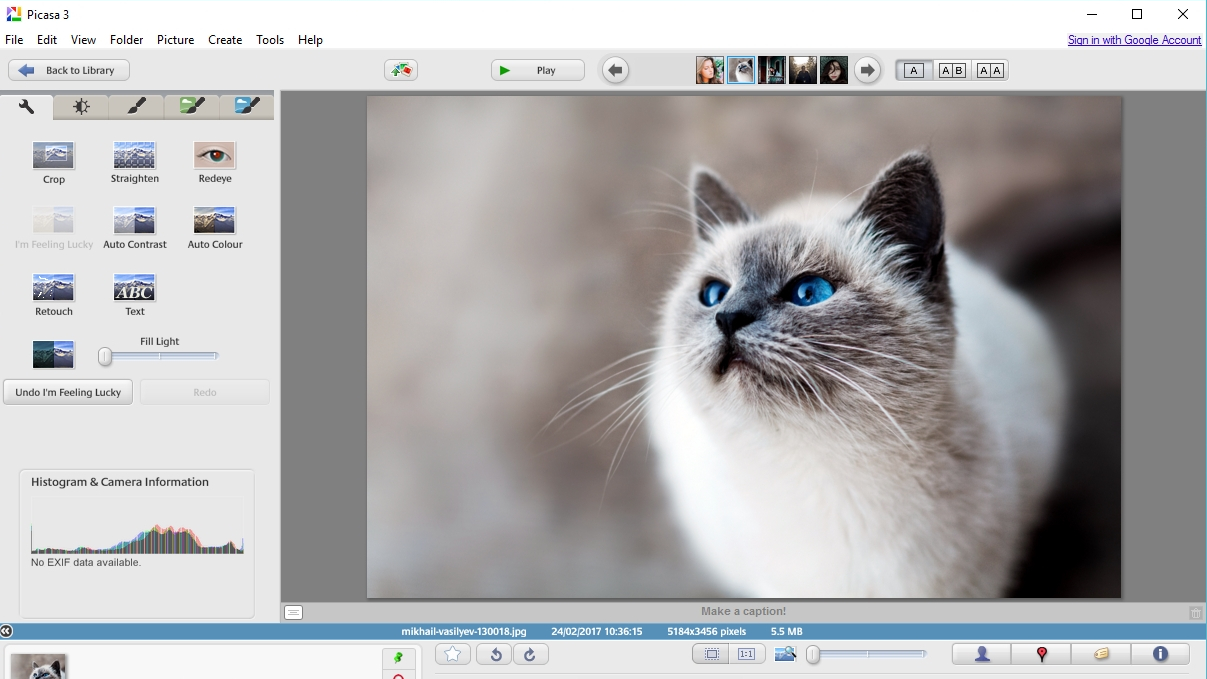 4. Picasa

Google's classic editor makes processing and tagging easy, though it's no longer in development
Picasa is another great free Lightroom alternative, but it's no longer in active development, so it might not be compatible with the latest raw formats (see the full list of supported file types).
Picasa was created by Google, and is just as smart and well-designed as you'd expect. It doesn't give you the same granularity as RawTherapee and LightZone, which are aimed at more confident users, but has everything a novice photographerneeds. It features a selection of presets designed to optimize contrast and color automatically (much like your camera's own firmware would, but with the option to undo any changes you aren't happy with), and you can make more subtle adjustments using a selection of sliders for fill light, highlights, shadows, and color temperature.
Unlike Zoner Photo Studio Free, Picasa offer geotagging (via Google Maps), batch processing, and color management. It's just a shame that it won't have any more updates in the future.
Download here: Picasa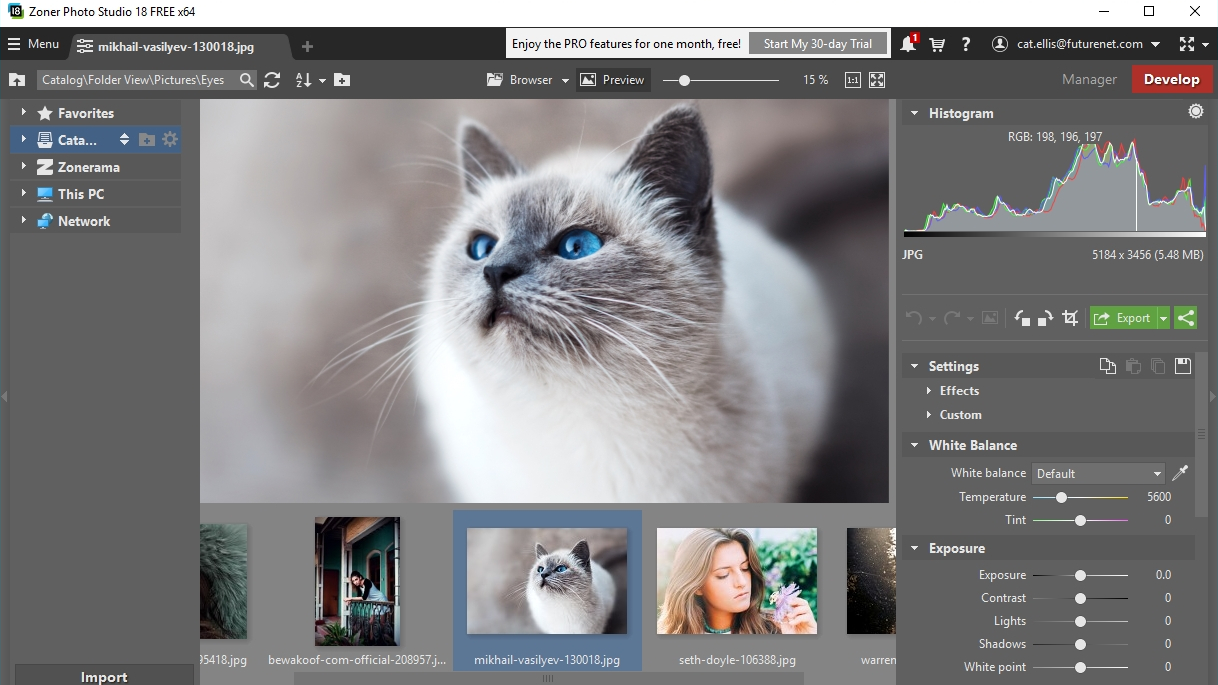 5. Zoner Photo Studio Free

Another easy raw processing tool, but some great features are missing from the free edition
You'll be prompted to register using an email address the first time you use Zoner Photo Studio Free – mainly to manage any software licenses if you decide to buy the full versions of any of the company's apps. 
The software is very easy to use – just click the 'Develop' tab and use the sliders to create different effects. Once you've finished, you can export the image as a compressed file, or share it via Twitter, Facebook, or email.
As is name suggested, Zoner Photo Studio Free is a cut-down version of a premium program, and although it's a capable Lightroom alternative, it lacks tools like batch filtering, geotagging, noise reduction, selections and masks, and color management. However, if you simply want to process your pictures quickly and find tools like RawTherapee and LightZone a bit intimidating, Zoner Photo Studio Free could be an ideal solution.
Download here: Zoner Photo Studio Free