There are some amazing free photo editors, but sometimes you don't want to go through the hassle of downloading a program just to give one or two pictures a quick boost. For those occasions when you want a quick and easy way to enhance a few snaps, a free online photo editor is a much better option.
You might expect browser-based editors to be simple Instagram-style affairs, but there are also some serious image-enhancing web apps out there. In fact, some are so feature-packed they rival premium desktop tools, with support for layers, masks and batch editing.
You can use these online photo editors in most modern web browsers, though Flash-based editors won't work in mobile browsers. You'll need an HTML5-based editor if you want to boost your photos away from your desktop, or look for a free app designed for your device.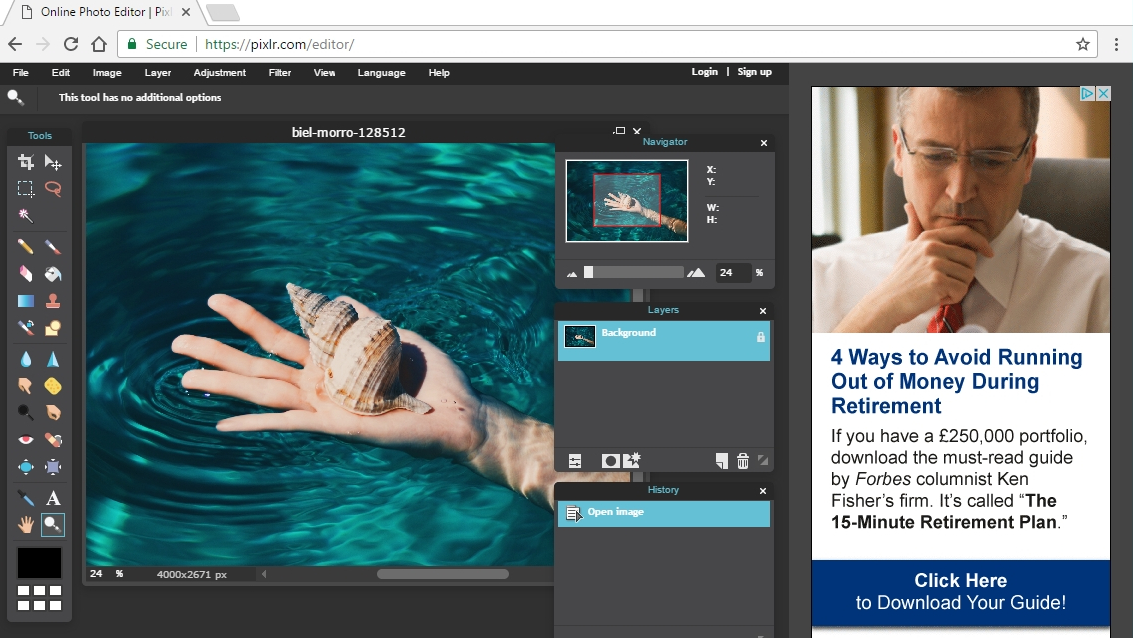 1. Pixlr Editor
The best free online photo editor, with layers, masks and more. If you're a casual photographer, it might be the only creative tool you need
Most browser-based free photo editors are simple Instagram-style affairs that give you a set of filters and little else. Pixlr Editor is different. Provided you have a reliable internet connection and don't mind the lack of plugins, this free web app is almost as powerful as the best free desktop photo editors.
Load up a photo and you'll have access to layers, masks, clone stamps, selection tools, and everything else you'd expect from a top-notch image editor. There's no batch-editing unfortunately, but you can open several pictures at once and edit them individually.
You can use it in any browser that supports Flash. Unfortunately this rules out most mobile devices, and since its developer is currently working on HTML5 versions of other other software, it might give the superb Editor the chop before too long.
For the time being, however, Pixlr Editor is easily the best free online photo editor. The closest thing to Photoshop for your web browser.
Try it online: Pixlr Editor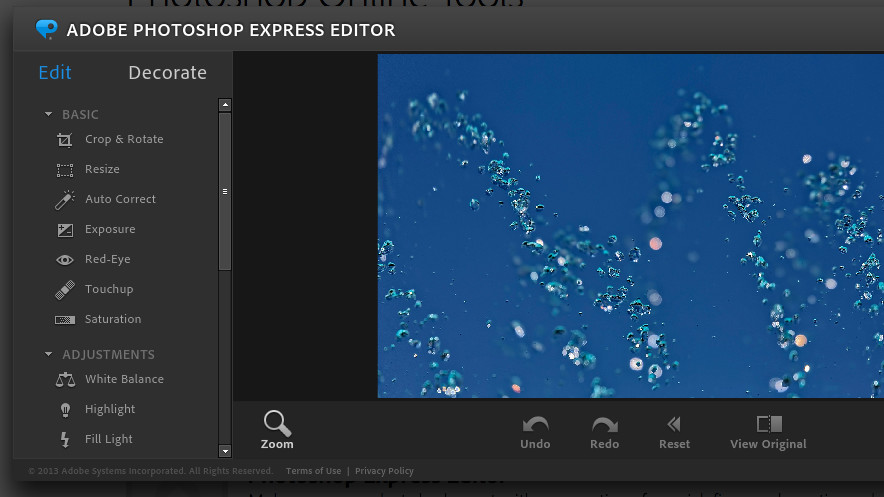 2. Adobe Photoshop Express Editor
An extremely capable online photo editor that's thoughtfully designed and easy to use – as you'd expect from the biggest name in creative software
As its name suggests, Adobe Photoshop Express Editor is a trimmed-down, browser-based version of the company's world-leading photo editing software. Perhaps surprisingly, it features a more extensive toolkit than the downloadable Photoshop Express app, but it only supports images in JPG format that are below 16MB.
Again, this is a Flash-based tool, but Adobe provides handy mobile apps for all platforms so you won't miss out if you're using a smartphone or tablet.
This free online photo editor has all the panache you'd expect from Adobe, and although it doesn't boast quite as many tools as some of its rivals, everything that's there is polished to perfection (with the exception of a couple of options that are currently in beta).
The burn, sharpen and soften tools all perform a expected, and we particularly like the ability to preview each effect before committing to it. You can also reset your image at any time, and use a slider to view the edited and original versions side by side. 
The Pop Color tool is particularly interesting, enabling you to quickly change the hue of a particular part of your image. Fill Light is a welcome addition too, helping compensate for photos taken in less than ideal lighting conditions.
On top of those, theres also a healing brush, automatic color correction, and manual adjustment of white balance and exposure – all very slick and simple to use.
Adobe Photoshop Express Editor is a pleasure to use. Its only drawbacks are the limits on uploaded file size and types, and lack of support for layers.
Try it online: Adobe Photoshop Express Editor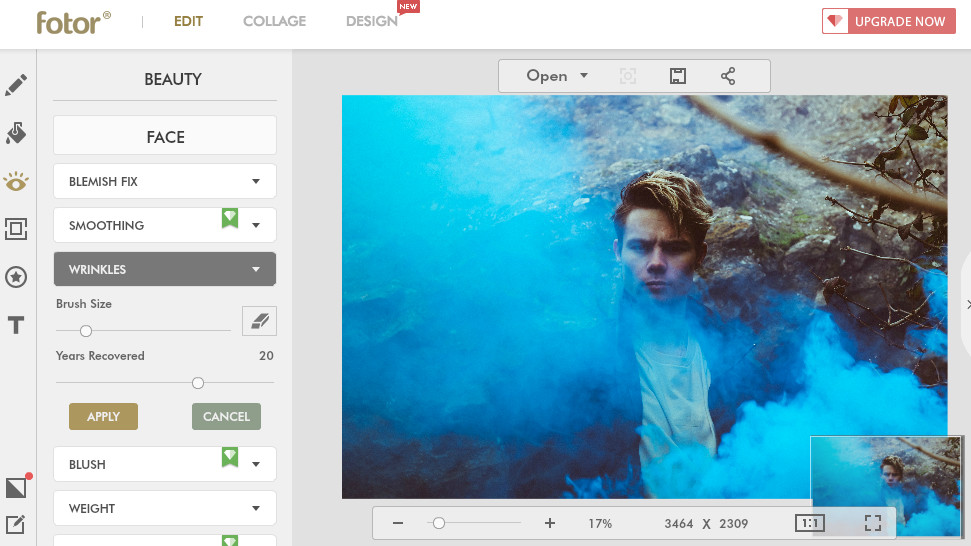 3. Fotor
A fun free online photo editor that's particularly good for livening up portraits before sharing them on social media
We love the free Fotor desktop software, and the online photo editor is exceptional too. There's a file size limit of 8MB on uploaded files, but the editor will helpfully resize your pictures if they're too large. Fotor's Flash-based interface looks fantastic, with clever use of icons and collapsible toolboxes to make navigation straightforward.
The one-tap enhance tool is excellent for giving lackluster photos a quick boost, and there's an impressive array of manual tools for more granular adjustments.
Unfortunately for photographers watching the purse strings, options marked with a green diamond are only available to premium users. Don't be discouraged, though – Fotor's free offering is still impressive. We particularly like the tools for boosting portraits, including makeup and tooth whitening – convincing if used with restraint, and pleasingly ridiculous if not. The strength of the wrinkle-smoothing tool is set in years rather than an arbitrary scale from one to 100, which is also satisfyingly silly.
There are fun stickers too, including some practical options like seasonal greetings, all of which can be tweaked with custom colors and opacity.  
Once you're satisfied, you can save your work to your PC, send it to Dropbox, or fire it over to your printer. There are also export options for Facebook, Twitter, Tumblr, Pinterest, and even Google+. For fun social-media-ready portraits, Fotor is hard to fault.
Try it online: Fotor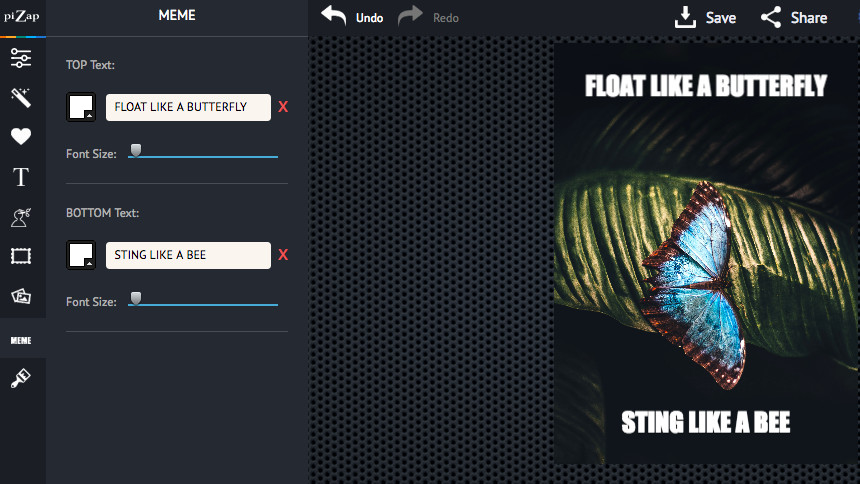 4. piZap
Another free online photo editor made with social media in mind. Add stickers and text, then share your work on all the biggest social networks
Free online photo editor piZap is available in both HTML5 and Flash editions, making it suitable for any device. You can choose to work with a photo from your hard drive, Facebook, Google Photos, Google Drive, Google Search, or a catalog of stock images. This is an impressive choice, though some of the stock images are only available to premium subscribers, and you'll need to watch out for copyright issues if you use a pic straight from Google Images.
piZap's editing interface has a dark, modern design that makes heavy use of sliders for quick adjustments – a system that works much better than tricky icons and drop-down menus if you're using a touchscreen device. 
Like Fotor, piZap offers lots of stickers, with many more available to users with a paid account. All the options have a fun, cartoon aesthetic (though some of the clipart is a bit corny), and together with the meme tool that adds custom text to the top and bottom of images, prove that this is an online photo editor created with social media sharing in mind.
Interestingly, piZap also includes a cutout tool that lets you superimpose a selected area of one picture over another. This works well, and isn't something we'd expect to find in an editor designed chiefly with silly memes in mind.
When you're done, you can share your creation on all the biggest social media networks, as well as piZap's own servers, Dropbox and Google Drive. Alternatively, you can save it to your hard drive, send it via email, or grab an embed code.
You can only export your work in high quality if you've opened your wallet for the premium editor, but for silly social sharing that's unlikely to be a problem.
Try it online: piZap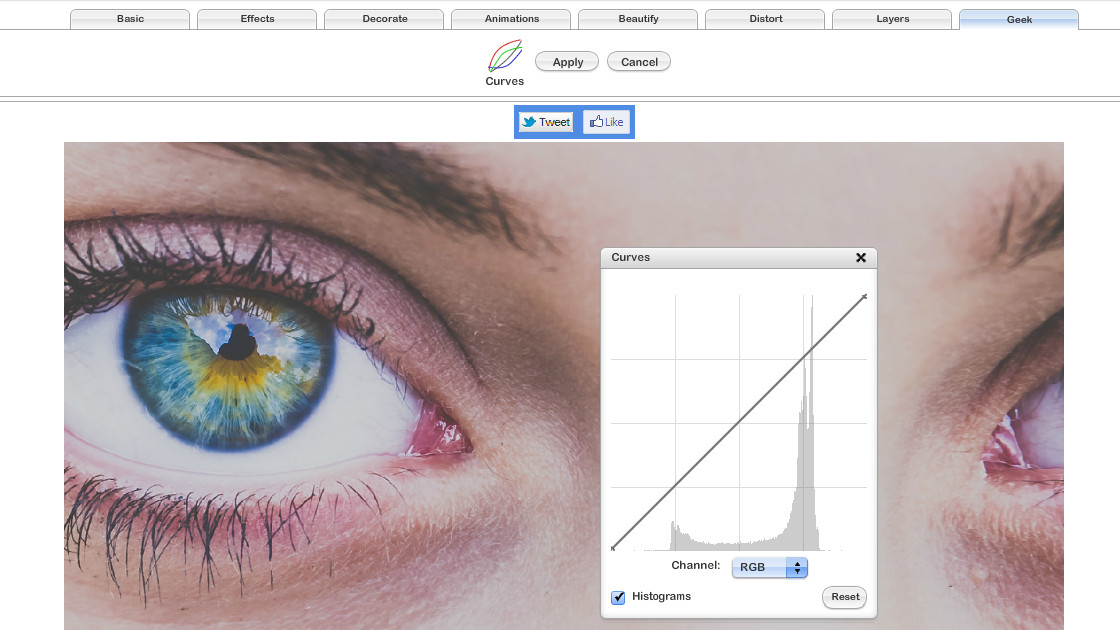 5. FotoFlexer
An excellent online photo editor with advanced tools and support for layering, though we could live without its cheesy early-2000s effects
FotoFlexer might look dated, but give it a chance and you'll discover a surprisingly powerful free online photo editor, complete with layers for complex work using multiple images. It uses Flash, so it won't work in mobile web browsers, but it's a solid choice for desktop-bound photographers.
Upload a photo (or select one from its list of supported hosts) and you'll be presented with a tabbed interface. The Basic tab contains everything you need for quick jobs like resizing, cropping, rotating, flipping, and adjusting contrast, brightness, hue and saturation. There's also a one-click optimization tool to give washed out pictures a quick boost, and a red-eye corrector.
The Effects toolkit is packed with creative filters, though some of them are rather old-fashioned, like good old Neon and Ink Stamp. If it's convincing retro effects you're after, you're better off looking elsewhere. The Decorate and Animation tabs are a similarly cheesy affair, with text (including a ghastly early 2000s style animated glitter option), stickers, and simple drawing tools. You're not likely to get much mileage out of these for serious photo editing, but they're nice to have – if only for ironic use.
Beautify includes smoothing and sharpening tools, a healing brush and a wrinkle remover (basically a smudge tool), and the distortion tab contains a set of simple liquify tools. Those might prove handy, but the really interesting stuff is tucked away under the last tab – the slightly patronizingly named Geek. Here you'll find tools for editing curves and working with layers using cutouts.
We could live without many of FotoFlexer's outmoded frills, but the basic photo editor is excellent and very capable for a browser-based tool.
Try it online: FotoFlexr