Britons it would seem are a nation of online shoppers. According to the latest figures from the OECD, the UK has twice the average number of online shoppers outstripping even Germany, France or the US. 
It's not surprising then that the e-commerce sector is thriving. However, with so much choice with how you set-up your online store, it can be difficult choosing the right platform for your needs. 
The good news is that you don't have to have any knowledge of HTML, graphics applications or know your Flash from your PNG files, as today e-commerce can be as easy as filling in a few online forms.
Choosing your weapons
When deciding how to set-up your e-commerce site there are a number of key decision to be made that fall into a number of categories:
Online or self-hosted – you can use a number of e-commerce applications that are hosted online, or build your own site and host this on your own servers
Website or blog – these days the difference between these two is blurring with many businesses 'e-commerce enabling' their blogs. A standalone website can though, give you complete control over every element of your store
Shopping cart – the most important aspect of your e-commerce presence is efficiently taking payments. Look for shopping cart software that is fast and efficient
Security – shoppers are now more comfortable buying online, but always ensure your site uses SSL (Secure Socket Layer) that is now the industry standard for online payments
Above every other consideration should be your site's visitor experience. Don't forget your competitors are just a mouse click away in the world of e-commerce.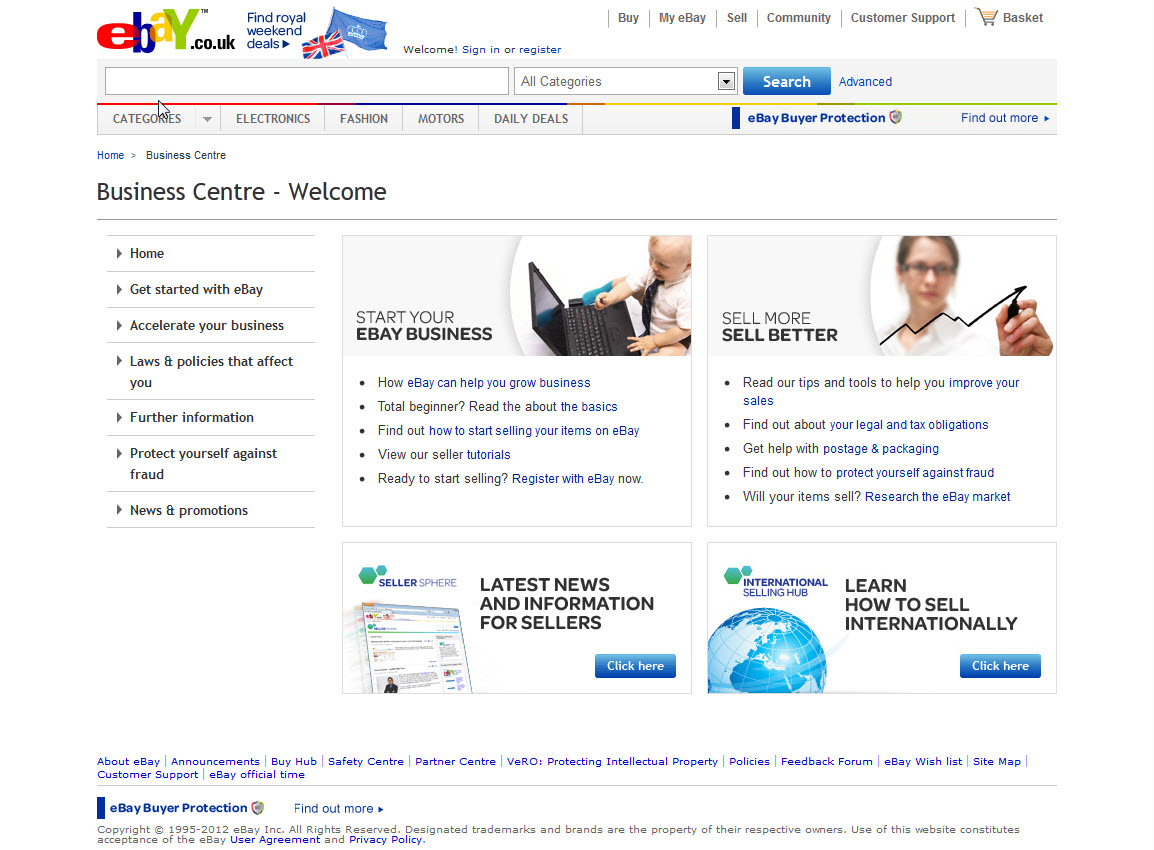 Is eBay right for your business?
Opening its doors in 1999, eBay UK now has over 14 million users, with over 10,000 people using the site for a business that is their primary means of income, and it's not just people selling unwanted goods, businesses have used the simplicity that eBay offers to set-up lucrative businesses. Even the larger brands such as Argos, Debenhams and House of Fraser are using eBay to sell online.
With sophisticated tools now available you can be up and running with your store in just a few hours. The eBay Business Centre has all the information you need. Each store is managed via eBay's familiar user interface, and there are a number of eBay provided tools such as Listing Strategies and Markdown Manager to help manage, track and promote your shop once it's established.
Using eBay as the platform for your business could be ideal if your business wants to sell goods on a fixed price basis. The complete integration of the PayPal e-payments system into eBay takes care of this essential component of your store.
The key with eBay is to look closely at the costs involved and also the transaction fees that PayPal charge before moving forward and setting up your own store.
How to create your own e-commerce solution
Of course if you want complete control over every aspect of your new online store, building each page yourself will be the best course of action. Hiring someone to code your website is one option. If you decide to do this follow these steps:
Ask the company for live examples of their work to look at
Write a detailed brief of the site you want created. The more detail the better to avoid confusion
Ensure you understand the price you are being charged and how many revisions this price includes
Always have a signed agreement or contract before work commences
Ask whether the designers will host your site and if you will be able to make updates yourself or if all updates must go through the design agency at an additional cost
Ask for the copyright of your design to be assigned to your company, as your website is an important part of your business' intellectual property
Put into your contract, details of how the agreement can be amicably dissolved if things go wrong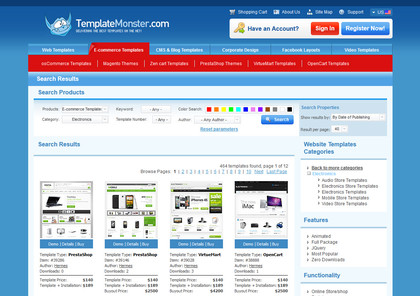 You also don't have to build your site completely from scratch. Buying a template can give you all the basic pages your site needs. You can then either modify them yourself using an application like Dreamweaver, or hire a coding expert to make the changes. Website templates are available from a number of vendors including Template Monster.
If you already have a website and want to add e-commerce functionality, this can be easily achieved with a number of applications including:
Off-the-shelf e-commerce packages for business
There has been a steady expansion of the packaged e-commerce application over the last few years. Most of the well-know applications now offer a full set of e-commerce tools you can use to construct and manage a professional e-commerce site. Some of the leading vendors include: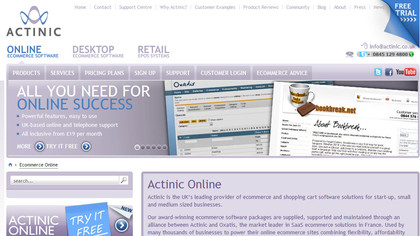 Whichever route you decide to take when building your website always remember:
You need to ensure your store can be easily updated and managed
Good professional web hosting is vital to ensure your site is always available
Look for payment and shopping carts that are intuitive and efficient to use
Customer service is king these days. Businesses shouldn't just efficiently take customers' money but should properly support them
Is your store fully integrated with all the leading social media sites?
Setting up your online store should be approached carefully and diligently to ensure you put a professional and efficient site live. Internet shopping continues to expand. Make sure your business doesn't miss out on a sales channel that shows no signs of slowing down.