Many everyday tasks that once required specialist software can now performed using convenient web apps. Text editing is a perfect example. All the processing and cacheing can be done locally on your own device, so you don't have to wait for data to be transferred or put your data in the hands of a third party.
Next time you need to write some code or prepare plain text, try one of these free editors instead. They're packed with formatting and collaborative tools that will make your life easier without the need to download additional tools.
If you'd rather stick with a desktop program, we've also compiled a guide to the best free text editing software.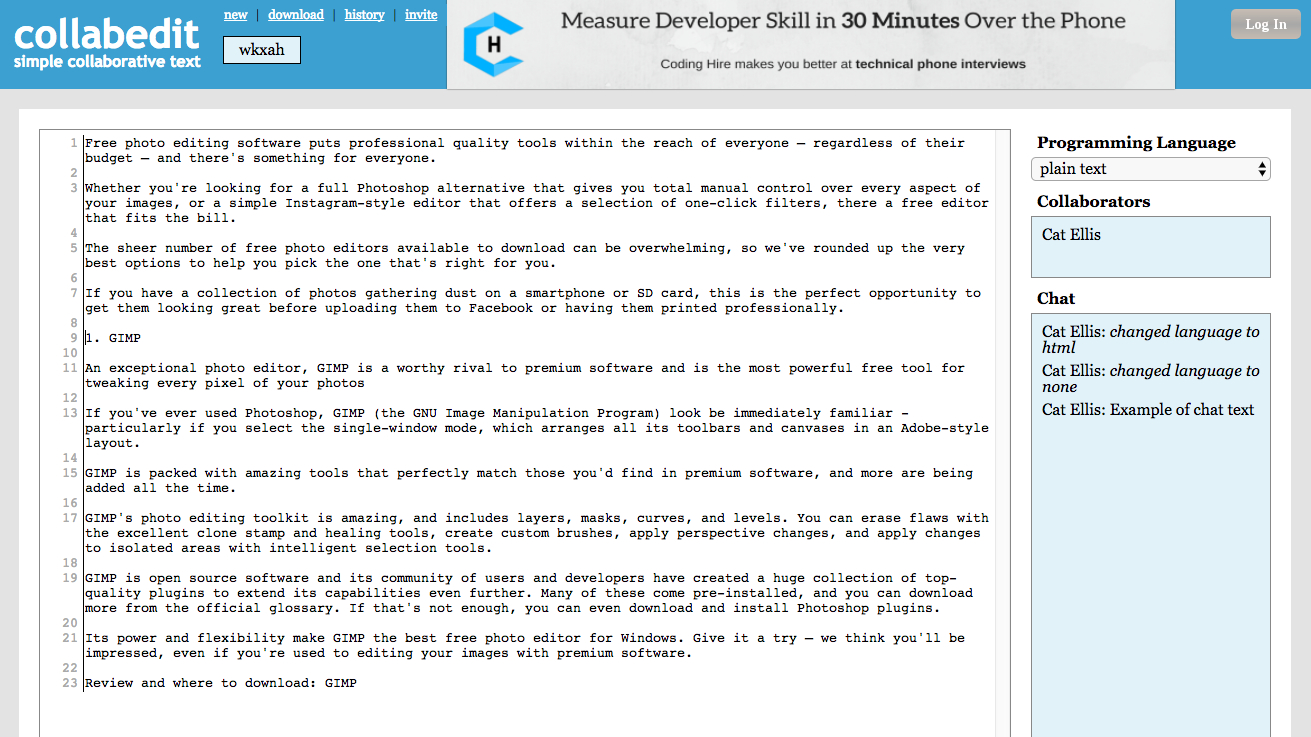 Collaborate on coding in any language, with chat and tracked changes
Collabedit is a free online text editor for collaborative coding. It supports a huge number of coding languages including plain text, HTML, JavaScript, VisualBasic, JavaScript and C++.
One tool that really sets Collabedit apart from other online text editors is its chat function and tracked changes, which appear in a neat box to the right of the text window. This makes it great for group projects, and for teaching others the fundamentals of coding.
The only drawback is that there's no password or encryption for your documents – just a generated URL that you can share via email. If you want to protect your files, check out WriteURL as an alternative.
Try it here: Collabedit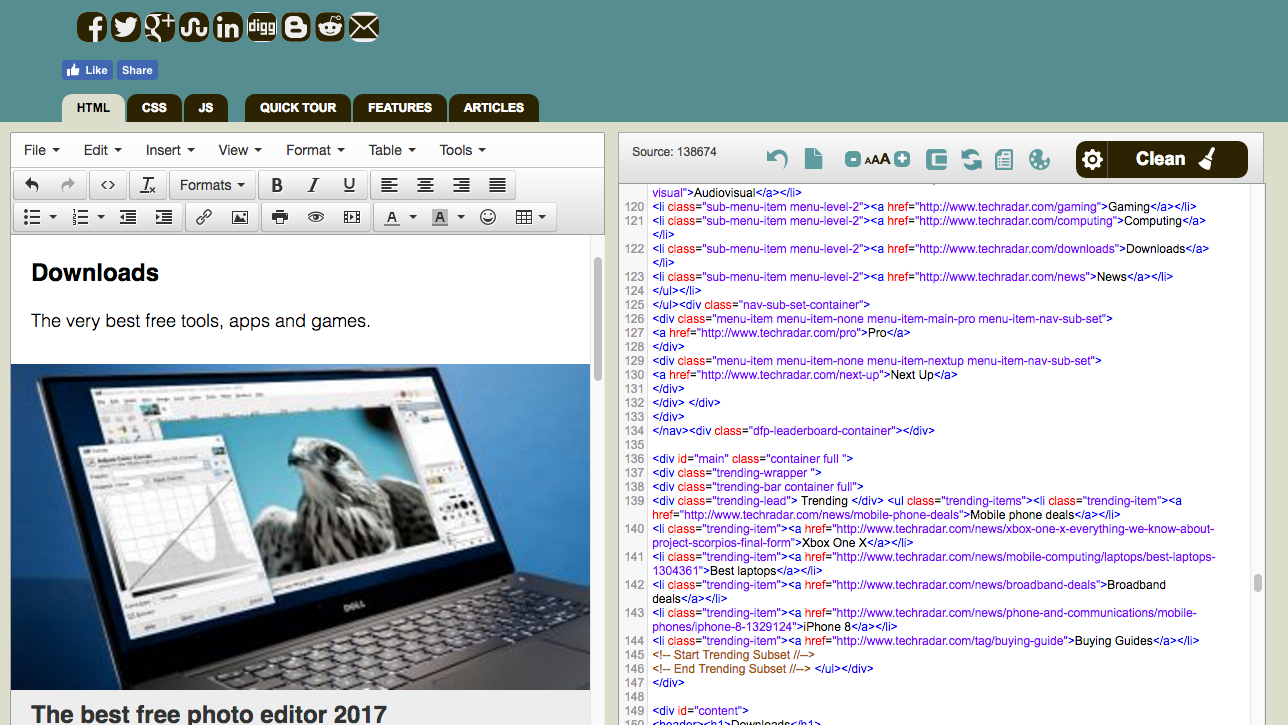 Write clean HTML with this feature-packed online text editor
As the name suggests, this text editor is designed specifically for writing HTML. HTML Editor Online features interactive source editor, HTML cleaning, Word to HTML conversion, find and replace, a dummy text generator, and table to DIV conversion. There are separate CSS and JavaScript editors, should you need them.
The text editor itself sits  on the right-hand side, with a live preview on the left. You can edit content on either side, and they WYSIWYG editor will update accordingly. The WYSIWYG editor provides formatting tools, tables, the ability to embed media
Unusually, there's no option to save your work – instead you'll have to copy it to a text document. On the plus side, this means everything happens locally on your own PC. Your work is never cached to a third-party server.
There's also a condition that pages created using HTML Editor Online must link to the tool's own site, or one of its partners. HTML Editor Online comes highly recommended, but we advise trying a few of the other online text editors here too, so you can decide whether that's a fair compromise.
Try it here: HTML Editor Online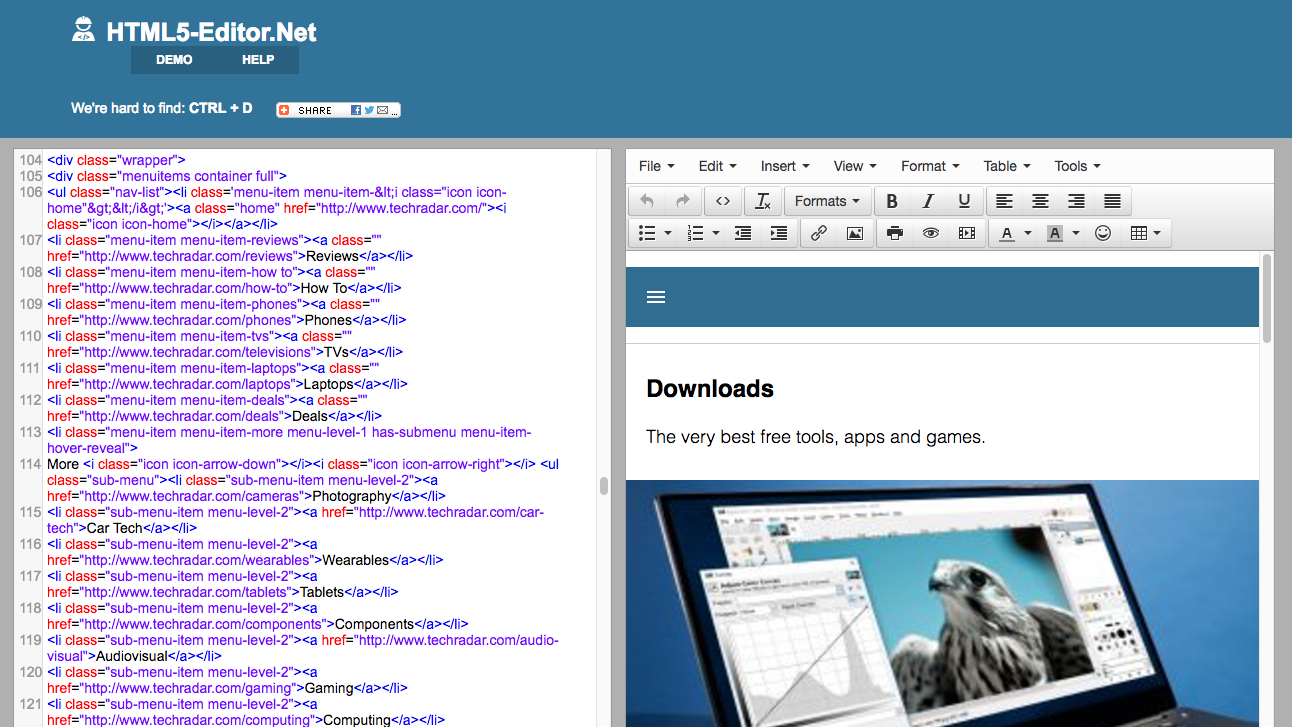 Guaranteed valid HTML5 markup in any browser, on any device
Some online text editors are only suitable for Chrome, but HTML5-Editor.NET works in any web browser and scales well for use on mobile devices.
HTML5-Editor.NET guarantees to produce valid HTML5 markup based on rich text input. You can also edit the source directly in the panel on the right, then clean up the code with a couple of clicks.
The rich text input supports not only images and special characters, but also videos (from an URL or using an embed code) and page anchors – something you won't find in most other tools.
HTML5-Editor.NET also includes find and replace tools, and a color picker that generates hex codes.
It's an unusual set of options, but one that's been carefully considered and well implemented. Well worth a look.
Try it here: HTML5-Editor.NET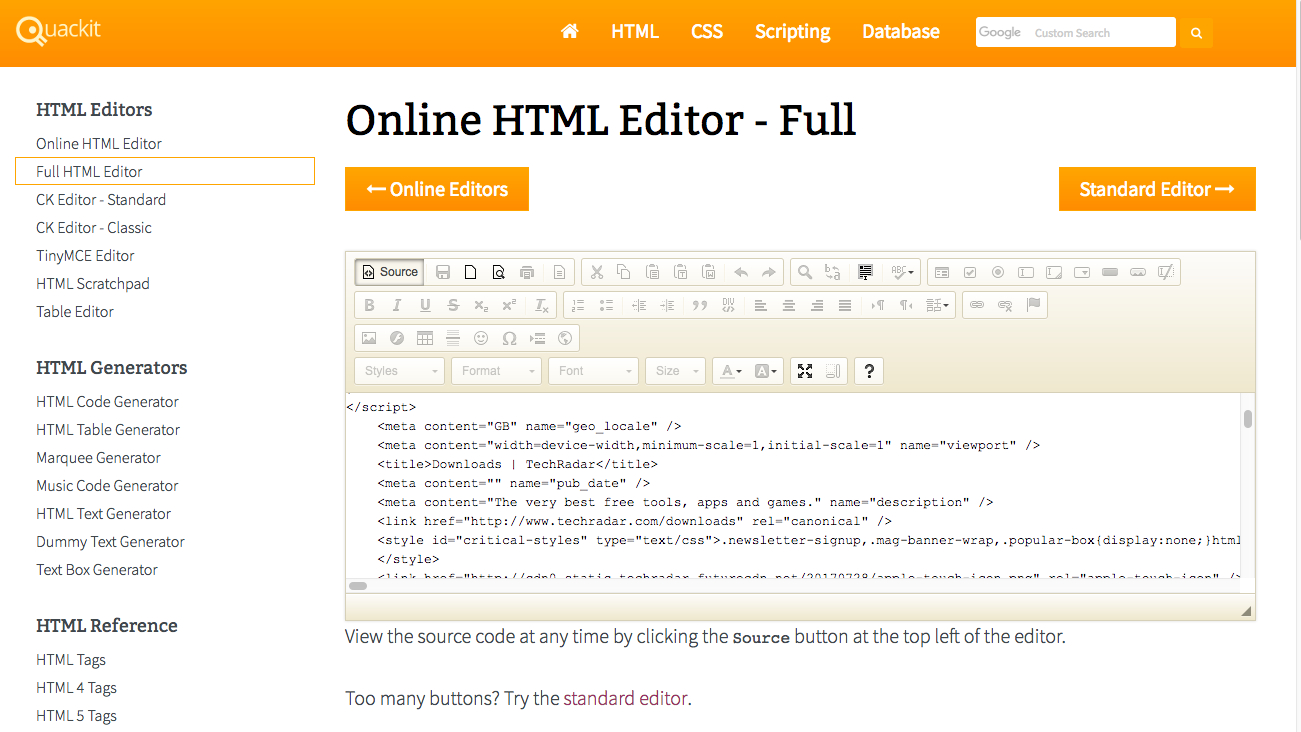 An online text editor designed with absolute beginners in mind
Unlike most online text editors, Quackit Online HTML Editor features a button to switch between source and WYSIWYG editor. This gives you more on-screen space to work with, but means you can't see the results of changes as quickly.
There's a great selection of media options, though some of these are now deprecated (RIP Flash). This slightly outdated feel permeates the whole site, which also offers separate text box, table, and marquee generators.
There's no code cleanup option either, which makes sense when you realize that it's mostly designed to help beginners get to grips with the fundamentals of HTML.
There's an excellent set of guides to help newcomers get off the ground. The beginner's guides to website creation are particularly well written. They assume absolutely no prior knowledge and are a much better introduction to web development than a template-based click-and-drag website builder.
Try it here: Quackit Online HTML Editor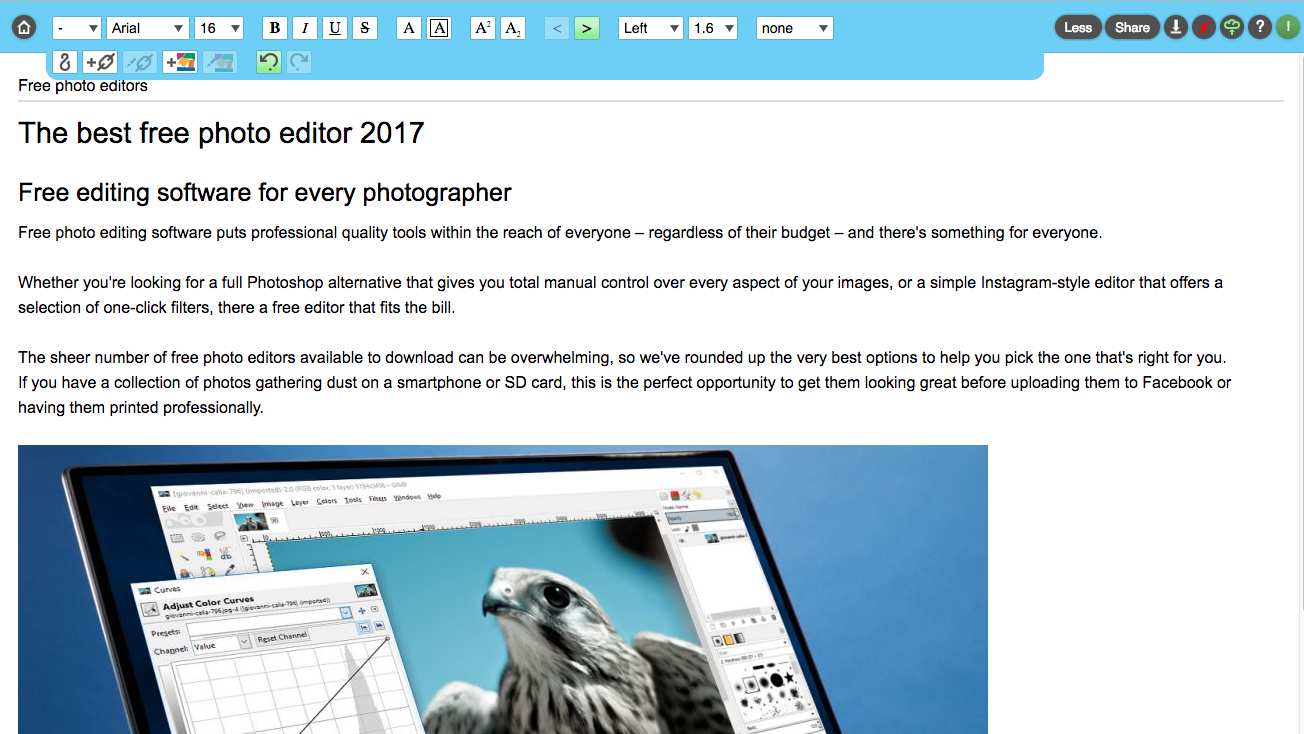 A collaborative tool that uses rich text to generate HTML ready to export
Like Collabedit, WriteURL is an online text editor designed for teams, enabling you to collaborate with several other people on a single document.
You can start editing a text document online, and it will be cached locally to your device so you can continue working if you lose your connection.
WriteURL protects your work with end-to-end encryption, and sharing is a simple email-based process.
This is all great news, but there's one major drawback: you can create and manipulate content in the rich text editor, but you can't can't edit the HTML directly until you've exported it. To make things trickier still, the export option only works in Google Chrome.
Try it here: WriteURL