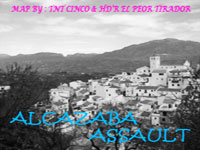 Elpeortirador released his AXIS attacking map Alcazaba Assault -
Escort the Tank to the hermit and blow the window. Dynamite the Safe and steal the Secret Documents. Build the Fieldradio to transmit the Secret Orders. The Command Post is very important cause it activates Spawnpoints near the Bunker.

Elpeortirador veröffentlicht seine AXIS Angriffs-Map Alcazaba Assault -
Begleite den Tank durch die Siedlung und zerstöre das Fenster. Sprenge den Tresor und stiehl die geheimen Dokumente. Baue das Feldradio auf, um die geheimen Dokumente zu übermitteln. Der Command Post ist sehr wichtig, weil er den Spawnpoint nähe des Bunkers aktiviert.