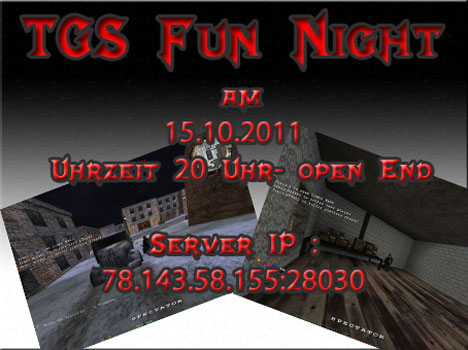 TGS Special Fun Night
- Summer is coming to an end, but the guys of
The German Server Clan
- also known as TGS - are warmly welcoming you for their ET Special Fun Night.
Are you a player with a high sense for fun play ? - Be sure to play,
the

event

starts

at
:
15.10.2011 on 20 o'clock (MESZ/CEST/CEDT) server: 78.143.58.155:28030


TGS Spezial Fun Nacht -
Der Sommer kommt zum Ende, aber die Member vom
The German Server Clan
(TGS) laden euch alle wärmstens zu einer ET Spezial Fun Night ein.
Alle Spieler, mit Sinn für viel Spaß am Spielen, sind herzlich willkommen. Das Event startet am:
15.10.2011 um 20.00 Uhr (MESZ/CEST/CEDT) Server: 78.143.58.155:28030