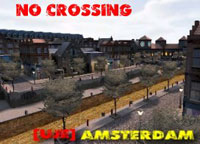 No crossing version of UJE Amsterdam Sniper made by [UJE] Niek - This is a tourist kinda map about our big city Amsterdam. No red light district maybe when i have more time.
This is the NO CROSSING version so this time you can relax and get some kills.

No crossing Version von der Map UJE Amsterdam Sniper, erstellt von [UJE] Niek - Ohne Rotlicht-Bezirk, kommt vielleicht noch wenn ich mehr Zeit habe.
Dies ist eine NO CROSSING Version, wo du "entspannter" Killen kannst.