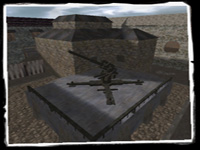 Sani, Hukk and Hemuli publish hers map Erdenberg b3
- After a long time since the last update, we bring you the 3rd - and probably the last - official update of Erdenberg. Most noticeable changes are a radically modifyed Forward bunker and two new axis spawn locations.
We also included the source file of this map inside the pk3 for anyone to freely browse or edit it.

Sani, Hukk und Hemuli veröffentlichen ihre Map Erdenberg b3 - Nach einer langen Zeit der letzten Aktualisierung, veröffentlichen wir das Dritte - und wahrscheinlich letzte - offizielle Update, von der Map Erdenberg. Die deutlichesten Änderungen sind: Ein radikal modifizierter Forward-Bunker und zwei neue Achsen-Spawns.
Wir haben auch die Source-Daten dieser Map in die "pk3" mit eingefügt.
*** Changelog b2 > b3 ***
= Designed the garage a bit
= Reworked the flag hall
= Blended the road textures
+ Added 2 new axis spawns
+ Added MG Nest
+ Added a damn rock behind the trench
= Open/closed windows
+ Added a rebuildable side door