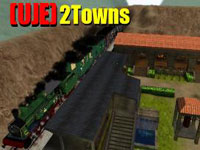 New map [UJE] 2 Towns made by UJE Niek - This map didn't became what I wanted it to be and to change it to what I want it to be would't take to much time, that's why I releashe it.
It's a small map for maybe top 6 vs 6 but you can test it. Allied objective map.
Allies have to blow up the monument in the first part of the map to gain acces to the underground trainstation. Once arrived in the trainstation they have to blow up 2 flakcanons. Axis have to prevent this all Special stuff are the trainmodels made by ischbinz

Neue Map [UJE] 2 Towns erstellt von UJE Niek - Die Map wurde leider nicht so wie ich es gerne wollte, so wurde die Map so wie sie nun ist, da dies einfach zuviel Zeit in Anspruch genommen hätte, desegen jetzt der Release.
Es ist eine kleine Map die für ein 6vs6 geeignet sein kann aber das kann ja auch ohne weiteres getestet werden.
Zum Ablauf: Im ersten Part müssen die Allierten ein Monument zerstören um in die unterirdische Trainingsanlage zu gelangen. Sind sie dort angekommen, müssen zwei Flaks ausgeschalten werden. Specials in der Map sind die Trainmodels, von ischbinz.