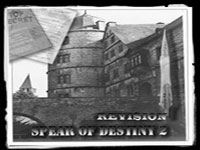 It's a remake of the old map Spear of Destiny II, made by =AN=-Duke Life's a Beach - Duke s knife the Spear of Destiny is feared among many.
Last time the Allies were success full in stealing The Spear of Destiny. The Axis HQ have learned where the Allies keep Duke´s knife and gone try to steal it back.
The Axis need to repair the tank, take control over the city and use the tank to break into the bank. If the Axis are successful then the train stands ready to bring them to safety.

Eine Neuerstellung von der Map Spear of Destiny II, erstellt von =AN=-Duke Life's a Beach -
Letztes Mal waren die Alliierten erfolgreich beim Stehlen des Spear of Destiny. Das Achsenmächte-HQ hat aber erfahren, wo die Alliierten Duke's Messer versteckt halten und versucht es jetzt zurück zu stehlen.
Die Achsenmächte müssen den Panzer reparieren, um die Kontrolle über die Stadt zu bekommen und auch um in die Bank einzubrechen. Wenn die Achsenmächte erfolgreich sind, steht ein Zug bereit um sie in Sicherheit zu bringen.