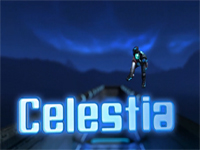 Celestia is a Quake 3 DeFrag movie with cpm physics.
It presents some of the best runs from one of the top defrag players
Arcaon
- in an atmospheric and energetic fusion of speed and color.
Arcaon
appeared in the defrag scene in late 2008, and has since then practiced to become one of the greatest.
All runs included are (or have been) world records!!
The "Trickjump-Movie" is a real feast for the eyes and seduces even RtCW- and ET-trickjumpers tries out to Quake 3.
Fantastic (jump)scenes and suitable music in perfect quality. Crossfire rating: Fat 8 points overall!

Celestia ist ein DeFrag Quake 3 Film (ohne Gegnerkills bzw. wie Trickjump) mit CPM (Challenge Pro Mode) Physik.
Dieses Movie zeigt die besten Läufe/Runs von einem der allerbesten DeFrag Spieler
Arcaon
- in einer atmosphärischen und energetischen Verschmelzung von Geschwindigkeit und Farbe.
Arcaon
erschien gegen Ende 2008 in der DeFrag Szene und hat seitdem viel geübt, um einer der Besten zu werden.
Alle enthaltenen Läufe/Runs sind (oder waren) Weltrekorde!!

Das "Trickjump-Movie" ist eine echte augeweide und verführt sogar RtCW- und ET-Trickjumper dazu Quake 3 auszuprobieren.
Fantastische (Jump)Szenen und passende Musik in perfekter Qualität. Crossfire Bewertung: Fette 8 Punkte überall!