Hello,
These timeouts make "Connection interrupted" at players screen, and at server side, server is in timeout.
Sometimes 3seconds, sometimes 60s !!!
Here is what shows ie HLSW: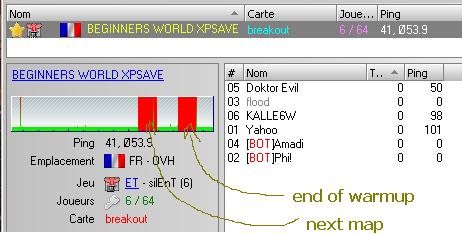 Of course I've opened a ticket at my VPS provider, and they can not see any problem at host side.
So he thinks it's from bad configuration of my server, but my settings are the same since 2 months and problem is here since 2 weeks !!!
In server.log, no strange message ...
I've made !dboptimize operation => server.log say it is OK (and also !dbcleanup OK) ...
When I make a "top" on server, no extra process is eating CPU ...
Concerning RAM (512M) is the same since many months and never had lags ...
We need an engineer !!!
Edited by clan DIABOLIK, 23 March 2014 - 09:11 AM.