View Other Content
Search Articles
Recent Articles

0
Paid version of uTorrent is on the way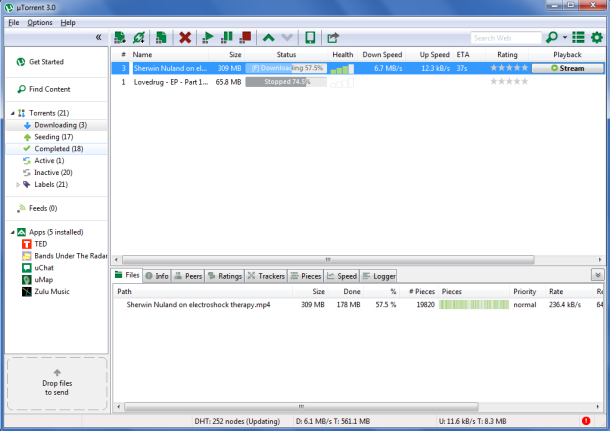 A paid upgrade to the most popular torrent manager uTorrent is in the works, the makers of the program announced few days ago.
Less than a month after the release of uTorrent 3.0, the program's parent company, BitTorrent Inc., revealed plans to introduce a paid upgrade called uTorrent Plus. Though it's still in development and unavailable to the public, uTorrent Plus promises to include tools that will eliminate codec problems, convert file formats, and move content between devices, according to the blog post announcing the product.
Also in that blog post, Jordy Berson, director of product management for uTorrent, promised that the free version "will receive the same level of commitment and development resources as it does now."
Around 100 million people call uTorrent their preferred torrent manager. To put that number in perspective, the security suite AVG Antivirus Free claims around 110 million active users, while Google CEO Larry Page just revealed that the Chrome browser has about 160 million users.
"uTorrent Plus is designed for people who are looking for a single solution to find, get, and play content anywhere, on any device," Berson wrote. The price point for uTorrent Plus has not been announced, The company has also created a
sign-up page
for people who want more information on uTorrent Plus.
Article: Paid version of uTorrent is on the way