View Other Content
Search Articles
Recent Articles

0
"Anonymous" hacks US law enforcement sites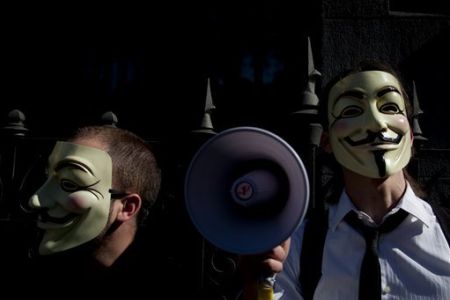 The group known as Anonymous said Saturday it hacked into some 70 mostly rural law enforcement websites in the United States, a data breach that at least one local police chief said leaked sensitive information about an ongoing investigation.
The loose-knit international hacking collective posted a cache of data to the Internet early Saturday, including emails stolen from officers, tips which appeared to come from members of the public, credit card numbers and other information.
Anonymous said it had stolen 10 gigabytes worth of data in retaliation for arrests of its sympathizers in the U.S. and Britain.
In a statement, Anonymous said it had leaked "a massive amount of confidential information that is sure to (embarrass), discredit and incriminate police officers across the U.S." The group said it hoped the disclosures would "demonstrate the inherently corrupt nature of law enforcement using their own words" and "disrupt and sabotage their ability to communicate and terrorize communities."
FACTS & FIGURES
While there have been high-profile computer hacks in the past, 2011 seemed to have a pretty consistent string of corporate and government cyber attacks that affected Sony, the CIA, Gmail and many more. Dailytech.com
Many federal agencies like the Department of Defense (DOD), Department of Homeland Security (DHS), NASA and the National Security Agency (NSA) are looking to hire hackers to help find holes in government security and to even launch offensive attacks when needed.
While the United States' intelligence computers are considered generally secure, a number of high-profile cyberattacks have also hit the Pentagon and other major defense contractors.
Earlier this year, the Pentagon had said that it would consider all options if the U.S. were hit by a cyber-attack, including a military response.
Article: "Anonymous" hacks US law enforcement sites